Everything's Bigger in South Africa
Massive wildlife, bustling cities, and warm welcomes await.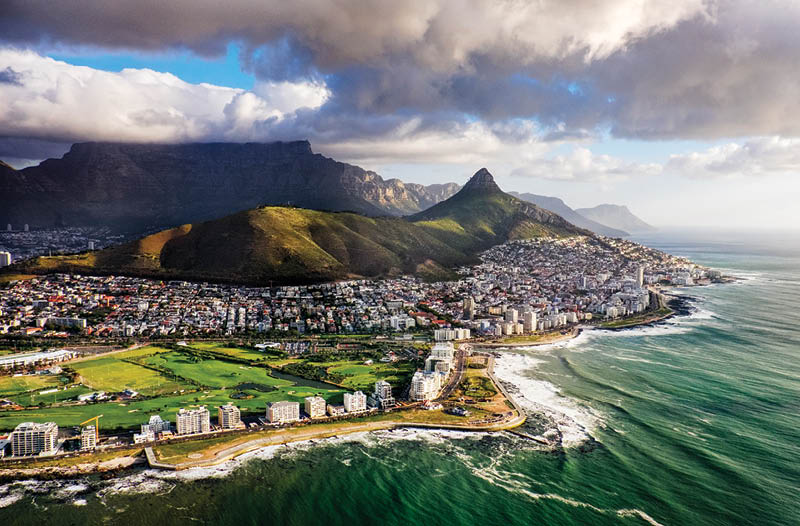 South Africa is the type of destination that doesn't sit back and let its riches casually woo you. Instead, it's more of an "in your face" destination in the best possible way.
The wildlife in South Africa is massive, a place where elephants roam the savannah and whales breach along the coast. The metropolises are modern and bustling, ready to engage your senses in a multitude of ways. The people flash easy smiles that are as warm as the biggest hugs your grandma ever gave you. And the vistas are utterly spellbinding, whether you're standing atop Table Mountain, going for a game drive in Kruger National Park or sipping a pinotage in the expansive vineyards of the Cape Winelands.
Add in balmy weather that means you'll never have to pack a winter coat and a fascinating history that is easy to appreciate through the country's many museums, memorials and cultural landmarks, and you have a destination that rewards explorers of all types. Here are the highlights you can base a vacation on.
When to go: Summer (November to March) brings the best weather for safaris, sunbathing and enjoying the great outdoors. If whale watching tops your list, then the wetter winter period of June to November is your best bet.
Currency: South African rand: $1=ZAR18.41
Language: South Africa has 11 official languages, but English is spoken widely throughout the country.
Companies to Consider: Azamara Cruises, Oceania Cruises, Intrepid Travel, Tauck
Setting the Table
Almost every adventure in South Africa starts in Cape Town, where the international airport gives access to a year-round stream of visitors. Hip, charming and sandwiched between dramatic mountains and the Atlantic Ocean, there's a lot to stare wide-eyed at here.
First and foremost to catch your eye will be Table Mountain. The iconic landmark towers above the city, a flat-topped guardian cloaked in sweeping cliffs and often crowned in clouds. Ascending the mountain is an absolute must. Fitter humans prefer the 90-minute hike to the summit, appreciating the indigenous flora along the way. Most others take the Aerial Cableway, a gentle five-minute ride that will have you spinning inside the cable car to take in the mesmerizing views in every direction. From atop, more 360-degree views await. You can see the entire Cape Peninsula from the stunning beaches around Clifton and Camps Bay to the natural amphitheater-shaped area called City Bowl and the towering top of Lion's Head Mountain.
But Cape Town is more than just the mountain, which you'll quickly discover once you're back at sea level. You can visit the historical center of the city, Bo-Kaap, a neighborhood on the slopes of Signal Hill, to discover the sights, sounds and flavors of Cape Malay culture. Take a tour of Two Oceans Aquarium on the Victoria and Alfred Waterfront to get up close to some 3,000 of the southern hemisphere's finest sea creatures. Wander Kirstenbosch National Botanical Garden to explore a biodiverse kingdom of forests and glades. And, of course, there's a wide selection of beaches for every taste, from simple sunbathing to surfing havens—even a clothing-optional spot.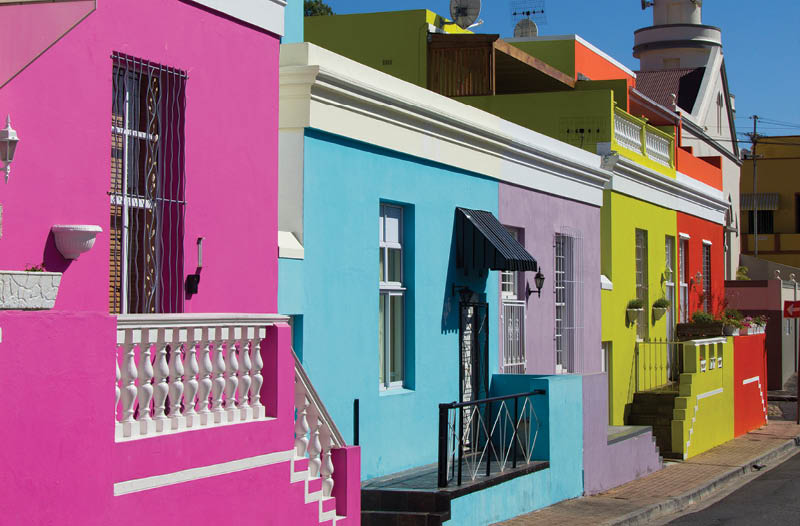 Wine and Wildlife
You don't have to travel far from Cape Town to start drinking in the culture of South Africa. Soaring mountains spotted with vineyards and dotted with sparkling Cape Dutch towns and private game reserves, the Cape Winelands is South Africa's largest and most striking wine region. Less than an hour from Cape Town, the wine trail beckons everyone from oenophiles to those who simply crave a refreshing glass of cabernet sauvignon.
Start your tour in the charming rural town of Wellington in the Limietberg Valley, then sip your way through Paarl, Stellenbosch and Franschhoek, checking off several award-winning wineries along the way. Many towns here have daily tram tours that allow you to hop on and hop off as the tram circuits the local vineyards. Just be careful with all that hopping after you've spent the day sampling your share of the local vintages.
This gorgeous area also lends itself to more sober pursuits. You can traverse the mountainous terrain by foot, pedal, horse or even a wide-wheeled, non-motorized scooter that lets gravity do the work. Animal sanctuaries will put you in close proximity to lions and eagles, while art galleries proudly display works from talented locals. And, as with most celebrated wine regions, the cuisine is elevated to an art form. Babel Restaurant just outside of Franschhoek takes the farm-to-fork philosophy seriously, collecting fresh ingredients daily from the bountiful fruit and vegetable garden on the estate, which are then creatively served while you're seated in a converted cow shed.
Wine is not the only main course in South Africa, as the variety of wildlife on display across the country is just as impressive. See endangered African penguins waddle free from the surf at Boulders Beach near Cape Town. Swim with playful dolphins while diving in Sodwana Bay up near the Mozambique border, or spot southern right whales from the shore in Hermanus, a town that has a "whale crier" to alert you when the massive mammals are near. Safely view the Big Five—lions, elephants, rhinos, buffalo and leopards—at Sabi Sands Game Reserve and Kruger National Park. And since you can never get enough elephants in your life, you'll enjoy seeing one of the densest populations of African elephants on the continent at Addo Elephant National Park.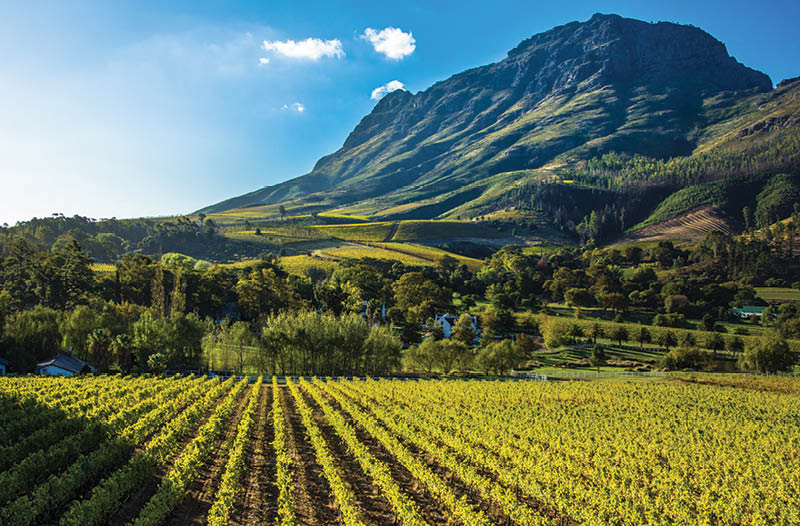 A Garden State of Mind
One way to experience the pure wealth of wonders South Africa serves its visitors is to drive the Garden Route, a 124-mile coastal course through the Western Cape between Mossel Bay and Storms River. Cut through by the N2 road, this green and gorgeous ribbon of lush forests, calm lagoons and soft coral coastline follows the country's southern shores, twisting through a collection of distinct ecosystems found nowhere else in South Africa. Consequently, the Garden Route is packed with national parks, shelters thousands of birds, and is visited regularly by whales and great white sharks.
Once you're behind the wheel of your rental car and have grown accustomed to driving on the left, the route is yours to explore at your leisure. Don't rush—you should spend at least three days exploring, though some spend up to two weeks here taking in the highlights. And, oh, what highlights there are!
Start off in Mossel Bay by hiking the St. Blaize Trail, a rugged but jaw-dropping coastal caper that begins in a cave below a lighthouse and winds nine miles to Dana Bay. At the historic timber town of George, discover the bounty of the UNESCO-protected Cape Floral Region at the Garden Route Botanical Garden. The culinary hotspot of Knysna is next on the route, home to a peaceful lagoon speckled with sailboats and a bevy of upscale restaurants.
At Wilderness National Park, you'll find wetlands rich with exotic birds and hiking routes meandering between waterfalls, while Birds of Eden—the world's largest free-flight aviary—awaits you at Plettenberg Bay. Finally, the route ends at Storms River village and the craggy, unconquerable landscape that surrounds it. Here you can finish your time on the route by ziplining through mountainous Tsitsikamma Forest, braving the world's highest bungee jump at Bloukrans Bridge, and clutching the rails as you traverse the 77-meter suspension bridge over the mouth of Storms River.
Sadly, your time on the Garden Route will never be enough, for there will be items on your list that you won't have time to do. The same can be said for South Africa. There's so much to see, to explore, to consume and to love that you'll be planning a trip back as soon as your plane departs the runway.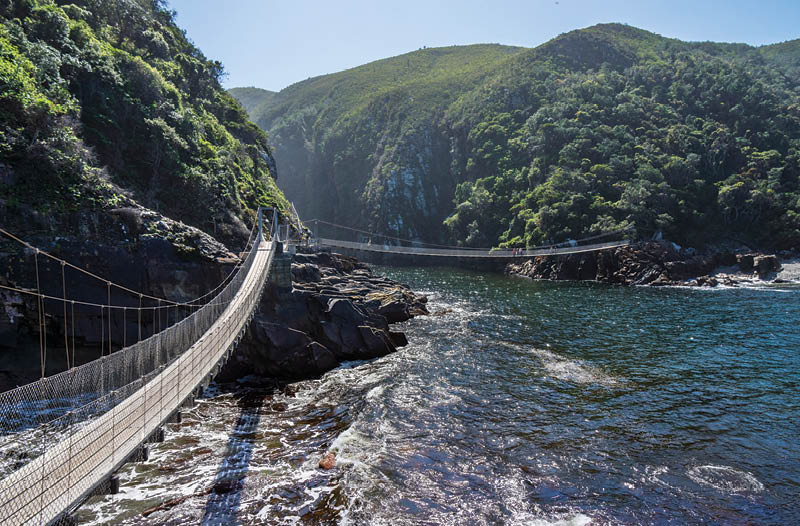 Known for its bold flavors and hearty dishes, South African cuisine is a diverse blend of many different cultural influences, including African, European and Asian flavors. It is a cuisine that celebrates both its history and the ideal of gathering together to share meals with large groups. On your South African adventure, be sure to try the following five dishes.

Bobotie > Spiced mincemeat topped with an egg custard and bay leaves, then baked—a classic dish in the Cape Malay community.
Braai > This is the South African version of a barbecue, where meats such as steak, boerewors (a type of sausage) and lamb chops are cooked over an open flame.
Bunny chow > Don't let the name fool you. This popular street food consists of a hollowed-out loaf of bread filled with curry.
Waterblommetjies > Translated to "little water flowers stew," it's made with lamb and the flowers that grow wild in dams at springtime.
Vetkoek > This "fat cake" is a delicious ball of dough deep-fried just long enough to give it a crisp, golden exterior.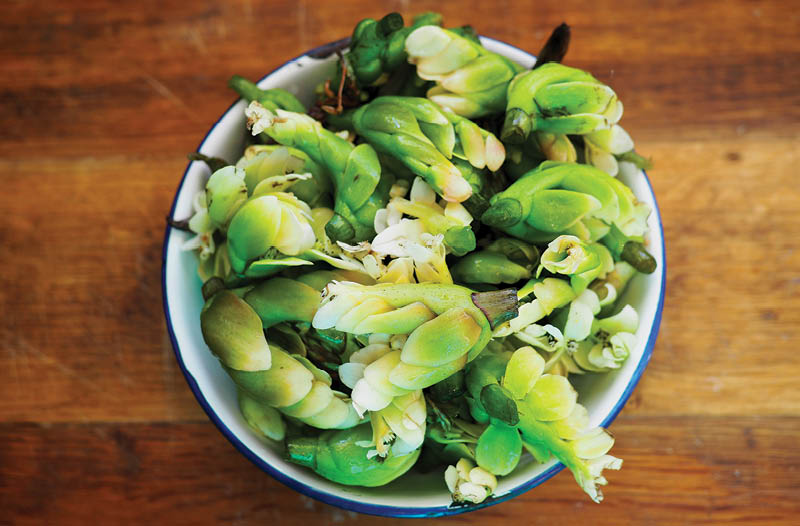 A cruise is one of the safest and easiest ways to explore South Africa. Smaller ships embark on extraordinary itineraries that hug the coastline from Cape Town up to Mozambique. Along the way, you'll experience several stops along the Garden Route and beyond, giving you an unforgettable snapshot of the country's culture and cuisine. Here are some highlights.

Port Elizabeth > Known as "The Friendly City," Port Elizabeth is home to spectacular beaches, the oldest bowling green in South Africa, and numerous wildlife sanctuaries. Head to the Bayworld museum to enjoy historical exhibits, an oceanarium, and a snake and dinosaur park.
East London > Sitting on the estuary where the Buffalo River flows to the Indian Ocean, East London is famous for its stunning beaches, the grand Victorian-style City Hall painted red and white, and the East London Museum, home to a fish with limb-like fins that was believed to have become extinct more than 80 million years ago until one was caught in a nearby river in 1938.
Durban > Called "the Asian Capital of South Africa," Durban features a mesmerizing mix of cultures. Here you'll find British colonial architecture, the sunbathers paradise of Golden Mile Beach, and the largest mosque in the southern hemisphere.
Richards Bay > This busy port town is a gateway to adventures. Take an excursion to one of the nearby game reserves. Stand at the lookout point at Alkantstrand Beach to glimpse dolphins, whales and kite surfers. Or tour one of South Africa's largest pineapple farms with one of its founders.