David Howden, Founder, Hyperion Insurance Group
Remember, you can have anything you want in life, but you have to have everything that goes with it.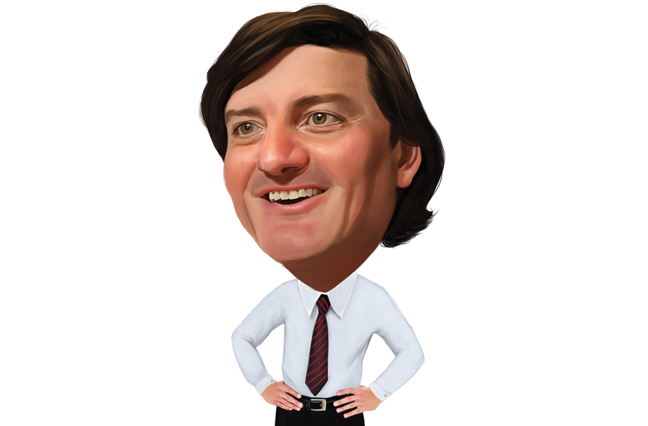 Q
Your great-great-great grandfather, Alexander Howden, founded an insurance brokerage. Is that where you got your entrepreneurial streak?
A
It was probably more out of necessity. My father died when I was seven years old, at a time when 90% of the value of the estate was taken as inheritance tax. We went from being very comfortable to my mother having to sell the house and us not having very much at all.
You founded Hyperion in 1994. What has the company's growth looked like?
We've gone from three people to three and a half thousand people, with 127 offices in 38 countries. We now have the fifth-largest Lloyd's broker, RKH, and the world's largest international MGA, DUAL. And our retail broker, Howden, now has offices in 30 countries, all outside of the United States.
Not many insurance executives raise longhorn cattle. How did that come about?
I moved to the countryside in 1999, when the first of my three daughters was born. I wanted a hobby completely different from the city. We've now got around 150, the largest herd of this particular breed of English Longhorn cattle.
What does your perfect weekend look like?
I would spend it on the farm riding horses with my girls or out driving on English country lanes. I collect old cars, anything from 1956 onwards. Rather than sports cars, they tend to be four- or five-seaters—cars I can use with my family.
Which one is your prize?
I love them all, including my 1956 Bentley S1 Continental Fastback, but my favorite is probably a 1963 Gordon-Keeble. It is a fantastic car with British engineering, Italian design and an American engine. It was the fastest four-seater of its time, and only 99 of them were ever made.
Which car do you drive to work?
A new car, a very boring Range Rover.
What is something your co-workers would be surprised to learn about you?
Maybe that I'm a really keen cook. I love cooking. That's another of my big hobbies.
You run a business you founded. You raise longhorn cattle. You collect old cars and love to cook. When do you sleep?
I actually get up at 4:15 every morning. I live out in the countryside, but when I'm in London, I'll be at my desk by 7:00.
What's the most interesting thing in your office?
A very old grandfather clock, made in Edinburgh in 1780 by James Howden. The other side of my family were clockmakers. We have five grandfather clocks around the office, all made by James Howden and his sons James and William.
What business leader, in any industry, do you most admire?
Pat Ryan. He built Aon from nothing into one of the biggest global brokers in the world.
Your most influential business mentor?
From 1982 until 1988, I worked for a guy named Brian Marsh, who built up Nelson Hurst and Marsh from scratch. I learned a lot from him about attracting and empowering talent. When I started my business in 1994, Brian was an investor.
Do you remember the best advice you ever got?
I do, absolutely. It came from a former chairman of mine. He said, "Remember, you can have anything you want in life, but you have to have everything that goes with it." I remember this at times when I'm spending a lot of time away from home visiting our offices and clients overseas. If you want to build a successful international business, you have to travel a lot.
What's the best advice you ever gave?
Look after the clients and the money will look after itself. Integrity in our business is absolutely vital. This is a people business, and the clients must come first. How would your co-workers describe your management style? I'm very much a believer in empowerment. You can't attract entrepreneurial people and then micromanage them.
If you could change one thing about the insurance industry, what would it be?
I'd love it to be better at promoting itself as an industry that can attract, retain and develop the best and the brightest people to make sure that, as technology develops, we are on the cutting edge of that.
What gives you your leader's edge?
My ability to attract the talent that works for me.
The Howden File
Favorite Beatle: I was always more of a Rolling Stones fan.
Favorite Movie: Lord of the Rings. Loved the books as a child. Brill, my local village where I own a pub, was used by Tolkien as the basis for the middle-earth village of Bree.
Favorite Actor: Either Jon Voigt or Mickey Rourke—he was great in The Wrestler. I always remember Dustin Hoffman and Jon Voigt in Midnight Cowboy.
Favorite Musician: J.J. Cale. I've loved his music since a young age. I used to drive quite a lot around Europe and was always listening to J.J. Cale.
Favorite Writer: Graham Greene