Dave Eckroth, CEO, Parker, Smith & Feek
We always say we don't do easy very well.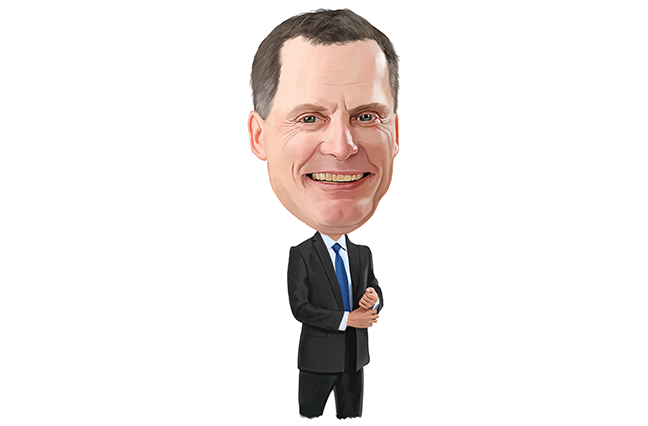 Q
You grew up in North Dakota. What's a stereotype about North Dakota that does not stick?
A
A stereotype that does not stick? Most of them do stick. (Laughs.) When I lived in Alaska, people asked me about the biggest difference between Alaska and North Dakota. I told them that in Alaska the snow falls vertically.
What was it like growing up in North Dakota?
North Dakotans are honest, ethical people with a fantastic work ethic. It was a great place to grow up. We had access to all things outdoors. It was a different world back then. You carried your shotgun on the way to high school in case you saw a pheasant.
What did your parents do?
My father was a college professor and conductor of the Bismarck Symphony. He moved from Dickinson State College to the University of Mary. That's why we moved to Bismarck, and that's where I went to school. My mother was a medical secretary, for many years working in the business office of a church.
What did you hunt for?
It was deer and antelope and birds—pheasants and grouse and duck. I continued that in Alaska—primarily moose and caribou.
What brought you to Alaska?
My first trip to Alaska was on a fishing trip between my junior and senior year of college. My then-girlfriend—now my wife—and I moved to Alaska the week after I graduated college. We were 20 and 21 years old, and Alaska sounded like adventure and opportunity.
What's something that people like me, who have never been to Alaska, would be surprised to learn about it?
You cannot see Russia from your house.
You mean Sarah Palin (that is, Tina Fey) lied to us?
Oh, I'm not going to go there. How do you like Seattle? The summers are absolutely fabulous. The winters, despite four feet of rain, are also a plus. After living where it's cold for 50 years, it's nice not to have to shovel snow.
How did you get into the insurance business?
When my wife and I moved to Alaska in 1985, I went to work for a large engineering company. Four years later, the price of oil plummeted, and the cyclical economy in Alaska followed. I went to work for a carrier as an auditor and then a workers comp underwriter. I soon realized the brokerage side of the business was much more entrepreneurial.
What's kept you in the business for so long?
The appeal for me is in the opportunity to define what my career looks like every day.
Had you always wanted to be CEO?
No.
What about this time? How come you said yes?
One of the things I find most satisfying in the latter parts of my career is not just the personal success but the ability to recruit, develop and mentor. It's about ensuring that our organization continues to provide the same opportunities to the next generation of leaders that it afforded to me.
Tell me a little about your business.
We're a roughly $55 million firm, with nearly two thirds of our business coming out of our four largest practice groups: construction, real estate, healthcare and food—all industries that have very specific and technically demanding risk-management issues. We always say we don't do easy very well.
Ever think about what you would have done if you hadn't gone into insurance?
Once I moved from the carrier side to the brokerage side, I never looked back. Most people who know me think I will become a fishing guide when I retire from insurance.
What is the best advice you ever got?
Efficiently allocate your time and energy to effectively work on the business, not just in the business.
What's the most interesting thing in your office?
I would say the boxes of things that I've yet to unpack after moving from Anchorage. My home office is a little different.
What's there?
The few animals that I'm allowed to have in our house—a springbok and two oryx from Namibia. The oryx is a member of the antelope family found in Africa.
If you could change one thing about the insurance industry, what would it be?
Insurance suffers from a reputation as a stagnant industry, and there is a lack of awareness among millennials of the opportunities that truly exist. Few jobs provide the personal and financial rewards, meaningful work and quality of life as the brokerage industry.
What gives you your leader's edge?
Having been a producer, having been on the service side of the industry, my leader's edge is understanding that we exist because of our clients. Everything we do as an organization is filtered through the lens of: how does this deliver value to our clients?
The Eckroth File
Age: 54
Family: Wife, Nancy (married 31 years); son, Bryce, 26 (project manager for an Alaskan construction company); daughter, Emily, 22 (recent graduate of Western Washington University)
Favorite vacation spot: The Big Island of Hawaii
Favorite TV series: "Band of Brothers"
Favorite author: Vince Flynn
Wheels: BMW 435 and Ford F-150