Carly Craig
Hot insurance agent gets 252 Tinder hits.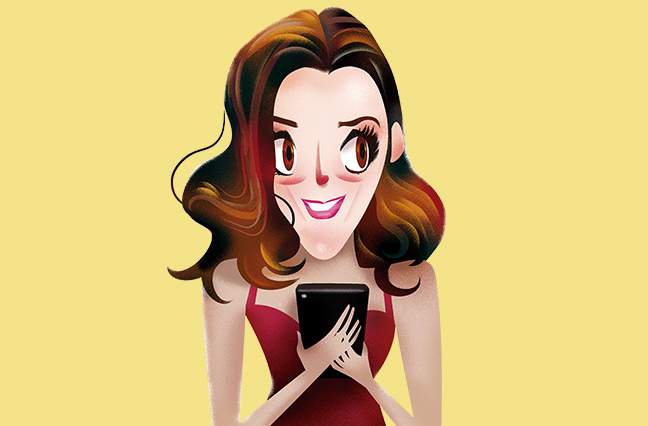 You know how it goes with insurance characters onscreen: they represent the dull, the stuffy, the nerdy, the dry-as-dust.
This is not quite true of Olivia Maple in the You Tube original series Sideswiped, which was launched last summer. She seems to represent all that is dutiful and buttoned up, yet within, rages a single, lonely, lusty woman of 35 who fears her eggs are drying up. She suddenly and desperately needs a man. She is abetted by her free-spirited, widowed mother Mary (Rosanna Arquette) and her married but frustrated sister Jayne (Chelsea Frei) , as well as her assistant at the Wilson and Hines insurance agency, who, being gay, clearly knows clever dating strategies. Jayne sets her up on Tinder, the dating app, and in a drunken moment, Olivia swipes right 252 times, then vows to go out with every single one of the men who responded.
Olivia is played by comedienne Carly Craig, 38, a Second City alum, who created the series based on her own life. The San Diego native is the daughter of minor league baseball player and former Seattle Mariners scout Rocky Craig and Marz Moore, a flight attendant on American Airlines. Working her way up in the comedy business, she ended a 12-year relationship at age 35, thus entering the world of digital dating. She used Tinder, dropping only a photo and no bio. Like Olivia, she got 252 responses.
Craig is a producer of the show, also a showrunner, a writer, and the star. She sold the idea to You Tube Premium, a new division that charges for original programming. The motley relationship and sexual adventures that run through the series (for all three women) are culled from Carly's experience and those of her friends.
Of course, not all the onscreen encounters were real. Carly met her current boyfriend on Tinder way before she got to meet 252 bachelors. And, sadly, she has never worked in the insurance business.