Enrique Acevedo Schwabe's Bogota, Colombia
Bogotá is a diverse metropolitan city that has a wide range of gastronomical, cultural and outdoor activities.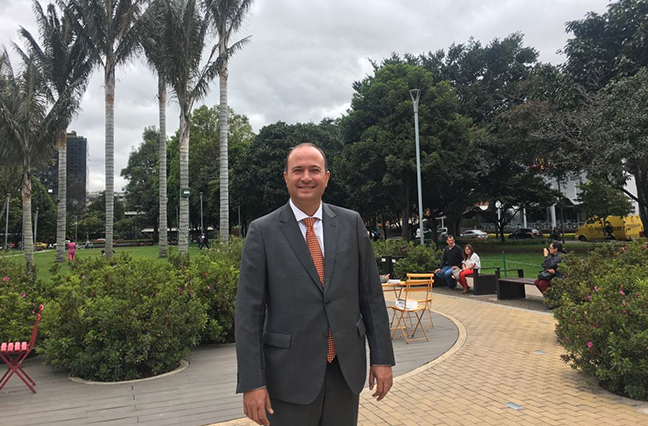 Enrique Acevedo Schwabe, General Manager of Correcol, shows there's much to love in Bogotá.
What's to love >> Bogotá is a diverse metropolitan city that has a wide range of gastronomical, cultural and outdoor activities. It's in the top 10 cities of the world and is known for its urban art scene. It also has festivals such as Estéreo Picnic, which showcases an important lineup of international and national artists.
Dining scene >> You can find a vast variety of cuisines, from French, Italian, Mexican, Peruvian and Asian to traditional Colombian food. A hot trend is the invitation-only clandestine dinners and degustation menus. You follow instructions to gather in a particular place, and when you arrive there's a table set for maybe 20 people and a chef preparing a multi-course meal.
Favorite new restaurant >> At the Four Seasons Hotel Bogotá, Harry Sasson, one of the most famous chefs in Colombia, owns NEMO, which fuses classic Colombian and international cuisines. I love the food, the wine selection and the ambience.
Classic eats >> Andrés Carne de Res serves excellent Colombian dishes in a very Latin atmosphere. I love the Arepa de Choclo, a traditional starter of corn cakes topped with fresh cheese.
Cocktails >> At Apache, on the rooftop of The Click Clack Hotel in the city center, enjoy the great cocktails and beautiful views. Another good option is Gamberro, a Spanish restaurant where you can order tapas with your drinks.
Stay >> The Click Clack Hotel is an excellent place for someone who loves design, great food and a convenient place to stay. It's definitely the best hotel at the moment.
Arty >> We have an exciting art movement going on right now. Every two months you can find different art and design fairs like ARTBO, Feria del Millón, Expoartesanías and BURO, to name a few. These fairs gather curious people who enjoy national design and art pieces.
Outdoors >> If you are visiting on a Sunday, check out Ciclovía Bogotá, when the city blocks off some main roads so people can cycle safely with their friends, family and dogs. You can exercise and also see and enjoy the beauties of the city.
Don't miss >> Bogotá has many hidden treasures, such as the Gold Museum, which holds the largest pre-Hispanic gold exhibits in the world (55,000 pieces), an underground engineering wonder called the Salt Cathedral of Zipaquirá, and Lake Guatavita, which is known for the legend of El Dorado. If you come to Bogotá, these are places you must visit.