Argentina: The One, The Wine, The Wild
When visiting Argentina, your goal will be to experience as much as you can of the country's big three: the one true global city, the wine that changed the world, and the wild settings that will take your breath away.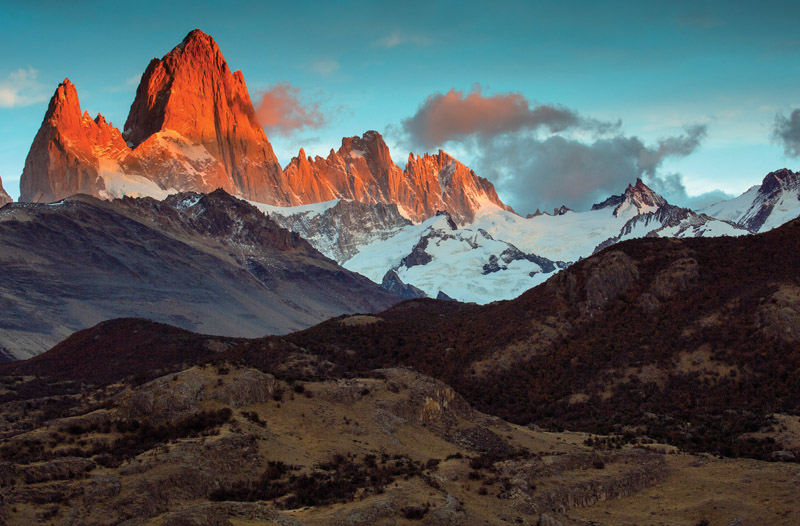 Growing glaciers sculpted by the ceaseless howl of winds. 
Roaring rivers raging wild with whitecaps. Sandy beaches steps away from underwater wonder worlds. Sprawling grasslands dotted with livestock and cowboys. Insanely savory food and a dance that takes two. Dense tropical rainforests and swamps teeming with wildlife. Deserts that stretch well beyond the horizon and snow-capped mountains that tower far into the sky.
When to go: The best time to visit is in spring or fall, when temperatures are fairly mild. During the country's summer season in January and February, locals flee to the coast, leaving the sweltering city to tourists.
Currency: Argentinian Peso: 1 USD = 185 ARS
Language: Argentinian Spanish (Spanish with heavy Italian influences), although you'll find many English speakers in Buenos Aires.
Companies to consider: Intrepid Travel, Abercrombie & Kent, Celebrity Cruises, Norwegian Cruise Line, Oceania Cruises
You'll find all of this and more—including the World Cup trophy—in just one country: Argentina. It's a blessing and a curse that this action-packed land lies on the edge of the world, dominating the southern tip of South America. The blessing is that it's never overcrowded with travelers or overwhelmed with tourist traps. The curse is the time it takes to get there. But once you arrive, the country opens up before you like a bountiful bouquet of wanderlust.
When you visit, your goal will be to experience as much as you can of Argentina's big three: the one true global city, the wine that changed the world, and the wild settings that will take your breath away.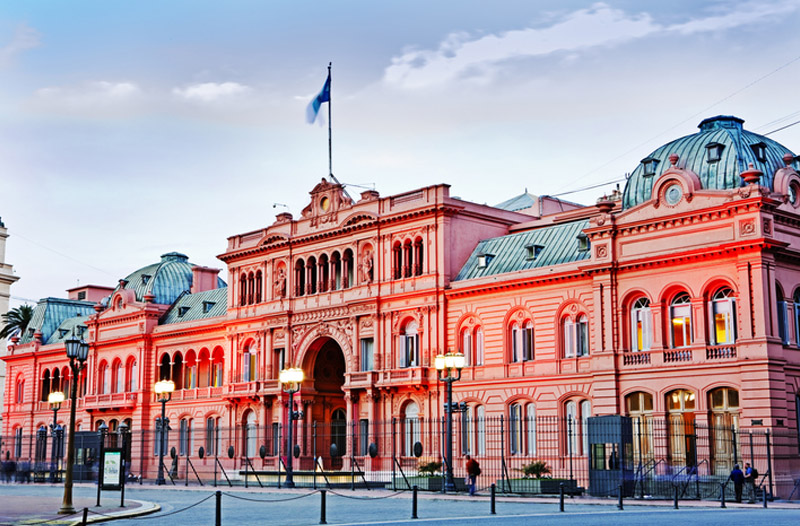 The One: Buenos Aires
Whatever the amount of time you're planning on spending in Buenos Aires, double it. Argentina's capital city—lovingly called the Paris of South America—is a playground of Latin passions and European panache. The city oozes with maritime history, from the ramshackle, colorful port at La Boca and the handsome dock buildings in Puerto Madero to the city's residents, who call themselves "porteños" (port people). Even the tango—that spirited dance of sharp, staccato movements—came originally from the migrants and sailors here.
This is one of those cosmopolitan cities that charms you no matter where you meander. The wide, tree-lined boulevards give everyone space to stroll at their leisure, murals of Messi adorn many city walls, and the numerous city parks and squares are always alive with the sound of music and laughter.
One can't-miss location is Casa Rosada, the pink-hued presidential palace, where Diego Maradona famously hoisted the World Cup in 1986 and where Eva Perón addressed her beloved descamisados. You can also rub shoulders with Evita at Recoleta Cemetery before stopping for a cortado—espresso and steamed milk—in one of the city's brilliant bistros.
Other worthwhile afternoons of exploration could be spent along the atmospheric cobblestone streets of San Telmo, the city's most romantic barrio and home to the popular Sunday feria, a weekly fair filled with unique artisans and antiques. Head to the trendy neighborhood of Palermo for fashion-forward boutiques, perfectly manicured botanical gardens and Michelin-grade eateries. At least once, you should end your day with a sultry tango performance over dinner. You'll find many throughout the city each night—some set in large ballrooms, others in more intimate cafés where you can feel the heat radiating off the dancers—and they're all worthy of your time.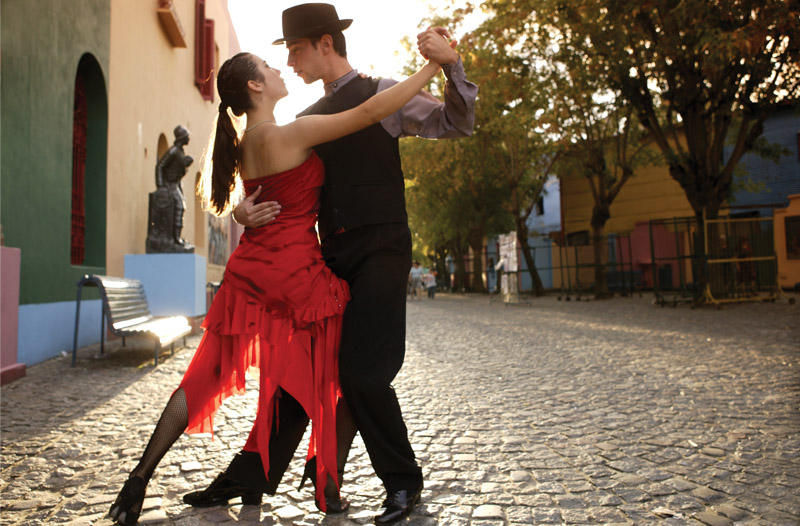 The Wine: Malbec & More
Argentina has been making exceptional wines since the 1600s, but the world really did not take notice until the 1990s. That's when the word "Malbec" was suddenly on everyone's lips, quite literally, making this bright and intense red a staple worldwide. The country also makes exceptional Cabernet Sauvignon, Chardonnay and Bonarda, all of which thrive in the high-altitude deserts of Argentina's eastern Andes Mountains.
Set in such jaw-dropping locales, winery visits here compare to some of the best in the world, challenging the likes of New Zealand's Marlborough region and Sonoma in California. Wine lovers should first head to the Mendoza region. Thriving in the shadows of towering Mount Aconcagua, these vineyards grow at some of the highest altitudes in the world, irrigated by the frigid waters of glacial-fed mountain rivers. These unique conditions have attracted over 1,500 wineries producing an award-winning collection of varietals, especially Malbec and Tempranillo.
Further south, at the very southernmost end of Argentina's wine region, is the province of Rio Negro. A sliver of Patagonia that includes the idyllic mountain town and lake district of Bariloche, the nature-lover's paradise of Rio Negro not only produces some of Argentina's best wines but also is a haven for foodies. The vintages you'll discover on your vineyard visits here pair naturally with typical Patagonian dishes like venison, lamb, freshwater trout, cured meats and fish, as well as desserts featuring locally grown apples and pears.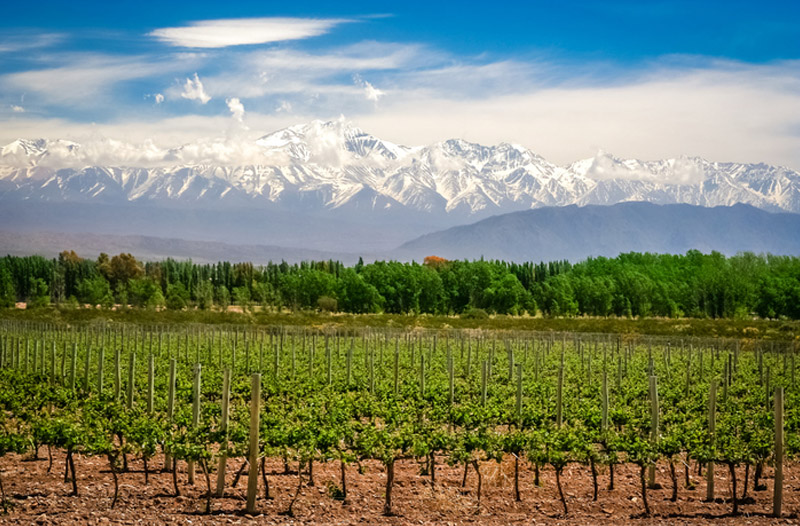 The Wild: From South to North
After learning to tango in Buenos Aires and sipping your way across the nation's wineries, it's time to get wild. Thankfully, Argentina is massive in size and scope. As the second largest country in South America, it houses the full range of environments you could possibly discover on Earth and, consequently, the full range of adventure.
Argentina's two greatest natural wonders are places it shares with neighboring countries. Thankfully, there's more than enough of Patagonia to share with Chile. Argentina's side of this massive, mountainous region contains well known highlights—such as the Perito Moreno glacier and the dramatic landscapes of the Tierra del Fuego archipelago—as well as significant infrastructure for you to explore it with ease.
Perito Moreno is a wonder, a stunning 19-mile-long glacier that is the star attraction of Argentina's Los Glaciares National Park. One of the few glaciers in the world that is actually still growing, Perito Moreno begs you to strap on a pair of crampons to trek across the ice. From its icy summit, you'll gain a whole new perspective on the ecological significance of these frosty wonders and be in a prime spot to hear the loud pop-roar-splash of a calving chunk of the glacier itself.
Up north on the border of Brazil is the other natural wonder Argentina shares: Iguazu Falls. A UNESCO World Heritage site that was recently named as one of the New Seven Wonders of Nature, Iguazu Falls is one of the largest series of waterfalls in the world. You can experience it all on a day trip from Buenos Aires, getting up close to falls that are as high as 240 feet, dwarfing the best Niagara offers. You'll find a number of cascades colliding forcefully with the rock formations that struggle to contain the flowing waters, all surrounded by a lush, subtropical rainforest populated by tapirs, ocelots and jaguars.
There are more natural wonders in between Patagonia and Iguazu, just like there are more wineries beyond Mendoza and Rio Negro and more expansive boulevards throughout Buenos Aires. That's the beauty of Argentina—there's always more to see, more to feast upon, more to explore and more to love. It's the ideal place to follow your passions…or to discover new ones.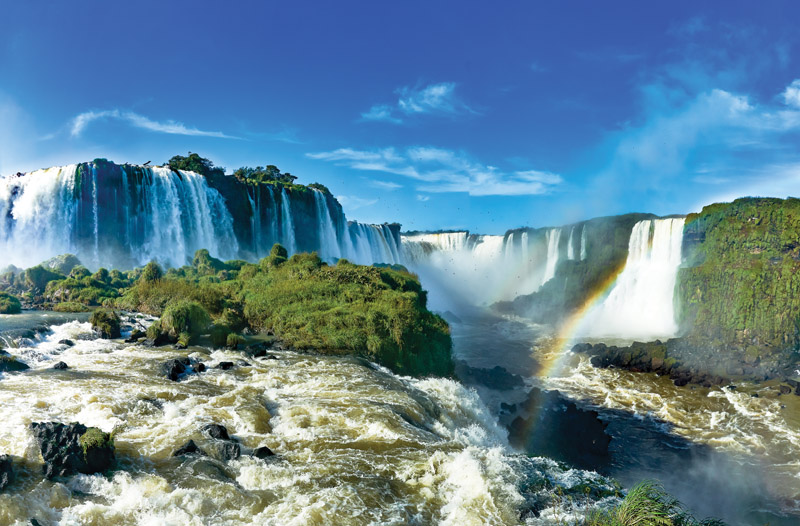 Tasty Treats
Argentinians allegedly eat more red meat than any other country in the world. While there's no doubt that steak is a key ingredient in many of the country's most traditional dishes, Argentinian cuisine is still capable of surprising you. Here are five dishes to try during your visit.
Empanadas > Extremely popular turnover pastries typically filled with chicken, beef, spinach, corn and/or cheese.
Asado > Barbecue known as parrillada, this national dish is best served lightly salted, topped with chimichurri sauce and paired with a Malbec.
Alfajores > A macaron-like sandwich of two shortbread-style cookies with jam or mousse filling, sometimes dipped in chocolate.
Fugazza > A pizza topped with tons of onions, mozzarella and dried oregano, originally made in Buenos Aires in the early 1900s.
Dulce de Leche > Translated as "candy of milk," this Argentinian treat is a caramel-like pudding of condensed milk reduced into a sweet, sticky dessert.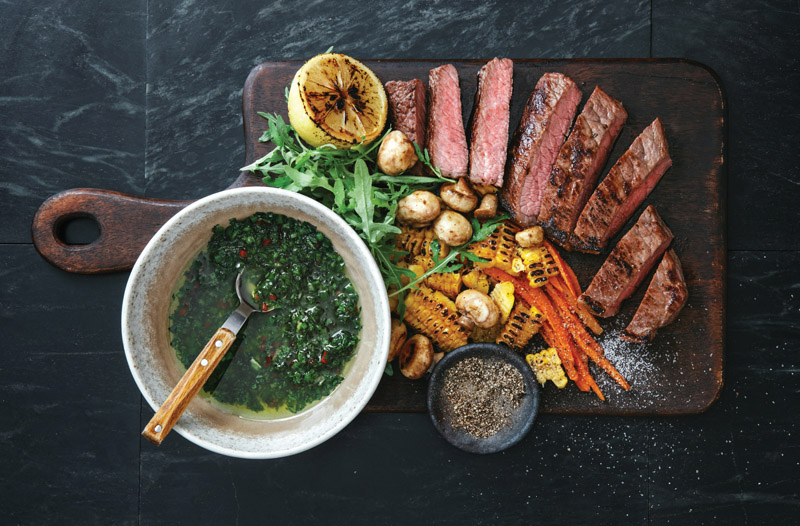 Cruise Corner
Cruising South America's tip is an unforgettable journey. Several cruise lines will take you from Buenos Aires to Valparaiso, Chile (or vice versa), sailing to Cape Horn around Patagonia and navigating the Strait of Magellan along the way. The ports you visit en route are storied seaports that have carved a home and a culture into this unforgiving corner of the world. Here are a few of those ports you can look forward to.
Puerto Madryn, Argentina > A small, friendly, coastal town, close to where Welsh colonists landed in 1865, this is one of the best places on earth to go whale watching—and if there are no whales, you'll still see sea lions, dolphins, penguins and elephant seals.
Cape Horn, Chile > The southernmost point in the Americas is an isolated island packed with craggy cliffs and windswept shores. You'll be amazed at the diverse flora and fauna that still manage to thrive here at Cape Horn National Park.
Ushuaia, Argentina > A modern town with a frontier feel about it, this is the launching point for many Antarctic expeditions. Spend your port time exploring Tierra del Fuego National Park or hiking along the coast and glacial lakes.
Punta Arenas, Chile > After sailing through the historic Strait of Magellan, the glacier-studded connector of the Atlantic and Pacific oceans, you'll call upon Punta Arenas, a commerce and trade port with colorful, European architecture.
Valparaiso, Chile > One of Chile's liveliest cities, "Valpo" is awash with artists' studios, hillside eateries and busy cafés. Be sure to check out the fascinating National Maritime Museum to learn about the bravest voyagers on the southern seas.