Andy Vetor, Executive Vice President, Employee Benefits, MJ Insurance
I tell people in some ways cancer is the best thing that ever happened to me. It gave me a perspective I could never otherwise get.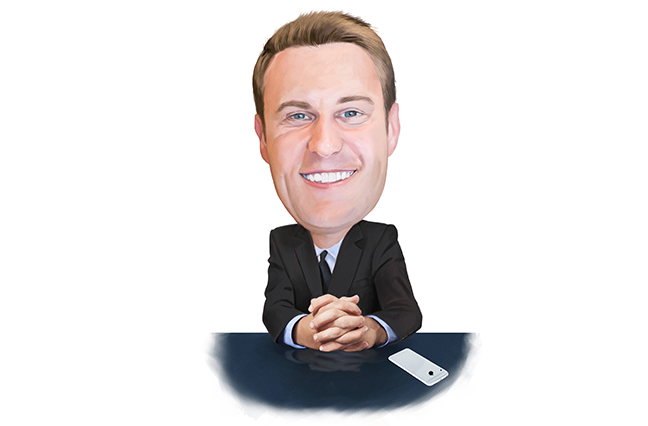 Q
What are your New Year's resolutions for 2018?
A
To put my iPhone down and be present.
If you could give Donald Trump one piece of advice for the New Year, what would it be?
It's not about you. Maybe that's the nicest way I could say it. Leadership requires putting others' needs ahead of your own. It requires selflessness.
You are Indiana-born and -bred. What was it like growing up in Anderson, Indiana?
I played sports in high school—sports have always been a big part of my life in general. Anderson has the second-largest high school basketball gymnasium in the world. It seats about 9,000 people. It's bigger than Cameron Indoor Stadium, where Duke plays.
Is there anyone in Indiana who's not a basketball fan?
People who were born somewhere else.
Your all-time favorite IU basketball player?
Oh, man, good question. Probably Steve Alford or Calbert Cheaney. One of my earliest memories is sitting on my grandparents' floor watching IU win the national championship with Steve Alford in 1987. I was 7.
You were a student at Indiana University when your picture appeared in Sports Illustrated.
I was in college when Bobby Knight got fired, in 2000. My fraternity buddies and I hung a banner from our window saying "9-10-00/A Legend Dies/Thanks Brand." Myles Brand was the IU president who fired Knight.
What do people from outside Indianapolis get wrong about the city?
I'm incredibly proud of Indianapolis and the strides the city has made in the past 20 years. People are gravitating back to downtown, and not just millennials. The city is built on a foundation of sports. All the stadiums are right downtown. Part of the huge success of the city was getting the Colts to come here. We also have developed a really good tech scene here as well.
What's your favorite downtown restaurant?
Milktooth. Conde Nast Traveler named it one of the top 100 restaurants in the world. The chef, Jonathan Brooks, is unreal. He's a magician. He's not even a chef. He should change his title.
Your favorite dish at Milktooth?
This is going to sound weird, but they have a biscuit with this pad of infused butter on top. It's probably the best thing I've ever eaten in my life.
You were named a "Rising Star" by the Indianapolis Star in 2010. How'd that happen?
It was very nice to be thought of in that way. I was the youngest shareholder in the history of the firm. I opened our benefits practice in our first office outside of Indiana when I moved out to Phoenix in 2005. After that was up and running, I came back to Indy and in 2013 began overseeing the overall benefits practice for MJ.
You were diagnosed with cancer five years ago. Can you talk about that experience?
I was lucky. I lead our benefits program, and we joined an on-site wellness clinic at MJ, so I went for a physical myself. I had an ultrasound the next day, and two days later the urologist told me I had testicular cancer. I tell people in some ways it's the best thing that ever happened to me. It gave me a perspective I could never otherwise get.
What was your treatment like?
I ended up having surgery. I was very lucky to have Dr. Lawrence Einhorn, the same doctor who treated Lance Armstrong. It spread to my lymph nodes a little less than year after the first diagnosis. I had to go through three months of chemotherapy, but I have been cancer-free ever since.
What's the lesson there?
Do the things you need to do to take care of yourself. When I have the opportunity to speak about healthcare, I preach the value of preventive care. I was 34 at the time. It's a young man's disease. My son was 1.
Who's been your most influential business mentor?
Joe Perkins was my mentor, the guy who brought me to MJ. He's one of our partners. He recruited me from college and attached me to his hip for three years. He taught me the business and a lot of other life lessons as well. I wouldn't be where I am today without him.
If you could change one thing about the insurance industry, what would it be?
Pharmacy benefit managers—they're the middlemen between the drug manufacturers and the pharmacies that purchase their medication. The way that system works is broken. The incentives there are misaligned to the employer.
What gives you your leader's edge?
It's the people around here, our team. The innovations that we are bringing to the marketplace are the things that give us our edge.
The Vetor File
Vacation Spot: Bald Head Island, North Carolina
Musician: Bruce Springsteen ("I go to five to 10 shows per tour. If I could do anything, I would just follow him for an entire tour. Nothing gets my adrenaline pumping like a Springsteen show."
Author: Patrick Lencioni (The Ideal Team Player, Death by Meeting, Getting Naked)
Wheels: BMW X5