A Bull Market
Lower Manhattan is in an upswing.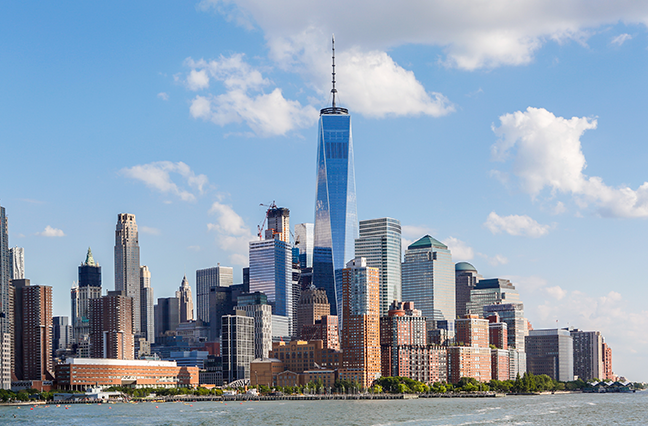 Tom Wolfe coined the term "Masters of the Universe" to describe the ambitious young Wall Streeters of the 1980s that he chronicled in his best-selling novel, The Bonfire of the Vanities. Like the stock market, the Financial District has had its ups and downs since. But there is no doubt that Lower Manhattan is in the throes of a bull market. In addition to finance, the current Masters of the Universe, navigating the narrow, winding streets of New York City's oldest neighborhood, are coming from creative industries such as advertising, tech, fashion and media—publishing giants Condé Nast and Time Inc. have both moved here.
They are also living and playing where they work. According to the Alliance for Downtown New York's 2016 Year in Review, there are now 658 stores, 512 eateries, 323 residential and mixed-use buildings and 30 hotels in Lower Manhattan.
The latest addition to the neighborhood's skyscrapers and historic sights, such as Trinity Church, Federal Hall and Wall Street, is the Oculus, which serves as the World Trade Center transportation hub—a striking structure designed by Spanish architect Santiago Calatrava. Built by the shopping center developer Westfield Corporation and known officially as the Westfield World Trade Center, the mezzanine is a mecca for upscale shops, including a two-floor Apple store, FordHub, Ford's experiential retail space, and the latest Eataly. While this Eataly lacks the cavernous feel of the Flatiron location, it is still teeming with market stations offering Italian fare—pizza, pasta, freshly baked breads and wheels of cheese. You can grab a panini or espresso to go or sit down at one of four restaurants, including the Osteria della Pace, which serves Southern Italian cuisine with Downtown views.
Towering above it all is the new One World Observatory, on the 100th floor of One World Trade Center. Far below, in the heart of it all, are two new hotels, the Four Seasons Hotel New York Downtown, an oasis of refinement, and the Beekman, a modern take on the Gilded Age.
The city's hottest new restaurants, which are also some of its most beautiful, are not only located in Lower Manhattan but also affiliated with hotels, a tad unusual. At the Beekman, New Yorkers from the Upper West and East Sides are actually venturing down, appearing as tourists in their own city to sip cocktails in The Bar Room, a stunning space in the atrium of this former library, and to dine at chef Keith McNally's Augustine or chef Tom Colicchio's Fowler & Wells. Le Coucou, a lovely French eatery by chef Daniel Rose, is in 11 Howard, a new boutique hotel in Chinatown. It topped the list of best new restaurants in 2016 for many critics, including Pete Wells of The New York Times, and is one of the most sought-after reservations in town.