Plug and Play's First Annual Broker Age Event Gathers Brokers and Insurtechs Together
We participated in the first-ever Plug and Play Broker Age event in Silicon Valley.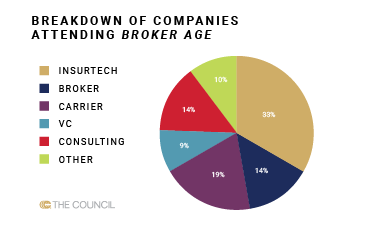 Plug and Play, an early-stage accelerator, focuses on technology startups from seed to series B funding rounds.
Plug and Play is currently working with over 10,000 startups across 14 different industries, with a keen focus on the insurance sector. The company is known for their unique investment approach, one that relies on a constructed "ecosystem" of insurance industry incumbents and established corporations to provide startups with guidance and insight while giving incumbents/traditional players an inside look at which insurtechs are truly proving value in their space.
Check out our interview with Plug and Play's Ali Safavi, global head of insurtech.
With over 150 registrants, Broker Age saw a very mixed bag of attendees, including 25 attendees from brokerages, 11 of whom are Council members. The majority of attendees were from the insurtech community—over 50 attendees came on behalf of 30 insurtech companies. Outside the conventional insurtech and incumbent space were VC and consulting firms and NAIC representatives.