James (Jim) J. Maguire
"Believe what you are and become what you believe."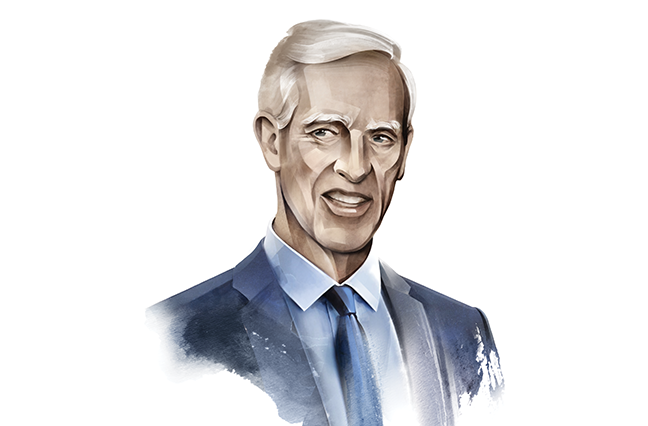 Jim Maguire has lived what he has preached.
He embodies the American ethic of hard work, perseverance and giving back to the community.
Maguire was born during the Great Depression into a large family. His father's job with Met Life kept the family moving from city to city, which also meant new schools for the young Maguire. He struggled with his studies, and it wasn't until much later that he was diagnosed with dyslexia. The untimely death of his father almost put Maguire on the wrong path, but his strong mother intervened.
Maguire attended Niagara University on a baseball scholarship but soon fell behind academically because of his learning disability. He left school and was drafted into the Korean War. After the war, he enrolled in St. Joseph's Universityy on the GI Bill. It was there that he met Reverend Hunter Guthrie, noted early pioneer in the study of dyslexia. After working with Guthrie, Maguire graduated from St. Joseph's with a 3.0 GPA.
Following in his father's footsteps, Maguire started his career with Met Life. He soon realized he was not cut out for a desk job as a collection agent. While at St. Joseph's, he volunteered with the deaf (his father had been partially deaf) and became close to the community, so he asked Met Life to let him sell standard insurance to his friends. He was an overnight success as a salesman. Less than two years after the start of his career, he opened Maguire Insurance Agency, where he offered specialized insurance to the auto industry. Chevrolet was the agency's first national client. That deal led to WHEELWAYS, an innovative and comprehensive program for auto dealers. The agency quickly expanded operations to 15 offices across the country.
In 1980, Maguire formed a holding company, which today includes several subsidiaries—the Maguire agency, surplus lines insurer Philadelphia Insurance Company, and Philadelphia Indemnity. Maguire Insurance Agency went public in 1993, and 15 years later it merged with the Tokio Marine Group. At $5 billion, it was one of the largest deals for financial firms in Japanese history.
Dedicated to helping others, in 2000 Maguire and his wife Frances created the Maguire Foundation, a nonprofit committed to improving the quality of life for people through investments in education, arts and humanities, and hunger and homelessness prevention.
"We saw an opportunity to create a continuum of education by educating kids in grade school to high school and into college," Maguire says. "We wanted them to progress into a leadership role in society."
Some of the programs include support for the Pennsylvania School for the Deaf, a mentoring program for underprivileged intercity high school students, a soup kitchen and a summer camp for children from low-income families.
Maguire has been honored for his work in the industry and his commitment to the community. He holds two honorary law degrees and an honorary degree in letters from St. Joseph's University. Maguire received the Horatio Alger Medal for Philanthropy and the Shield of Loyola, St. Joseph's highest honor. This year, he and his wife donated $50 million to St. Joseph's, the largest gift in the school's 166-year history.
Among his many achievements, Maguire authored the popular biography Just Show Up Every Day, about the history of Philadelphia Insurance Cos. and his struggles with dyslexia.
He and Frances have been married 55 years. They have nine children and 21 grandchildren.