Americas' Imported Taste
Our insatiable appetite for imported fresh fruits and vegetables could be making us sick.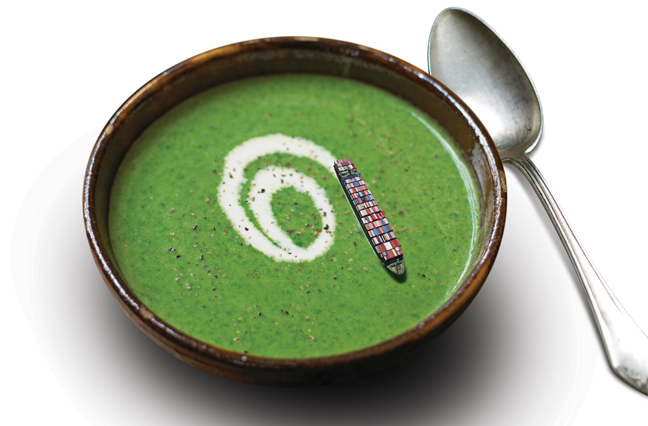 Your high-performance Vitamix whirs up a green smoothie spiked with organic spinach and loaded with frozen mixed berries and antioxidant-rich pomegranate seeds.
You make your own hummus for brown-bag lunches and order salads when you eat out. Your spice rack is loaded up with ground coriander and cumin ready for that great Indian dal recipe you found on Chowhound.
You just love the way good food fuels your body and nourishes your soul.
That is, until you double over in pain and start throwing up.
No one expects to become violently ill when they eat, especially healthy fruits and vegetables, but our insatiable appetite for cheap, imported food is making us sick. Fresh fruits and vegetables in winter may come with a higher price tag than you think.
Don't confuse this with the more expensive artisan delicacies—the cheese, prosciutto and condiments, for example—that are hand-selected by importers who break bread and sip wine with their European purveyors to close a sale. While specialty imports are not immune from contamination, they may even be safer than domestic foods because they typically come from countries with stricter requirements than the United States, says Ron Tanner of the Specialty Food Association.
And to be fair, most of the food we eat—both domestic and imported—is perfectly safe. But recent outbreaks of food-borne illness motivated a dramatic overhaul of the food safety system that seeks to prevent food scares rather than just respond to them. The law gives special attention to imports, given the growing reliance of U.S. food companies on suppliers in developing countries.
The Centers for Disease Control estimates 48 million Americans get sick, 128,000 are hospitalized and 3,000 die from food-borne diseases each year. Plenty of those people are sickened by foods produced here—remember the 2009 salmonella outbreak in peanut butter products that killed nine people, sickened 714 and put Texas-based Peanut Corporation of America (PCA) out of business? Or the 270 people who became ill and the three who died last year after eating salmonella-tainted cantaloupe from Indiana?
Still, imports, which make up 15% of all food consumed in the United States, seem to represent a disproportionate danger. Since 2011, eight of 19 multi-state food outbreaks have been linked to FDA-regulated imported foods, according to the Pew Charitable Trust's analysis of data from the CDC and the U.S. Food and Drug Administration.
The global marketplace also increases the threat of deliberate adulteration, fraud and counterfeiting.
Margaret Hamburg, commissioner, Food and Drug Administration
Globalization of the food supply, the rise of outsourcing and our growing fetish for year-round produce and ethnic and specialty foods have contributed to dramatic increases in imported foods. Food imports doubled from 1997 to 2007, and they've been growing about 10% a year since then.
We are more dependent on foreign sources for some foods than others. About 50% of fresh fruit, 20% of fresh vegetables, at least 80% of seafood and 80% of spices come from other countries.
Are you one of those people for whom no amount of garlic is too much? Then you might want to know almost a third of the garlic consumed in the United States comes from China.
"We Americans are spoiled, so we like to eat fresh produce 12 months of the year, and it's not really available here," says Tami Griffin, national deputy director for Aon's Food System, Agribusiness and Beverage Group. American consumers can easily understand that their tilapia might come from China, but Griffin says they are shocked to learn how much food manufactured in the United States relies on ingredients imported from other countries. Our imports come from 150 countries, but almost all imported fruits and vegetables come from just 10, and the same is true for 80% of our seafood.
"Most of what we import comes from developing nations, which is where the concern comes in," Griffin says. "You are talking about countries like Mexico, China, Thailand, India—countries that may not have the same standards and may not have the same social responsibilities that companies in the U.S. have."
The problems range from food grown in soil contaminated by heavy metals or polluted water to the use of unapproved pesticides, drugs and hormones. Contamination with the pathogen salmonella was the second most commonly cited reason the FDA refused raw produce shipments from overseas in 2009 and 2010.
And as FDA commissioner Margaret Hamburg noted in Senate testimony last spring, "The global marketplace also increases the threat of deliberate adulteration, fraud and counterfeiting."
Several years ago, Chinese suppliers of wheat gluten for use in U.S. pet food and dairy products substituted melamine, a toxic ingredient used to make plastic, because it was cheaper.
Just this year, more than 160 people in 10 states contracted hepatitis A from pomegranate seeds that were imported from Turkey and included in a frozen berry mix sold by Costco. Almost 650 customers in 25 states suffered intestinal infections from the cyclospora parasite after eating salad mix imported from Mexico. And cucumbers from that same Mexican produce company sickened 84 people with salmonella. Other outbreaks in the last two years were caused by imported ricotta salata cheese from Italy, tahini paste and pine nuts from Turkey, tuna that was processed in India for use in sushi, and mangos and papaya from Mexico.
Spices are among the biggest problem foods. In a risk profile released in late October, FDA researchers reported that almost 7% of imported spice shipments destined for U.S. consumers were tainted with salmonella, twice the prevalence found in all other food imports inspected during the same period, from 2007 to 2009. Meanwhile, 12% of imported spices were contaminated with insect parts, rodent hairs and other filth.
Changing the Rules
Lawmakers responded to the threat of dangerous foods from here and abroad with the most sweeping reform of food safety laws in more than 70 years. Signed into law in January 2011, the Food Safety Modernization Act focuses on prevention. The law mandates safety controls throughout the food supply to prevent contamination and strengthens the FDA's hand when it comes to ensuring the safety of imports.
Testifying in September at a public hearing in Washington, Sandra Eskin, Pew's director of food safety, called proposed rules for food importers "a game changer."
"For the first time, importers will be held responsible for the safety of the food products they import, and those products will have to meet the safety standards applicable to domestically produced food," she said.
In other words, whether the food you buy or any of its ingredients comes from India or Indiana, it must meet FDA standards.
Making the food industry responsible for preventing contamination represents a tectonic shift for the FDA. For imports, the benefits are obvious.
"We have 300 ports of entry. We import from 150 countries. The government can't inspect everything coming through those ports," Griffin says. Somewhere between 1% and 2% of imported food is actually inspected, and inspections typically catch only those problems that can be seen with the naked eye. "With foreign supplier verification, it pushes that responsibility to U.S. companies to say what I'm importing meets at least the standards of the U.S.," Griffin says.
The 2011 food safety law also sharpened the FDA's teeth. Under the law, the agency can require special safety certification for the riskiest imported foods. If a foreign facility refuses U.S. inspection, the FDA can block its products from entering the country. The law also enables regulators to order a recall based on a reasonable belief that foods might be contaminated, even if no one gets sick. When the violations are flagrant, senior management can go to jail. Executives of Peanut Corporation of America are scheduled to stand trial on criminal charges in February.
Of course, those are extreme measures reserved for extreme situations.
"We don't see it used often because most companies will recall voluntarily," says Griffin, who has already noticed an increase in voluntary recalls. "It's not in their interest to kill or injure one of their customers."
It's a very broad, shotgun approach. They can shoot first and ask questions later.
Peter Picetti, senior vice president, Heffernan Insurance Brokers
Griffin works in Aon's food and agribusiness practice, which is headquartered in Kansas City, an up-and-coming culinary destination despite its one-horse-town reputation for barbecue. She's a self-described foodie, even after 18 years peering behind the works in the proverbial sausage factory to help food companies identify and protect against risk.
Griffin has been helping food companies manage both the financial and reputational risks associated with contamination and recalls since the late 1990s. In the early days, the only underwriters willing to take on these extraordinary risks were specialty insurers in London and Bermuda and a few heavy hitters, like AIG. But the market has evolved in the last five years, with more domestic carriers making coverage available to middle-market businesses.
"The risk was always there before, and some companies bought it," Griffin says of recall and contamination insurance. "But the passage of the law really brought it to the attention of people, so it resulted in more people purchasing coverage."
Because of the complexity of the food business, recall policies should be tailored to the needs of each client. Policies include first-party coverage to pay the substantial cost of a recall, including analyzing the extent of contamination, notifying customers, removing products from the market and replacing them. Policies can also compensate for lost profits and provide crisis management and public relations services to help rebuild brands. Some policies include third-party coverage for losses suffered by customers and distributors as a result of a recall, but it's not automatic. This coverage would pay a restaurant for damage to its reputation after serving customers salad containing an insured produce company's contaminated lettuce.
Some insurers are updating their policies to respond to new risks that have arisen from recent food scares and provisions of the food safety law. Many recall policies provide coverage only when there is the possibility of bodily injury or property damage if the insured product is not recalled. But now that the new law allows the FDA to shut down a facility and order a recall based solely on the belief that a food might be contaminated, customers need broader coverage.
"It's a very broad, shotgun approach," Peter Picetti, senior vice president in the San Francisco office of Heffernan Insurance Brokers, says of the FDA's new recall powers. "They can shoot first and ask questions later."
Newer policies, Griffin says, may also provide coverage for "adverse publicity," responding when an insured company's brand is named in the media even if its product was not contaminated.
The need for broad-based recall and contamination coverage becomes obvious when you consider the story of Daniele Inc. The third-generation family business in Rhode Island produces charcuterie, like prosciutto, mortadella, sorpressata and pancetta. Although Danielle sources hogs from American farms, it purchased black and red pepper for its salami from two spice importers. Between mid-2009 and April 2010, 272 people in 42 states were infected with salmonella after eating its packaged sliced salami. While Daniele had to recall 1.4 million pounds of salami, ultimately the salmonella was traced to the imported pepper. Daniele filed a lawsuit against its two pepper suppliers. One settled for an undisclosed amount. A court awarded Daniele $33 million for its recall expenses from Wholesome Spice, but the Brooklyn, N.Y., company went out of business, and Daniele sued Wholesome's insurer for payment.
Surviving Disaster
Daniele seems to have bounced back, investing in a $50 million state-of-the-art facility slated to open next year. But it was one of the lucky ones. Many businesses are not that resilient. "Companies run the risk of losing their contracts," Griffin says. "People won't buy from you if you don't have the financial wherewithal to back them up. This could be your balance sheet or an effective insurance program."
Under the new law, if the FDA has to go overseas to inspect a company's foreign supplier after a recall to ensure its safety protocols are up to snuff, the importer is responsible for the re-inspection fees. The cost of a recall and re-inspection can take a big bite out of profits. But when people don't trust that a product is safe, the longer-term loss of revenue can be crippling.
"The biggest risk for food companies is always their reputation," Griffin says. "They should have been doing all of this already because they have the most to lose. They have to be vigilant in verifying their suppliers are doing the right thing because you can't test 100% of everything and it is their reputation on the line."
The growth of outsourcing, or virtual manufacturing, has transformed our food supply and made risk management ever more complex. "The majority of products we buy are made by someone else, not by the so-called manufacturer," says Picetti, a third-generation insurance broker whose grandfather sold insurance to two San Francisco salami manufacturers who became close family friends.
Things were different in those days.
"They knew where the raw materials were coming from. It was all domestic," Picetti says. "It was all on a handshake. These people all knew each other."
Today, the players in the manufacturing process are connected by increasingly complex contracts between suppliers of ingredients, companies that manufacture and package foods, brokers that find markets for it on store shelves or restaurants and the stores that sell it to consumers.
Some labels—particularly companies with private-label store brands, like Costco, Trader Joe's, and Whole Foods—have gotten really serious about managing risk through their supply chain. Some send their own inspectors overseas to test samples and examine the facilities that are supplying their ingredients. Many rely on third-party auditors. Picetti has been working with food companies to set up vendor certification programs, which systematically track vendors at various checkpoints in the process to verify they are complying with the brand's quality and food safety requirements—from the field to the store shelf.
In its proposed import rules, the FDA adapts that concept. Importers would be required to implement a "foreign supplier verification program" to ensure their vendors are adequately protecting against common hazards just as the food safety law requires of domestic food companies. The proposed import rules also would allow for approved third-party auditors to certify that a food is safe.
The biggest risk for food companies is always their reputation. They should have been doing all of this already because they have the most to lose.
Tami Griffin, national deputy director, Aon
Many big food companies already take these steps as part of their risk management process, but the law now requires it, says Capt. Domenic Veneziano of the U.S. Public Health Service, who oversees import operations for the FDA. Exceptions exist for smaller businesses with less than $500,000 in revenues.
"There are still going to be outbreaks. You can't stop everything from happening, even with inspections and verification and testing," Veneziano says. "But overall we think it's going to better protect public health."
Implementation of the import rules is projected to cost businesses between $400 million and $500 million, and the rules may not take effect until 2015. But insurance brokers like Griffin and Picetti are advising clients to start getting with the program now, if they haven't already.
"Ultimately, it's the label's liability," Picetti says. "They are going to be the first line of defense."