Game Changers
They shook up the industry, shaping it into its current form.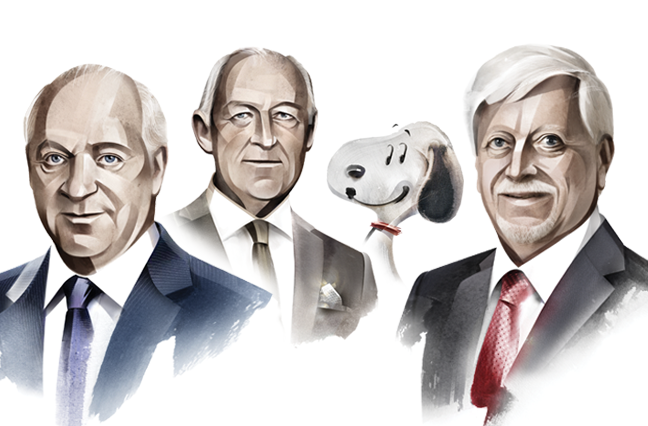 Each year The Council identifies those who have made extraordinary contributions to the insurance industry and especially to commercial brokerage. We call them Game Changers.—Editor
Thomas (Tom) J. Rodell
Executive Vice President, Head of Field Operations, Aon
Chairman, The Council, 2000-2001 and 2007-2008
Thoughtful, focused, compassionate
Soon after graduating college, Tom Rodell veered from his chosen field of study in political science and joined the world of risk management. At the time, he did not recognize the import of that decision. Some two decades later, he would face the biggest risk of his life on Sept. 11, 2001. As fortune would have it, his meeting with Aon managers that day was scheduled at the Millennium Hilton hotel across the street from the World Trade Center (WTC). Rodell had spent the day before in Aon's WTC offices. Nearly 3,000 people lost their lives on 9/11, including 176 of Rodell's colleagues. Rodell was asked to stay on in New York to assist Aon's Risk Solutions' leadership and help employees who were left dealing with the tragic aftermath.
Rodell's insurance career began with The Hartford in 1973, but he soon moved to Alexander & Alexander, then the world's second-largest insurance brokerage. Rodell quickly climbed the corporate ladder, landing as the head of A&A's Insurance Services. When Aon acquired A&A in 1997, he stayed with the company, holding a variety of leadership roles, including executive vice president and head of field operations.
As a member of the board for the National Association of Insurance Brokers, Rodell played an instrumental role in the historic merger of the association into The Council of Insurance Agents & Brokers. He was the only person elected twice as chairman. Rodell also helped form the World Federation of Insurance Intermediaries, the first organization to give brokers from around the world representation at a global level. He served as The Council's representative on the federation's board and was elected chairman.
Rodell gave much to his community, serving on the YMCA national board for nine years. As former YMCA USA president and CEO Neil Nicoll said, "Tom's leadership on the YMCA USA board played a key role in transforming Y services for 22 million participants. Tom's thoughtful, focused and compassionate approach led to the creation of new programs to address some of society's greatest social and health needs…. Tom's mark on the Y will benefit generations to come."
Rodell has volunteered at Project Homeless Connect in San Francisco and spent the night at Journeys PADS emergency shelter sites in the Chicago suburbs. He and his wife, Sue, now live in Amelia Island, Florida, spending summers in northern Wisconsin with visits to Chicago to see family and friends.
Jaap Meijers
Founder, Meijers Insurance, The Netherlands
Family, friends and giving are core values.
Whether it's racing cars, building a successful insurance brokerage, or giving back to his community, Jaap Meijers has always given it his all. In 1967, Meijers changed careers and joined a thriving broker in Amsterdam. In 1973, he and his wife, Tineke, launched what would become one of the largest private brokerages in The Netherlands. It started modestly, but they believed they could build a business on the core value of family and friends first. These values became the backbone of the business. Not only did he take care of his employees but extended that family approach to clients.
"Our strength is in having the attitude and culture of a family business," Meijers told Leaders Edge in 2009. "We are involved in the well-being of our people."
Meijers started providing lunch so the employees could eat together and took care of workers who were ill or faced serious problems. To bring clients into the family fold, Meijers set out to service a client's entire risk portfolio from business to the personal lines needs of the principals. It worked, and the firm's business has grown steadily ever since.
When Meijers saw how fast the global economy was expanding, he knew it was important to keep pace with his clients' growing international business. He joined The Council and was a founding member of the Worldwide Brokers Network, which he chaired from 1996 to 2000. As chairman, he oversaw the inclusion of the network's first U.S. member. In addition, he served as chair of BIPAR, the European Federation of Insurance Intermediaries.
Charity also plays an important role in his life. Among his many contributions, he served on the board of the Jewish Humanitarian Fund, a foundation to revive Jewish life in the former Eastern Bloc. He was vice chair of an institute that helps children with learning disabilities; chair of an Amsterdam museum fundraising committee; and chair of Young Leadership. In 2008, Meijers was knighted in the Royal Order of Oranje Nassau for his charity work in The Netherlands.
Richard E. (Dick) Meyer
Former Executive Vice President, Johnson & Higgins
Former Chairman, Latin American Reinsurance, Bermuda and Global Excess Partners
A man of wisdom, clear decisions and tremendous integrity and generosity
The late Richard Meyer was one of the most respected men in the industry and was widely known for his business acumen, wisdom, philanthropic generosity and desire to help people without asking for anything in return. He graduated from St. John's University, in New York City, and then served as a lieutenant in the Marine Corps. After his service, he joined insurance brokerage Johnson & Higgins. At J&H he rose to executive vice president and member of the chairman's office. Meyer was responsible for all national practices and the formation of J&H in London, which helped expand the brokerage's international reach. He was so well regarded that J&H's mandatory retirement age of 62 was extended two years because so many former colleagues around the world wanted to honor him.
He continued his business interests after retirement, joining Global Excess Partners, a New York-based insurance agency, and chaired Latin American Reinsurance, of Bermuda, which he co-founded. Meyer also chaired XL Capital until 2000.
One close friend described Meyer as "a quiet, non-demonstrative leader whose few words and clear decisions under fire spoke volumes."
Meyer was a generous supporter of many causes. Education of the industry's professionals and non-professionals was one of his lasting legacies. He was an astute investor and helped engineer the mortgage needed to build the College of Insurance. When the college was merged with St. John's, the building sold for millions more than expected.
His charitable contributions didn't end there. Meyer was chairman of Boys Hope and Girls Hope at both a regional and national level and was one of the first recipients of the organization's Vision of Hope Award. He chaired both the risk management and audit committees for the Diocese of Rockville Center and held leadership positions at The Good Samaritan Hospital Foundation and the Children's Storefront.
He also chaired the Calvary Hospital Fund and was awarded its highest honor for his efforts. A "tree of life" was planted on the hospital's campus in his name.
Snoopy
Retired MetLife Mascot
Ace WWI Pilot
Lovable, friendly, iconic
A comic strip character as a Game Changer? Really? Well, how about a powerful brand that ushered in a whole new era of image making for the insurance industry? That's a good description of the Peanuts character Snoopy, who was retired this year as the iconic symbol for insurance giant MetLife.
While many of his adoring fans will miss his constant, comforting presence, MetLife explains that he has achieved everything he set out to with the company. And besides, everyone gets to retire at some point. "We brought in Snoopy over 30 years ago to make our company more friendly and approachable during a time when insurance companies were seen as cold and distant. Snoopy helped drive our business and served an important role at the time," says Esther Lee, global chief marketing officer of MetLife, in a press release. "We have great respect for these iconic characters."
Snoopy first appeared in Peanuts, a daily syndicated American comic strip written and illustrated by Charles Schulz. While new daily strips ended with Schulz's death in 2000, old strips are currently running in newspapers under the title Classic Peanuts. It is the most popular and influential comic strip in history. At its peak, Peanuts had more than 300 million readers in 75 countries and was translated into 21 languages.
It's no wonder MetLife chose Snoopy to give the company a softer, friendlier image. And it worked well as a brand and revenue generator for three decades. With Snoopy Blimps One and Two hovering in the sky overlooking major events and Snoopy speaking for MetLife on TV, he projected the positive image that MetLife sought. It was a company consumers could trust and relate to.
Snoopy also helped improve the image of the industry overall, and other insurers followed suit in using humor and satire to lighten their image. In 1995, 10 years after Snoopy joined the industry, Geico adopted the quirky Gecko, and in 2008, Progressive introduced the peppy cashier Flo.
When all is said and done, who could resist such a lovable character as Snoopy, who often fantasized he was a World War I fighter ace in perilous dog fights with the Red Baron. He also dreamed he was a world-famous author, as well as Joe Cool, a suave college student.
So why would he retire? MetLife is re-thinking its business model, moving away from a traditional product development model to one driven by customer insights. The company is focused on conveying a modern, simplified customer experience and wants to better reflect that in its branding. The company's new logo forms a "M" and combines the legacy blue with a new green that represents the partnership of tradition with renewal and energy.
"We are embarking on a journey to upend the long-entrenched norms of the insurance industry," Lee says. "Our new brand reflects our company's transformation and differentiates us in the marketplace, ultimately driving greater value for our customers and shareholders," says Steven Kandarian, chairman, president and CEO.
But don't feel sorry for Snoopy. He will do just fine in retirement with a golden parachute replacing those blimps. Iconix Brand Group, which owns 80% of the rights to Snoopy, will receive a reported $12 million a year in rights fees from MetLife though 2018.