Modern Benefits Communication
Employers and brokers are adapting the strategies they put in place in 2020. What's next?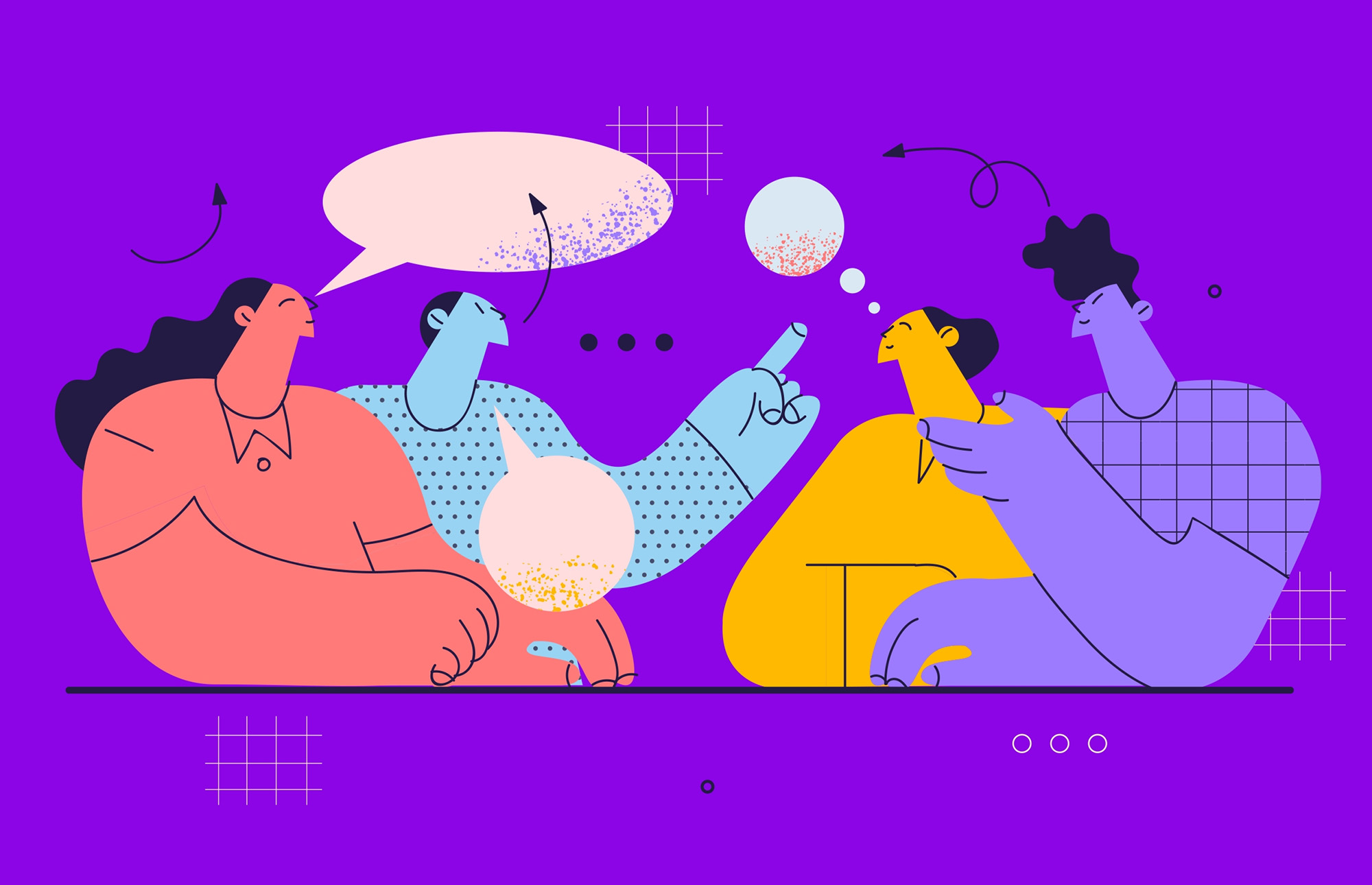 Employee benefits communication usually happens when onboarding new workers and during annual open-enrollment periods.
It's well documented that more frequent communication about benefits improves employee satisfaction, curbs healthcare costs and boosts productivity. However, recent data from Businessolver reveals that employees spend an average of 17 minutes making their elections. The challenge is to inspire employees to care.
When the COVID-19 pandemic set in, benefits brokers and consultants faced a new challenge: pivot benefits communication strategies to highlight resources and programs to help employees with emerging needs. Once-a-year in-person open-enrollment meetings were no longer possible, which in turn accelerated digital-first strategies and forced clear communication of "need to know" information. Public microsites, text messaging, videos, interactive learning modules, virtual benefits fairs and more were implemented to solve for the inability to educate employees face to face about their benefits options.
In September, Leader's Edge surveyed and interviewed 10 of the top benefits brokerages in the country. Five firms are national operations; the other five concentrate on regional business. Each has a keen focus on constructing group benefit plans to serve the needs of middle-market employers and their workers. The goal of this research was to understand how leading-edge firms are adapting and advancing their client communications strategies.
Here is what we learned.
What have been the top priorities of your clients' benefits programs this year?
Wrangling control over costs remained employers' top priority in 2021. However, the Biden administration announced in September a forthcoming emergency temporary standard (ETS) from the Occupational Safety and Health Administration (OSHA) which will require employers with 100 or more workers to mandate that all employees be vaccinated against COVID-19 or else undergo weekly testing. This redirected benefits leaders' attention during the September renewal season and further exacerbated employers' challenge of balancing empathy in meeting employees' needs with the economics of the business.
1. Cost-savings opportunities
4. Effective employee communication
2. Workplace engagement and employee well-being
3. Balancing expenses with recruitment/retention
5. Streamlining benefits administration
Unsurprisingly, workplace engagement and employee well-being were a close second to cost reduction. As such, benefits consultants reported increasingly leading with their "member engagement" strategy in prospecting meetings.
Of particular interest, small and middle-market employers have been taking stock of the key performance indicators within their medical plans and are reevaluating trade-offs and progressive strategies, such as down-market self-funding options, individual coverage health reimbursement accounts (ICHRAs), referenced-based pricing programs, and high-cost patient management programs. This comes after most organizations opted not to disrupt and make major changes to their benefits programs last year.
As the pandemic resets major work trends, all firms said they observed C-suite leaders wanting to improve employee benefits communications and indicated more of their clients are investing in technology-enabled resources to engage employees in their health and benefits than they did prior to the onset of COVID.
At the same time, responses from firms varied when participants were asked if employer clients proactively share the process and rationale behind their benefits decisions with their employees, with 60% saying the majority of their clients do and 40% saying their clients do not share that information.
This is a train that will keep rolling down the track. To start, we picked the top five features that we thought every client would want to see to get clients acclimated. We will then keep releasing additional functionality. We can put data in and create bespoke visualizations, we can create pulse surveys, showcase in-demand voluntary benefits. It will be a living, highly customizable space which we will use to communicate everything in the future.
Employee benefits practice leader at a national brokerage and consulting firm
What are the biggest barriers to improving benefits education and employee utilization?
The number one barrier to improving employee engagement is that they do not know where to go to access information and tools.
Employees don't know where to go to access tools and information
Employees lack understanding of benefit options
Employers do not invest in engagement resources
No ongoing communication after open enrollment
Shortcomings at the C-suite level to prioritize communication offerings
Employees are unmotivated unless they experience a qualifying life event
All respondents indicated that COVID has served as a wake-up call for people to invest more time in understanding their benefits options and resources, but realistically they will do so only when they are pressed by a point-in-time need. Therefore, all brokers surveyed (90% of whom say they primarily fulfill the benefits communication function for clients) are taking action to empower clients with a better experience via a single access point to health and benefits information.
The number one issue for employers has always been how to engage employees in the benefits they already have. It is clear through these interviews that the leading brokers are now investing in the resources to solve this problem with the implementation of a comprehensive digital platform solution to streamline and simplify communications. The brokers interviewed hope that the single access point will be a mechanism to engage plan members at the time they need the information to make an optimal decision.
What are the key initiatives benefits firms are advancing to adapt and improve communication with clients?
Most firms highlighted a comprehensive client-facing platform—and accompanying mobile app—as the foundational building block for their engagement plan with employers and employees going forward.
They are developing content delivery platforms to serve as an easily accessible, navigable and digestible one-stop location to aggregate all employee benefits information, serving up relevant content based on an employee's data and eligibility. Available content extends beyond just insurance policy information to highlight care navigation and cost management tools as well as specific supplemental benefits. As one regional broker explained, "A pregnant woman may see information to help her and her partner prepare to grow their family, including details about life insurance or disability policies, caregiver benefits or retirement planning."
Flexibility with the technology and functionality on the platform were highlighted as critical, which is requiring many of the firms to either build their own or acquire the needed technology. Some of the firms are charging clients for the use of the solution; others are not. In either case, the firms cited investing a portion of commissions to offset the overall cost.
Besides technology functionality, survey respondents noted three core elements that drive their overall client communications strategy.

1. Training staff—Firms have trained account teams to use the benefits platform and how to talk about it with clients.
2. Staged rollout—Firms are focused on not overwhelming clients with too much information out of the gate and deploy cross-selling strategies after clients are acclimated.
3. Integrated analytics—A high level of engagement data illuminates where there is traction and where there is not so brokers and employers can adjust their message and strategy.
Brokers are also finding new ways to deliver bite-size pieces of dense healthcare and benefits information. Across the board, survey respondents indicated they had significantly increased their use of video over the last two years. Brainshark was mentioned by several firms as a tool they have found helpful in enabling employees to learn about their benefits via short video clips. Benefits guides have also been transformed into interactive, clickable documents through the use of flipbooks and other digital tools.
Increasingly, brokers and employers are working together to ask employees more frequently throughout the course of the year about their communication preferences. Many of the respondents have invested in digital communications tools, like text messaging, to accommodate growing client interest in that modality.
How are benefits brokerages approaching this year's open enrollment after moving to an all-virtual strategy in 2020?
Overall, survey respondents indicated that they will continue to invest in more online resources, but they plan to offer a mix of digital and in-person options this year. Each firm we spoke with planned to approach open enrollment on a case-by-case basis without prescribing an enrollment method to a client segment based on size or industry. However, 40% of respondents indicated they will no longer print enrollment materials.
One hundred percent of respondents said they will offer a self-service online option that allows individuals to enroll in their benefits during as well as outside of business hours. And all except two firms said they will still offer face-to-face enrollment with an advisor only if desired by the client.
For large and jumbo employers, virtual benefits fairs are now standard. Other turnkey enrollment solutions like websites, gamification, educational videos and decision support tools are continuing to evolve to include a higher degree of customization based on client preferences. Airbo and Health Joy were commonly identified as vendor partners.
Many brokers and employers now possess a mechanism to communicate about benefits throughout the year, which changes their approach to open enrollment in terms of how they staff the process and support and charge clients. Because employers and their employees can now access benefits information 24/7, brokers have started to shift their focus during enrollment to answer two key questions: "What's new?" and "What do I need to know?"
Respondents shared that moving forward they want to drive year-round employee engagement by highlighting solutions that have become priorities for employers and necessary for employees, like caregiving and EAP solutions.
According to a Willis Towers Watson survey from April, almost three out of four employees felt the pandemic would negatively impact employee morale over the next six months. Complex pandemic-driven and other well-being challenges present opportunities for brokers and employers to reach individuals where they are and to deliver intentional, targeted messaging. Beyond delivering information, new digital communications tools can be used to listen and gather insights from the workforce through the use of surveys, polls and virtual focus groups.
Technology developments and changing employee expectations have pushed virtual benefits management out of the set-up phase. This is just the beginning of personalized employee benefits communication.