Lessons Learned
The healthcare industry underwent systemic changes during the height of the pandemic. Experts are watching to see whether they stick.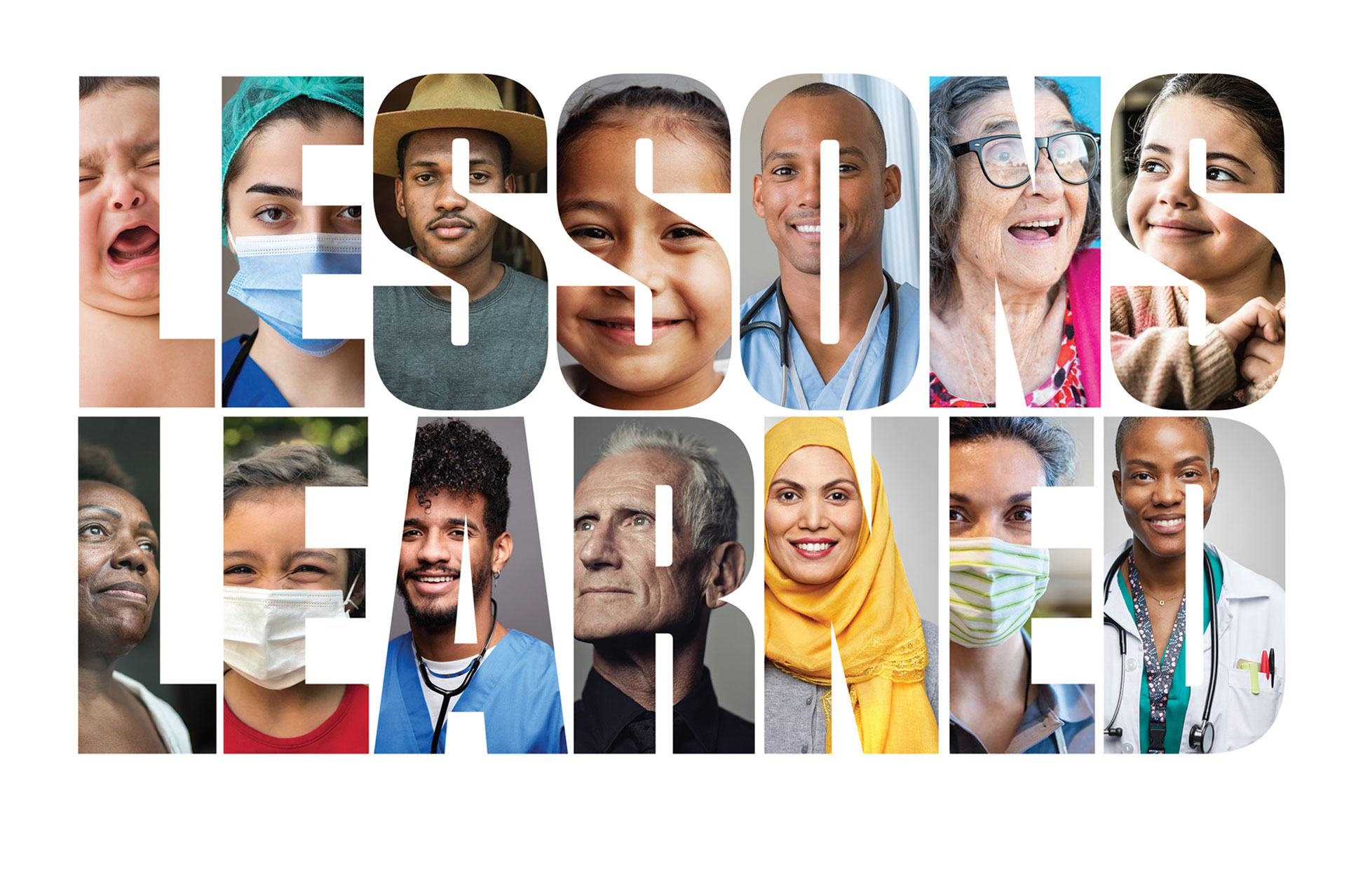 When COVID-19 shook the nation, it not only changed the way people lived; it also turned the healthcare system on its head.
Almost overnight, providers were forced to rethink the way they treated patients. Provider offices were shut down, and hospitals hit capacity. Job losses left millions uninsured and subjected to a life-threatening virus.
The pandemic forced America's healthcare industry to confront long-standing issues of access and inequity.
Telehealth visits skyrocketed during the pandemic, particularly in the area of behavioral health.
During the pandemic the demand for home healthcare services has outpaced resources.
The issues that arose because of the coronavirus were not new to the healthcare system, which has for years been challenged by access, equity and insurance coverage. But the pandemic hit hard and fast, and there was no way to avoid such long-standing issues any longer.
"It was almost like throwing cold water on everyone," says Sue Watson, director of the Public Health Institute's Together Toward Health initiative, a California-based program that aims to reduce the spread of COVID. Public health officials had been dealing with many of these issues for years, Watson says, but they weren't prioritized by the healthcare industry. COVID-19, she says, left no choice but to start acting on these inequities.
As a nation, we were forced to figure out how to offer healthcare services to people in their homes. Stress, anxiety and fear were omnipresent, requiring employers and providers to better manage behavioral health. Equity came to the fore, baring the dramatic differences in treatment between people of different races and income levels.
Though COVID-19 continues to be a concern, particularly in the hardest-hit regions of the country, life in America has begun to return to some semblance of normalcy. COVID-19 changed the nation and its healthcare system dramatically. But the question now is whether the industry will return to its norms, as well, or learn valuable lessons foisted upon it.
Focus on Equity
It's almost impossible to disentangle the pandemic from the racial tensions that flared during the past year and a half. The highly publicized deaths of George Floyd and Breonna Taylor brought a resurgence of the Black Lives Matter movement and protests across the country. At the same time, the pandemic was raising public awareness about the health inequities affecting minorities and people living in poverty.
"It became part of the narrative around COVID: recognizing who was being disproportionately impacted by this," Watson says. "And it was people who were Black, LatinX, Native Americans, immigrants and low-income populations."
Many of these groups that were hit hard by the coronavirus were those living in circumstances that made them most vulnerable to the disease. They were substantially more likely to have diabetes, obesity or another chronic health problem that fueled COVID-19 severity. Multi-family housing created tight quarters. Front-line workers were not able to work from home. Many people held jobs that did not allow them to take time off to get the vaccine. Many did not have health insurance or had low health literacy because they didn't speak English. Some of these issues are structural, falling back to the public health mantra that, when determining health outcomes, our ZIP code is as important as our genetic code.
"On the surface, COVID didn't discriminate," Watson says. "But it disproportionately impacted some, and now that this has all been laid bare, we can't cover it back up."
As headlines begin to shift away from COVID, Watson says, it will be important to continue some of the lessons learned and programs implemented over the past year. She says public health officials, employers and the healthcare system will need to continue to pursue systemic changes to help improve conditions in which people live to combat chronic illnesses such as obesity, heart disease and diabetes, which dramatically worsen health outcomes for COVID patients. The dialogue, she says, will need to shift toward creating economic security, transportation for those in need, and access to healthy foods.
Health equity, says Emma Hoo, director of value-based purchasing at Pacific Business Group on Health, has become a priority among employers during COVID. She says some employers have asked health plans to report stratified results of quality outcomes across different populations. Then, employers can work with the plans to address risk factors across various groups.
COVID opened our eyes to what we could do at home. It allowed for people to bring a lot of care into there that we didn't do before. We were always there. We'd been in the home for years.
Vicki Hoak, Executive Director, Home Care Association of America
Employers are also working with insurers to make sure providers in their networks speak multiple languages and reflect their company's culture. Some insurers have created programs to identify issues like housing or food insecurity, document it in medical records, and use it to prompt referrals to community resources. Such an approach will help businesses looking for ways to find community supports for their workforce.
Watson says COVID-19 taught her the value of trusted messengers to get the word out about health initiatives. This included people from a community who speak the language and help people understand the need to get vaccinated against, or get treatment for, COVID-19.
"It was so important to have someone who could talk to people in their language, who looked like them or was someone they knew," Watson says. "It made people feel like they could ask real questions about their health."
Public health institutions talked about how to engage employers as an "important leg in the stool" during the health crisis. Watson's organization focused on farm workers, a transient population consisting largely of immigrants. She reached out to employers with the message that employees need to be healthy and present to keep the business going. The Public Health Institute helped business put policies in place, such as offering Uber rides to get vaccinations and time off after the shots to deal with side effects.
Change, both in healthcare and public policy, comes slowly. Karen Joynt Maddox, co-director of the Center for Health Economics and Policy at Washington University in St. Louis, says there hasn't been enough change in her opinion, but she has seen the wheels turning. She has seen structural changes in her clinical and research work, including organizations putting money into creating equity and inclusion departments.
"People doing social justice and racial justice work are suspicious that it's performative as opposed to real change," she says. "Only time will tell, but I think there are conversations now among business and community leaders who can create broader change."
Care from Home
Another major access issue occurred when the novel coronavirus began ravaging nursing homes and long-term care facilities. The industry has long been yoked by concern regarding patient care and staffing shortages. But the more than 180,000 nursing home residents that have died to date from COVID caused a national uproar.
People were suddenly estranged from close family members as facilities quarantined. Some families pulled loved ones from the sites and took on the role of family caregivers. Telehealth was able to bridge the gaps of some, but not all, clinical needs.
"That puts a big burden on families to ask them to care for someone who can't get to the bathroom or dress themselves," Joynt Maddox says. "And what people are required to do in a crisis isn't what you should ask of them all of the time. It became grossly evident that we need to expand home and community care for older adults."
Home care plays an important role for people who are older, are disabled or can't perform activities of daily living on their own. An entire workforce of home healthcare workers help with daily rituals such as bathing, dressing, preparing meals and cleaning. COVID flipped this industry upside down, as it did many others, says Vicki Hoak, executive director of the Home Care Association of America.
"COVID opened our eyes to what we could do at home," Hoak says. "It allowed for people to bring a lot of care into there that we didn't do before. We were always there. We'd been in the home for years."
But even her industry was not immune to changes. Home healthcare workers had to pivot dramatically in March of 2020. They had to start thinking about infectious disease control and train home care aides in transmission prevention. They dealt with a drop in clientele early in the pandemic because people were nervous about having outsiders in their homes. Then demand catapulted as people began pulling family members from nursing homes.
Hoak says the association fights continuously for the rights of its members, who often aren't considered to be part of a patient's healthcare team. During COVID, she says, the association doubled down on the fight for creating national standards for licensing—currently the workforce is licensed by the states, though some states don't offer such licenses. Having national standards, Hoak says, would allow for consistency across the industry and enable groups like hers to cull data to see if the care being provided is valuable. It would also help "elevate the profession," she says, which might entice more people into home healthcare.
Although home healthcare is one of the fastest-growing industries in the country, the demand for its services since COVID is outpacing resources. Home care agencies, Hoak says, are turning away large numbers of potential clients each month because there are not enough workers to care for them.
"I think COVID highlighted that it may not be a good idea to house our growing elderly population under one roof in a congregate setting," Hoak says. "We need to make sure there are other options available. "We know staying home costs less, and if people want to be at home, that's a win-win situation."
COVID also highlighted the challenge of having family members do all kinds of caregiving. According to Hoak, 43 million Americans care for aging relatives, and they rarely get the help they need. "The government should be thanking these families," she says.
One bill, the Credit for Caring Act, introduced in the Senate in May and now before the finance committee, would give families a tax credit to help cover some home care expenses. It would help pay for transportation or equipment not covered under Medicare.
On the surface, COVID didn't discriminate. But it disproportionately impacted some, and now that this has all been laid bare, we can't cover it back up.
Sue Watson, Director, Together Toward Health
Joynt Maddox says the pandemic presented a window into what should be changed about long-term care facilities, nursing home care and home health. But even in 18 months, it's hard to create sustainable change in any industry.
"People were sent home instead of staying in nursing homes who should have been there, and we used telehealth where it might not have been the best option," she says. "But it created change, made people think more creatively, and broke down a bit of inertia in the industry. We know more about what we can do, and now, as the dust settles, we can figure out how we really want to do things moving forward."
Behavioral Health
COVID-19 not only took a toll on people's physical health, but it became clear quickly that the stress of a pandemic and quarantine was detrimental for people's mental health. According to the Kaiser Family Foundation, 40% of U.S. adults reported experiencing symptoms of anxiety or depression during the pandemic, up from 10% in 2019. Typical symptoms include difficulty eating and sleeping and increased alcohol and substance misuse.
Behavioral health can be a challenge for employers to tackle, but Hoo, from PBGH, says she has been seeing employers invest in behavioral health services, particularly in expanding and encouraging the use of employee assistance programs (EAPs).
"COVID presented an opportunity to remind folks that that benefit was there," Hoo says. "Many employers added benefits there to increase access. They recognized that a lot of people might not have clinical mental health diagnoses but they were worried about COVID, their financial insecurity, planning around children and schooling," and an EAP vendor could help employees manage those stressors.
Employers used tools such as on-demand EAP services or online or phone visits that allow for immediate appointments with a mental health professional. Some companies created standards concerning timeliness of appointments; one business PBGH worked with had a seven-day access requirement. During COVID, they worked with their vendor to reduce that to five-and-a-half days.
Hoo also saw an increase in the use of behavioral health improvement measurements during the pandemic. The focus turned to patient-centered outcomes—for instance, an employer might track how much of the workforce was getting screened for symptoms of anxiety, depression and substance use, then see how many of those people were seeking care and look out six months to a year to see if those getting care were showing improved outcomes.
She has also seen a resurgence of interest in wellness but not through traditional health programs. She says employers are casting a broader net to focus on areas like increasing social interaction among employees and helping people identify and set goals. Employers are also working to increase engagement through employee resource groups and promoting peer-to-peer engagement.
Primary care physicians in recent years have increasingly become an entry point for patients accessing behavioral healthcare. As such, PBGH also focused on payment reform to primary care providers.
"It's important to support primary care doctors doing screening and managing milder conditions in behavioral health as well as expanding capacity where it's needed on the specialty care side," Hoo says.
However, the major way behavioral health has evolved during the pandemic is through telemedicine. According to a study in the Journal of Internal Medicine, only about 15% of people surveyed were using telemedicine for behavioral health services prior to the pandemic. During COVID, that number shot up to 54%. That's higher than the 43% of respondents who were using telemedicine to treat physical conditions during the pandemic.
"There's a tremendous opportunity in behavioral health," says Seth Joseph, managing director of Summit Health, a boutique consultancy and advisory firm that works with companies on their digital health strategies. "Because the nature of treatment there is through dialogue and with lingering issues around the stigma of seeking care, telehealth can be really helpful for increasing access and lowering barriers to behavioral healthcare."
Increased Use of Telemedicine
Though telehealth visits skyrocketed during the pandemic, particularly in the area of behavioral health, usage numbers have begun to drop steadily since the summer. According to the Monthly Telehealth Regional Tracker, the number of telemedicine claims dropped about 12.5% from March to April, 2% from April to May, and 10% from May to June.
But when the COVID-19 delta variant surfaced last summer, the use of telemedicine again rose slightly. In the fall, Joseph says, telemedicine visits started to level off or drop slightly.
Because hospitals and healthcare providers live on razor-thin margins, small numbers of telemedicine visits can make or break a facility. Providers might have to reckon with returning to traditional in-person care while maintaining telehealth as an additional revenue-generating service.
"Even over the summer, as people were getting back to a new normal and going back outside, we still saw telehealth-visit volumes that were extraordinarily higher than they were pre-pandemic," Joseph says. "Volumes definitely have dropped, but they are still five to 10 times higher than before the pandemic."
There are a number of other spaces, aside from behavioral health, where telemedicine proved to be beneficial for patients during the pandemic.
One is triage, or a digital front door, Joseph says. For patients who tend to use a lot of urgent care, many providers offer services that can help an employee or insured individual determine how to enter the system via the phone. In theory, this can help patients determine if they need to see a physician, go to urgent care, or get by with self-care at home.
A number of insurers and healthcare providers used the pandemic as a means for reinventing primary care. They relied on virtual first visits, rather than traditional in-person appointments, to bring people into a healthcare system. The idea was to reduce the cost of care by using technology as a starting point. For insurers and self-insured employers, this made for a good way to create a space that not only allowed them to help determine where patients should seek care but provided an opportunity to influence where patients went for care.
Providers using this technology have needed to utilize value-based payments because fee-for-service isn't as feasible through telemedicine. Many of the companies that are heavily invested in telehealth have moved to monthly fees for memberships in exchange for a healthcare provider from a patient's care team who will always be available for treatment.
"This kind of change can only be a good thing because we will find out over time which of these models is most effective from payment, quality of care, and outcomes perspectives as opposed to engaging with providers in more traditional ways," Joseph says.
The Urban Institute conducted research on maternal health equity and how it was impacted during the pandemic. They sought to learn how COVID-19 was affecting maternal healthcare access and if there were equity issues with lower-income patients. Telemedicine enabled these patients to receive care they might not have had with traditional visits. But challenges, such as lack of transportation or childcare, can make it difficult to receive proper care. A mother might also not be able to sit at a clinic with hour-long wait times if she has a job that doesn't allow for paid time off.
That puts a big burden on families to ask them to care for someone who can't get to the bathroom or dress themselves. And what people are required to do in a crisis isn't what you should ask of them all of the time. It became grossly evident that we need to expand home and community care for older adults.
Karen Joynt Maddox, Co-Director, Center for Health Economics and Policy, Washington University
Telemedicine, the researchers found, helped young mothers overcome long-standing barriers to access. Traditionally, the industry has held the assumption that lower-income populations are merely noncompliant or just don't want to care for themselves. But telemedicine has helped to overcome some of the barriers to care among this group in their research, says Ian Hill, a health policy researcher at the Urban Institute.
While telemedicine did allow for greater access, there were some equity issues the researchers found. These challenges were consistent with telehealth usage prior to the pandemic. They found a lack of broadband availability in some urban and rural areas. People also needed technology like laptops and smart phones to connect with their providers, which weren't always in a household.
Telephone visits, accounting for about 85% of total visits, were far and away the most typical visits they found in their research. Though mobile phones are nearly ubiquitous, some patients did have plans that limit their data or usage, creating access problems.
A recent Deloitte study surveyed patients on their use of telemedicine during the pandemic. About 17% reported having connectivity issues, and 11% had difficulty using video. But the two most reported issues were missing the face-to-face interaction with physicians and the ability for their healthcare team to directly measure their vital signs. Overall, though, 80% of respondents were happy with their virtual medical care, and 62% said they would continue using telemedicine after the pandemic.
"Satisfaction with telehealth is really high," says Urban Institute health policy researcher Fredric Blavin. "Patients can save so much time talking with doctors on phone calls or video chats."
Blavin says they also found telehealth visits worked well for people in rural communities with chronic conditions. This was, in part, because of the use of remote patient monitoring. Even with prenatal care, which is thought to be high-touch treatment, many visits are just check-ins where doctors need data like weight and blood pressure. Remote monitoring is a viable way to perform many of those tasks.
Joynt Maddox's organization, Barnes-Jewish Hospital, and many others across the country implemented at-home patient monitoring to track people with COVID-19 who needed care but were not sick enough to be hospitalized. The patients could choose to use an app or receive a phone call every day from their provider. The app checked in with patients each morning to check their temperature, cough, breathing quality and appetite, and patients responded to the questions based on their symptoms.
If the patient didn't respond, someone from the provider's office would call to check in. The goal was to closely monitor patients to see if any took a turn for the worse, which could happen very quickly with COVID-19.
Joynt Maddox says the successful use of telemedicine during COVID-19 should cause a ripple effect among hospitals and physicians. Though it may not be used as frequently when providers' offices fully reopen, the industry now understands its potential.
"Now we know we can do it," she says. "And there is a real need for team-based care that involves in-home monitoring and telehealth and home visits."
The quarantine required physician offices and hospitals to think outside the box. Some question whether providers will be as enamored with telemedicine when it's not the only kind of income practices can bring in.
"It's not really reluctance, hesitation or dislike of telehealth or other ways to deliver care that are more consumer-centric," Joseph says. "There's just lots of inertia in the industry."
The healthcare workforce was trained in institutions to provide care in standard locations. Doctors' workflow, scheduling systems and payment systems are all set up to provide care in an office or hospital. It's unclear whether telemedicine technology, such as monitoring patients remotely, can be integrated into a traditional system. "If it doesn't get adopted by providers," Joseph says, "there is no point to it."
The public health emergency brought on by COVID moved regulators to waive state and federal rules that had hindered the use of telemedicine. Its continued use may hinge on whether the federal government continues on that path, permitting such practices as full payment for telehealth services, relaxed patient-facing technology, controlled medication prescriptions, and the ability to practice across state lines.
"We have to figure out what we do now," Hill says. "Do we slingshot back to where we were before? Or waive it all? Or pick something in between?"
The Senate has introduced a bill that would make a lot of the changes permanent. The Centers for Medicare & Medicaid Services is considering fee scheduling for telemedicine visits and a potential expansion of broadband to increase equitable use of the service. And Hill says MedPAC—the Medicare Payment Advisory Commission, an independent agency that advises Congress on the Medicare program—has recommended continuing the increased use of telemedicine but lowering the pay to providers in an attempt to avoid overuse once practices and hospitals are fully reopened.
The last of those could be problematic. One of the main benefits of telemedicine is that many patients have low or no co-pay when they use the service.
"A self-insured employer might see co-payments as a way to avoid overuse, but if the cost of that is that people don't use it and lose the benefits of frequent check-ins with a doctor, the business has cut off their nose to spite their face," Hill says.
From a patient's perspective, moving so quickly to telehealth may not have been optimal.
"People did not turn out to be terrific judges of what should bring them into the doctor or hospital and what shouldn't," Joynt Maddox says. "We saw emergency room visits drop almost as much for heart attacks as they did for rashes and minor things."
When people are given full control over their medical decisions, they don't always make the right choices, she says. It's difficult for a patient having chest pain to determine if it's something that necessitates an ER visit or if it's heartburn. The general assumption was that people would stop going to doctors for "low-value stuff," she says. But what ended up happening was people didn't go for more important care as well.
"We will have to wait and see what will be the long-term burden of deferral of cancer screenings and diabetes control and things like that," she says.
The changes that occurred during the pandemic were dramatic and necessary. People had to stay home during quarantine. The public health sector needed to do outreach for equitable care. And providers had to turn to alternatives like telehealth to keep their doors open.
What continues moving forward will be a different story. Patients have already reduced their use of telehealth, as most providers have reopened their doors.
"My impression is that people have largely gone back to the way they were before," Joynt Maddox says. "What I've seen about care delivery makes me think we will never be quite like we were, but nor do I think we'll be quite as transformed as we should be after a pandemic."