Comcast Invests in Major Market Need
Q&A with Callum King, Co-founder and President, Brightside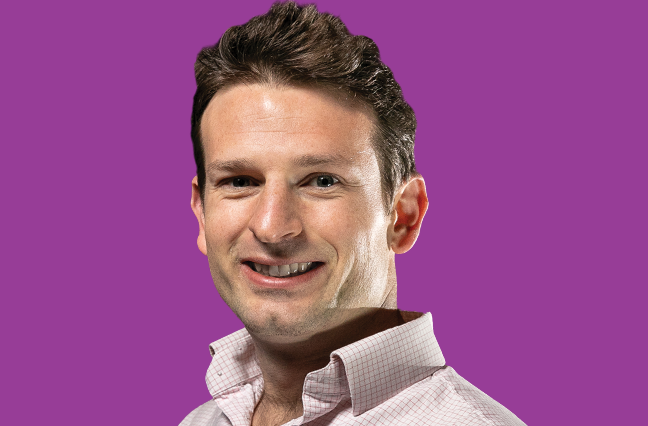 Brightside is a financial wellness organization that works with businesses like Comcast, its anchor client, to help employees make sound financial decisions, get out of debt and increase cash flow.
King discusses how the new field of financial wellness is tied to health benefits and how stress induced by money problems can impact employee health.
Q
How did Brightside get its start?
A
Comcast did a study a few years back to quantify the amount of financial stress to the organization. The data showed that employees' money-related issues cost the company a huge amount per year. This was spread across a few different inputs, including absenteeism, loss of productivity, healthcare costs and delayed retirement. At Brightside, we think financial stress costs about $5,000 per financially stressed employee across those categories.
Generally, about one fifth of folks in America who have a 401(k) have a loan on it. Lots of people who look at 401(k) balances in the United States find that the amount of assets under management continues to go up, but I'm not sure people are peeling the onion back to see the distribution of those assets. A huge number of folks have 401(k) loans outstanding, and the growth in investments is disproportionate across populations.
Around the time of the Comcast study, I was building out the financial technology investment practice for Comcast Ventures when I met and started working with Shawn [Shawn Leavitt, senior vice president of Comcast's Total Rewards program]. Shawn was saying then that financial stress is one of the next biggest things in benefits…and something that would reduce healthcare costs as much as anything out there.
Q
What came of that insight?
A
Originally Shawn suggested finding out more information on the healthcare market and groups like Accolade, a leading healthcare navigation platform for employers, for inspiration. I looked into their model to see how viable that kind of product would be and became convinced that model was needed in the financial health space. I spent two years trying to find a solution that looked like Accolade in the financial health space and didn't find anything. That's when we decided to start a company to solve the problem. [Brightside was founded by King, Leavitt and Tom Spann (former CEO of Accolade and current Brightside CEO) and funded by Comcast and Trinity Ventures.]
Q
What's the significance of a large, telecommunications company like Comcast investing in the employee benefits space?
A
Comcast Ventures invested in Brightside because there was a major market need. They needed a solution to a really big problem, and there was none out there that solved it. There was no comprehensive, unbiased solution that leveraged technology and people to help employees get to good financial outcomes and reduce financial stress.
Comcast, as an innovator in this market, can be a huge force for good and have a major impact on the benefits market as a whole. And Comcast and our other customers will be regarded as innovators and champions for their employees in the market.
Working closely with early customers is super valuable for companies like ours. Especially with a company like Comcast that is so in tune with its employees' needs. It helps build the right solution in the market. Instead of an employee benefits company thinking they know the needs and building a solution in isolation, we built trying to understand what an employer needs from the ground up. It's a purpose-built solution.
Q
What is the relationship between financial wellness and healthcare?
A
One is direct costs. When people are dealing with financial stress, they are stressed, and you can become physically sick from stress, leading to healthcare costs. There is also other evidence that people can make bad decisions when they are under stress, and that includes in the area of healthcare.
Second is indirect costs. If someone does get sick and wants to use the healthcare system but has a $2,000 deductible—most people don't have $400 saved in a bank account—they won't engage in the healthcare system in a timely manner. Because of this, they inevitably have larger healthcare expenses down the road.
Third is the ability to impact utilization of employee benefits. We engage with a lot of employees regularly, and we can look out for early warning signs. If someone is getting, or might be getting, sick, we may be able to identify it through personalized interactions. If someone is chatting with a Brightside financial assistant, they might pick up that the client has back pain. Brightside is integrated with their employee benefits, and the financial assistant might refer someone earlier to whatever benefits the employee has to improve healthcare outcomes.
Q
Have you found there are a lot of people in need of this kind of service?
A
Seventy-eight percent of this country is living paycheck to paycheck. People need help, and it's one thing to read about it and another to understand what that means as a day-to-day situation for their employees. Families are struggling to put food on the table more than some people might think.
A lot of employers do know that, though, and are trying really hard to figure out how they can make a difference there. There's a huge amount at stake, and if we don't get it right, families can end up struggling even more than they already are. It's a really important time in the economy right now, and we have to get this right and make sure we do the right thing for American families. That's why we started this business: to help families. And this is really a unique time to do it. There are amazing solutions out there that can add value, and technology and research that can have a big and meaningful impact.
Q
What kind of options were out there for employers in this space when you started looking around?
A
Employers basically had two different options. First, if they believed the cost of financial stress to their workforce, they could look to traditional financial wellness programs to solve the issue. They will find things like independent financial coaches. Those are great for a tiny percent of the population. They help folks who need help understanding their situation with education, but the challenge is they don't have any solutions to implement. If you're hungry, you don't need a cookbook, you need a meal. That's the challenge to a purely coaching solution.
The other thing they can do is go down the path of working with some of the point solutions that are out there. They can go out and curate their own set of services from groups like student loan vendors, savings accounts and personal loan companies. The challenge here is that each of those vendors is motivated to sell their own product even if it might not be in the employees' interest. And when an employer chooses one, they are saying they are endorsing the one they think is the best. Employers have to get up to speed on a complicated sector and then have to implement and manage 20 different vendors.
Q
How is Brightside different from these other financial wellness organizations?
A
What we do is have one place to go for all of an employee's financial health issues. We provide unbiased navigation through financial assistants and combine that with partners on our platform to provide solutions, and we don't make any money with any solution an employee uses. [Brightside is paid by the employers it works with.] The industry was built on kickbacks, and Brightside is pioneering "kickforwards." If an employee uses a lender through the Brightside platform, we take what is traditionally considered the kickback and give those funds straight to the employees so they get a cheaper product.
Q
Why is it important to have a navigator who can vet and harness an array of financial vendors?
A
Because it can be dangerous to implement student loan refinancing or other solutions without an overarching navigation platform.
For instance, student loan refinancing is an amazing option for a certain cohort of the population. They can refinance and can save huge amounts of interest, and it is the right thing to do. But when they do it, they lose that governmental protection [like guaranteed repayment options and protection from harassment or abusive debt collectors]. It can be dangerous to refinance if employees have certain financial circumstances. But when an employer offers it, it's implicitly saying employees should refinance and use a particular vendor.
One of our clients we found out was contributing 16% of her income to her 401(k) plan and called in because she was getting evicted. It turns out she had $50 in savings. We know it's a good idea to contribute to 401(k) plans, but it's not exactly right for everyone at every time. She had received marketing materials telling employees to contribute, so she did. But she probably needed to get $500 in an emergency savings account in case something came up and she couldn't pay rent.
With all of these options in the financial services space, it's hard to deliver personalized marketing to an employee base. But having a centralized engagement platform can solve these problems. An employer can see a huge ROI, reduce healthcare costs, and put their hand on their heart and say they have done the right thing for their employees.
Q
Do you work only with employees with financial problems?
A
Brightside is the one place to go for all of an employee's financial needs. We are having early success and traction with folks who are vulnerable, though, and that's where the highest ROI is for employers. The most common issues we help people through are building emergency savings, improving credit scores and navigating debt.
But we work on such a full spectrum of things. We have helped people who are living in their car move someplace stable. We've helped people who have been evicted and assisted people in paying for their cell phones. We've helped reduce employees' payday loans and helped people find money to pay for a family member's funeral services. When someone had a fire burn their house down, we connected them with the Red Cross to get $500 in emergency funds so they could find shelter.
To do this, we work with a variety of partners on our platform, including lenders, banks and a wide range across the financial services spectrum. We help people navigate the right resources at the right time.
A
We have close to 50% engagement rates in financially stressed populations. We activate employees through a variety of channels, including integrated marketing campaigns, engaging with folks through on-site launches and other communications. We try to engage employees at their time of need. A huge percentage of clients come through word of mouth.
Q
Does this kind of plan benefit all the players in the system?
A
Yes. For employees, they benefit from an unbiased, comprehensive financial service that delivers real value.
For employers, scale is a benefit beyond ROI. We have a network effect with hundreds of thousands of employees. If you have 5,000 employees and want to negotiate a financial solution deal, you won't be able to get one like you do when going through a large platform.
There is also some expertise and work required to identify the different solutions—which are best and which you might want to implement.
For the vendors offering solutions, it is good as well, because they can just work with one platform and get access to a huge number of employees.
Q
How do you measure ROI with clients? I'm assuming the information must be kept confidential.
A
Yes, we retain information independent of the employer. The employer might not want to know if an employee has a gambling problem. And we need independence to engage employees, make them feel safe so the employer doesn't know they have a gambling problem or a payday loan they are ashamed of. That's critical to engage the employee base.
We do deliver comprehensive reporting back to the employer, which gives them insight into their population. We give aggregate reporting so the employer knows how Brightside is delivering results.
Providing these services in the workforce is important. Healthcare is driven largely through employers, and financial services is going to be going through the employer channel as well. We are working with innovative employers who want to see what that looks like.