Google Applies Itself
Q&A with Reid French, CEO, Applied Systems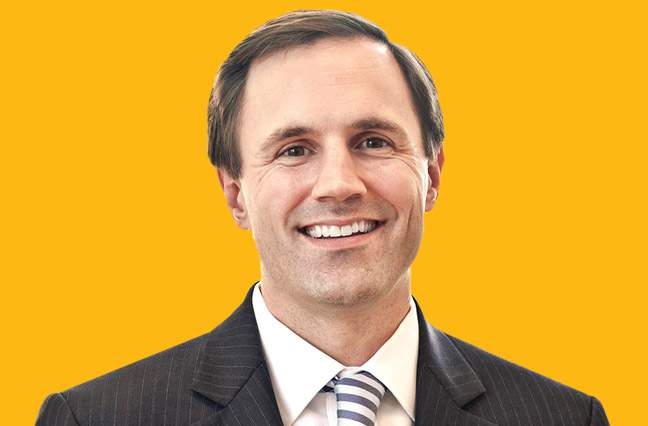 Applied is putting Google tech expertise to work in insurance.
Q
Tell us about the investment by Google's CapitalG in Applied Systems.
A
We think it's really great for our company. We also think it's great for our customers and the market in general. Google became a minority investor in Applied Systems. The transaction allows us access to the people, the culture, the expertise, and frankly also the technology that Google has as a part of its company. We intend to put that to use for the insurance vertical and for our customer base.
Why does Google invest in larger-scale technology firms? The primary purpose is being able, through the investment, to provide technology to an industry vertical that they care about. Let's take Lyft, the competitor to Uber. The reason for Google's investment in Lyft is obviously the core of that app is mapping. They wanted Lyft to utilize their mapping technology. Second, they have the Waymo division, which is focused on self-driving cars. As people look into the future, it's certainly possible that Lyft wouldn't be "Bob" pulling up; it would be the self-driving car pulling up. That's another area of interaction.
For us, you come more specifically to insurance brokerages. Google has great expertise around machine learning and artificial intelligence. Applied is a $400 million company, but it's still hard at our size to access some of the incredible minds to be able to put that technology to good use. We now have an avenue to be able to do that. To make it real, we had 20 of our top engineers in New York in Google's office doing machine learning and artificial intelligence boot camp. It's the same boot camp they put on for their own internal employees. We get to access that because of the CapitalG investment. It's really great for our company. We think it's great for brokers.
Q
Why are those technologies important for insurance?
A
Insurance is a multitrillion-dollar market on a global basis. You have lots of decisions around risk management, risk mitigation and coverage. Those decisions can mean either a profitable account or a super costly account. Making those decisions is based on lots and lots of data inputs. That is perfect for software, perfect for machine learning; it's perfect for artificial intelligence. Take huge amounts of data and boil it down to an essential answer to the question: should I cover this or not? If I'm going to cover it, how much should it cost?
Very large agencies have a huge book of business, yet rounding out that book of business perfectly is not something any owner or CEO of a large agency would be able to say they've done. Machine learning and artificial intelligence can look through that kind of data much more quickly, much more effectively, much more systematically than a person can.
It's a digital age today. Google is the master at digital marketing. The search engine really controls an enormous amount of flow of traffic around the internet, and that's relevant to commercial lines and personal lines brokers. People a lot of times go to personal lines around that, selling to a consumer, but I think it's super relevant in a commercial-lines environment. It's too early for us really to be able to give specific examples as to what we intend to do.
Q
What technology strategies and initiatives is Applied planning, particularly for Epic?
A
I would hesitate to give some specific examples this early on. The main categories of interest are machine learning and artificial intelligence. Digital marketing is one for sure. The last thing is a very simple transaction in lots of systems, but let's not forget Google does it exquisitely well—search. There are many, many searches that happen within Epic, and maybe that's an area that's a focus. Epic is the most used broker management system in the world. We have almost 100,000 users live on it, and we intend to put the Google relationship to use for that.
Q
To what extent will Google have access to Applied data?
A
The agreement specifically calls out that Google has no access to any data—either Applied data or customer data. Zero. Not one data field. The reason is that data is owned by our customers, and we're not sharing that with anybody. We knew that would be a question. That's specifically written into the agreement.
Relative to access to Google data, the same is true on the flip side. We really didn't enter this with the thesis that we were going to leverage Google data for the purpose of underwriting or that kind of thing. It's more on the technology side. We have enormous amounts of data already that are available to us. That really wasn't the point of the investment or the partnership.
Q
Applied has categorized the deal as a nine-figure investment. Can you be more precise?
A
It's a material investment to us.
Q
What is the attraction in the insurance and brokerage sectors for big tech companies?
A
First off, if you're a large technology firm, you have to look for large markets. You need to focus on markets that are sizable, because you want to get your technology into sizable areas so that it moves your needle. Insurance is very large. It's a very large ecosystem, and it's not just in the United States; it's all over the world.
Second, the great thing about Google is it truly is high tech—really great technology and really useful at looking at very large data sets. Based on that simple description, insurance fits that very well—very large data sets and very important questions to answer. They want to put their technology to use in that vertical. They talked to a number of different folks. It's a great validation of Applied because they can invest in anyone on the tech side.
You saw this with Amazon and Travelers doing their partnership around connected devices and their online storefront. Amazon has to come up with new categories that they're going to sell products through, and they need something that's big in order for that to happen.
Q
Do you expect to see more technology companies investing in the industry?
A
I do. Frankly, I think that's good for the market. It brings new opportunities for brokers and for agents. It gives us access to things we wouldn't have as a stand-alone firm. It's good for brokers. I think you'll see more of that. Applied succeeds only if brokers succeed.
Q
Will Applied be seeking similar investments from other large technology companies?
A
We certainly would consider anything that makes sense for our customers. If we thought there was an angle with another large tech firm that made sense for our customers, we would do that. We did not need the money. We were interested in the technology and the relationship. We were interested in that because we thought it would enable us to be a better provider and better partner for our customers. If another opportunity like that came around, we would seize it.
Q
How do you see the agent and broker business changing with technology?
A
We obviously are strong believers in the independent agency and brokerage channel. If you look out 10 years from now, the average agency is going to be larger, and it's going to generate more revenue and be more profitable. That's been a journey the industry has been on for 40 years. Technology will continue to be leveraged by good agencies to complete transactions better, provide better risk management advice, and ultimately free up people to be good risk advisors and good partners for the benefit of their customer base.
I think you'll find much more automation between carriers and brokers around the provision of the product. You'll also see much more digital connectivity between the insureds and the agencies. You'll find the providing of the policy documents and the providing of financials and the claims information, all of that, to be much more streamlined. The reality is that we'll have systems that in essence fill that information out for you.
Today, the insurance industry is compared against other experiences outside of insurance. It's, "I had a wonderful process to open a bank account yesterday. Why is it so painful for me to get my business owners policy?" That's the call to arms. Let's make it better.
A
It's too early for us really to be able to give real specific examples as to what we intend to do. I would say we will launch things in 2019 that are based upon our Google partnership. We look forward to bringing to bear the partnership for the benefit of the customer base. We think they're really going to enjoy it and it should be fun. We are hard at work at it already.