Wanderlust: The Southern Caribbean
When planning your southern escape, here are the highlights to consider.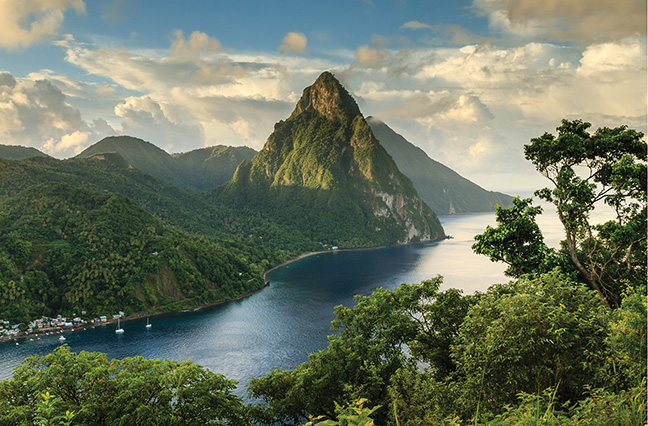 With more than 700 islands across the Caribbean, it's easier to divide and conquer when it comes to traveling here.
To that end, the islands of this paradise are often grouped in three major regions to help those who wish to simplify their bucket lists.
The Eastern Caribbean is home to the vibrant cities and dense rainforests of Jamaica, the Dominican Republic and the British Virgin Islands, to name a few. The Western Caribbean claims the friendly stingrays and restful pace of the Cayman Islands, along with the Mayan mysteries of Mexico and the coral reefs of Honduras and Belize.
When to go: These islands are inviting year-round, though August–September is the peak for hurricane season, which is typically mild.
Currency: U.S. dollars are accepted on most islands.
Language: English is widely common, but you will hear Dutch and French spoken on several islands.
Companies to consider: Royal Caribbean, Norwegian Cruise Line, Celebrity Cruises
And then there's the Southern Caribbean, a museum-quality collection of idyllic beaches, natural wonders and diverse cultures, to which we'll turn our attention.
From the Dutch architecture of Aruba and the flamingos of Bonaire to the waterfalls of Dominica and the towering Pitons of St. Lucia, you can hop across the Southern Caribbean and see it all or just have a bloomin' good time where you are planted.
Even though these lower islands have so much going for them, the best part is the one thing they don't have much of: hurricanes. Statistically, the Southern Caribbean has a lower chance of being disturbed by major storms due to its location close to the equator. And when a particularly strong system does swim by, it's easy to change plans to a nearby island that is clear from the path, much like cruise ships would reroute to safer harbors.
When you do plan your southern escape, here are the highlights to consider.
Aruba
There's a reason the Beach Boys start their Kokomo-string of island paradises with Aruba. This Dutch-influenced island off the coast of Venezuela is the quintessential Caribbean spot, the one we picture in our heads whenever we think about swaying palm trees, white-sand beaches and colorful bevvies with umbrellas sticking out. Days of relaxing on the many, many beaches, snorkeling over shipwrecks in calm, clear waters, and horseback riding on the edge of the incoming surf are followed by nights of festive clubs and jumping dance floors in the capital city Oranjestad. No wonder their tourism slogan is "One Happy Island."
Those who want a deeper taste of the island should head to the Bushiribana Ruins, a historical gold mine with crumbling stone walls that give it the appearance of an ancient castle. Nature lovers can meet the island's feathered residents at the Aruba Ostrich Farm, home to ostriches, emus and peacocks. After that, they can hike to the top of the Hooiberg, a volcanic formation that provides the island's most stunning views—in fact, you can even see South America on a clear day.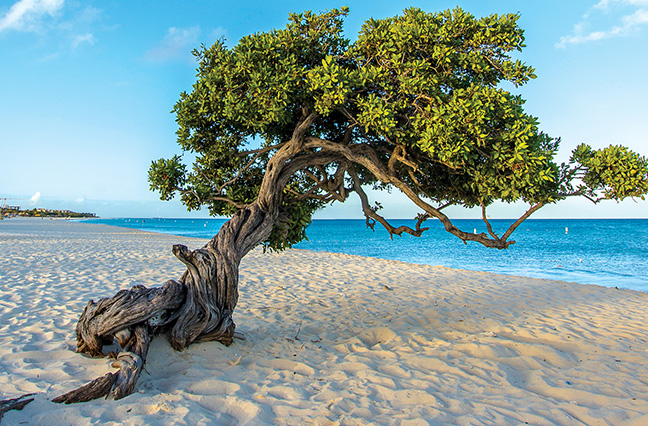 Barbados
While Aruba's interior is mostly desert, Barbados—the Caribbean's easternmost island—is filled with lush gardens and teeming jungles. On any hike here, you're apt to bump into a monkey, mongoose or gecko on your way to, let's say, Harrison Cave, a limestone cavern carved over the centuries by a massive underground stream. There are fewer animals on the island's pink-tinged, palm-fringed beaches, the best of which is called Bathsheba, a special spot on the rugged eastern coast where you can sit in hot-tub-like tidal pools surrounded by striking rock formations.
As the birthplace of rum, any journey to Barbados wouldn't be complete without learning more about the intoxicating beverage. The best place to do so is at the Mount Gay distillery, which has been producing the popular island drink since 1703, back when it was called "kill-devil." Here you can explore rum's history and heritage through intriguing stories, which are often punctuated by tastings of the finest products. Any bottle brought home makes an excellent gift … to yourself.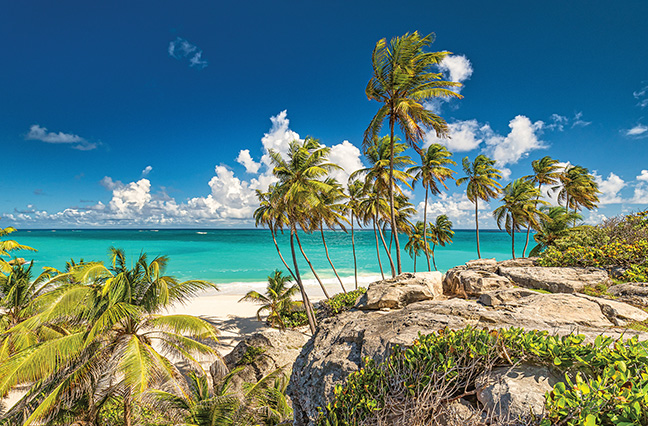 Curaçao
First off, that "c" with the squiggly thing beneath it is called a cedilla, and it represents a soft "s" sound, making the island name "Cur-a-sow." Second, you didn't need to know that to appreciate the island's dramatic coastline, colorful history and scenic coves. And while said coastline is top-tier, its historic capital city ends up being the standout attraction to many visitors.
Willemstad's brilliantly colored buildings and Dutch colonial architecture are on full display throughout, which you can appreciate fully while exploring the numerous parts that have been designated a UNESCO World Heritage Site. While in town, you can also interact with sea lions and flamingos at the Curaçao Sea Aquarium, discover the sobering truth of the Trans-Atlantic Slave Trade at the unforgettable Kura Hulanda Museum, and sample fresh fruits at the Floating Markets.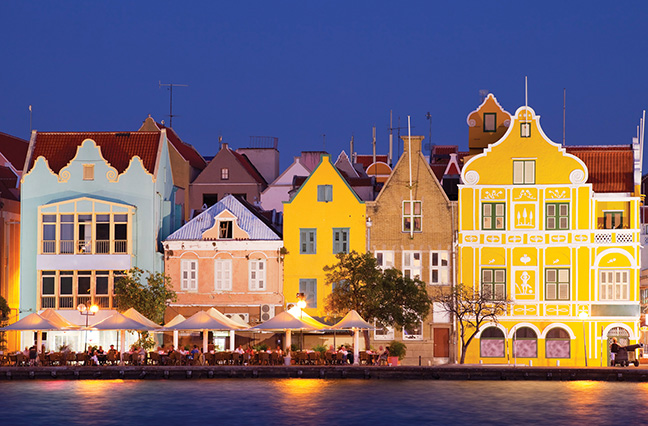 St. Lucia
Some say St. Lucia was made for romance, others for adventures. Well, they're both right. The island's famous black-sand beaches, lush rainforest and dramatic mountains provide the ideal backdrop for whatever you need out of your tropical escape. Speaking of escape, the only things you cannot evade while here are breathtaking views of the two Pitons (main article image, above)—Gros and Petit—volcanic spires reaching up into the heavens that will be included in at least 95% of your photos while visiting. The only pics that won't include the iconic landmarks are the ones you take from their peaks; the two-hour trek up Gros Piton is difficult but worth every step once you reach the top.
Besides the Pitons, the island has plenty more to offer. Animal lovers can gaze in awe at an amazing diversity of rare birds, including the Saint Lucia parrot, warbler, oriole and pewee, many of which can be found only on the island. Animals of a more aquatic nature can easily be spotted while snorkeling the calm waters off the island's west coast, where you'll spot the hawksbill turtle and the mighty giant eagle ray, which boasts a 10-foot fin span.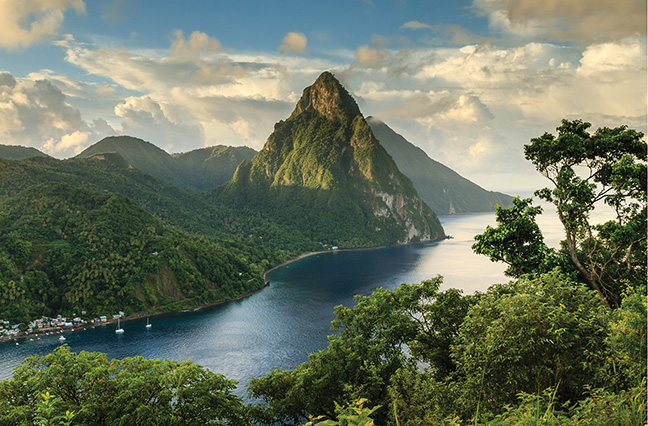 Cruise Corner
Southern Caribbean itineraries are some of the most popular for cruise lines. Often embarking from ports in Puerto Rico or Barbados (instead of Florida for other Caribbean destinations), these allow you to venture farther and visit more exotic islands. Here are a few intriguing stops you could encounter.
St. George's, Grenada > Whether you hit one of the island's 45 beaches, hike up its jungle-covered mountain to Grand Etang Lake—an extinct volcano crater filled with natural cobalt-blue water—or snorkel over the world's first underwater sculpture park, the intoxicating scent of nutmeg, cinnamon and cloves will follow you wherever you go.
Kralendijk, Bonaire > It may not be always sunny in Philadelphia, but it is in Bonaire, where the bright, warm days last nearly 12 hours. That's almost enough time to enjoy the island's dramatic desert landscape, mangrove lagoons, pink flamingo colonies and enough high-quality dive spots to earn the name "Diver's Paradise."
Kingstown, St. Vincent > While its white-sand beaches and lush jungle interior are on par with neighboring islands, St. Vincent's historical charms set it apart. Be sure to see the gorgeous stained-glass windows of the 200-year-old Cathedral Church and tour the 18th-century British-built Fort Charlotte.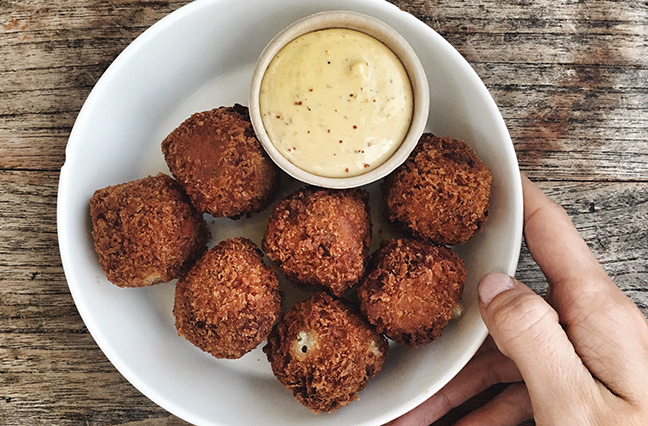 Tasty Treats
Caribbean cuisine is as diverse as its people, fusing African, Creole, Cajun and European flavors with local spices, leafy herbs and fresh-caught fish. The result is a vibrant smorgasbord of dishes that get unique twists from island to island. Here are some Southern Caribbean favorites to try.
Keshi Yena > The signature dish of Curaçao is a large round ball of Edam or Gouda cheese stuffed with spiced meat, olives, capers, onions and tomatoes and then baked to perfection.
Bitterballen > Pictured above, this Dutch-inspired favorite is a flavor-packed meatball with a crispy exterior and gooey interior. It's often served with a strong mustard and goes great with a local beer.
Pisca Hasa > Aruba's catch of the day is lightly fried and topped with a rich red tomato-onion-peppers creole sauce and yerbe di hole, the island's pungent local basil.
Cou-Cou and Flying Fish > Barbados's national dish starts with an okra-and-cornmeal base that resembles polenta, which is then covered in a spicy stock made from flying fish, olive oil, and various herbs and spices.
Green Figs and Saltfish > The national dish of St. Lucia, it's made by boiling salted cod and green bananas separately, and then combining them in the end in just the right proportions.