Wanderlust: The Riviera Maya
It's quick and easy to travel to, safe upon arrival, and filled with tropical activities both adventurous and relaxing.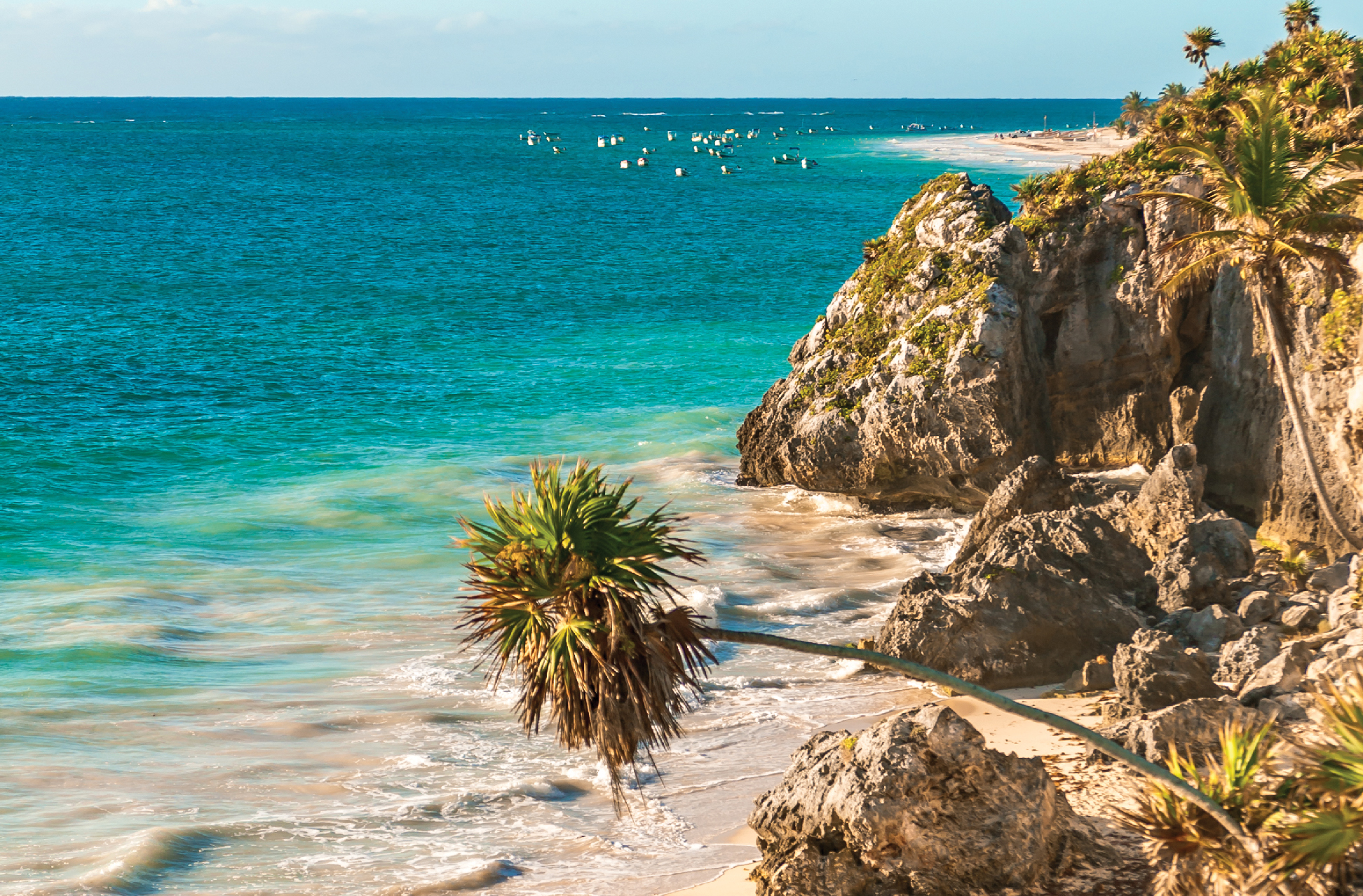 Paradise is not the only thing found in Riviera Maya, the 100-mile coastal slice of Mexico's Yucatan Peninsula just south of Cancun.
Here you'll also find ancient ruins and timeworn churches, underwater caves hiding relics and coral reefs teeming with colorful life. Dolphins and spider monkeys greet you, championship golf courses are designed by legends, and innovative spas treatments using ancient Mayan traditions will ease your troubles away.
Yet it's the white-sand beach that connects it all, followed closely by the ever-warm, turquoise blue waters that both define the borders and invite you to play. This powder-soft ribbon of sand contains a multitude of luxury hotels and all-inclusive resorts, all of which intoxicate you with inspiring views and never-ending margaritas.
When to go Head to the Riviera Maya during the dry season between late November and April, when there is virtually no rain. The days will be cooler during this time, with temperatures reaching averages of 82°F.
Currency Mexican peso. $1 = 20.06 pesos.
Language Spanish is spoken everywhere, but you may also hear conversations in Nahuatl and Mayan. English is widely spoken, but it's always wise to learn a few key Spanish phrases to connect with the locals.
Companies to consider Palace Resorts, Secrets Resorts & Spas, Royal Caribbean, and Norwegian Cruise Line.
Hotels and resorts were intentionally drawn here to entice travelers worldwide. Technically, the name "Riviera Maya" was created in 1999 to attract tourists, and it has done its job. Cancun alone draws over six million visitors a year, many of which venture south to enjoy coastal towns like Playa del Carmen and Tulum on their own terms.
But no matter how many arrive, there is always space for you to spread out and breathe freely. The Riviera Maya has been a popular destination for American travelers since it opened its borders in June of 2020; you will not need to provide a negative COVID test or quarantine on arrival, and resorts have enacted a wealth of health and safety measures.
If this concoction sounds as good to you as a piña colada with a pink umbrella in it, then read on to discover more highlights.
Can Do In Cancun
Technically speaking, Cancun is not part of the Riviera Maya. But it's difficult to skip this growing metropolis surrounded by 15 miles of some of the softest white sand you'll ever sink your toes into. Most vacations to the Riviera Maya begin or end here thanks to the high number of direct flights in and out of Cancun International Airport, so you might as well make the most of your time here.
Luckily, making the most of your time here is quite easy, for there's tons to do. You can explore the ancient Mayan city of Chichén Itzá, a sprawling complex hidden nearby in the jungle; take a refreshing dip in the Yucatan's most famous jungle sinkhole, the Sacred Blue Cenote; relax on a daybed on the beach; shop for international brands at La Isla Shopping Village; or charter a private yacht and cruise around Isla Mujeres. For those who crave something truly surreal, don't miss the Underwater Museum of Art (MUSA), where you can take a glass-bottomed boat or scuba dive to find more than 500 pieces of monumental sculptures.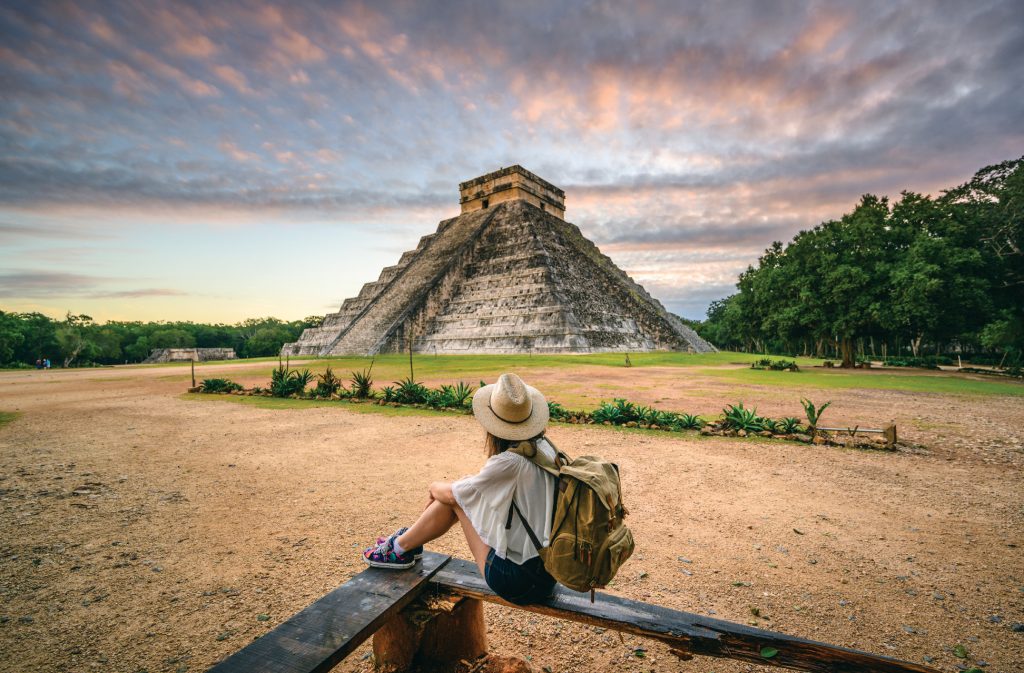 Ready Playa One
The welcoming people of Playa Del Carmen, known simply as Playa to locals, believe that their sun-draped coastal city is classier than Cancun, mostly due to its swanky style and European flair. And while you're teeing off at the Greg Norman-designed El Camaleón golf course or window-shopping along the 20 blocks of fun shops on pedestrian-only Quinta Avenida (home to some of the best people-watching in all of Mexico), you can decide for yourself.
One thing not up for debate is the town's laid-back tone, which hits the perfect note. You could easily spend your days here being amazed at the Frida Kahlo Museum, snorkeling through a colossal coral reef a few meters from the beach, or simply lounging in a beach cabana on your resort's exclusive stretch of beach. If the kids are with you, nearby Xcaret eco park will wow them with over 50 different attractions, including a Mayan village, stunning lagoons and waterfalls, wildlife exhibits, and elaborate cultural performances.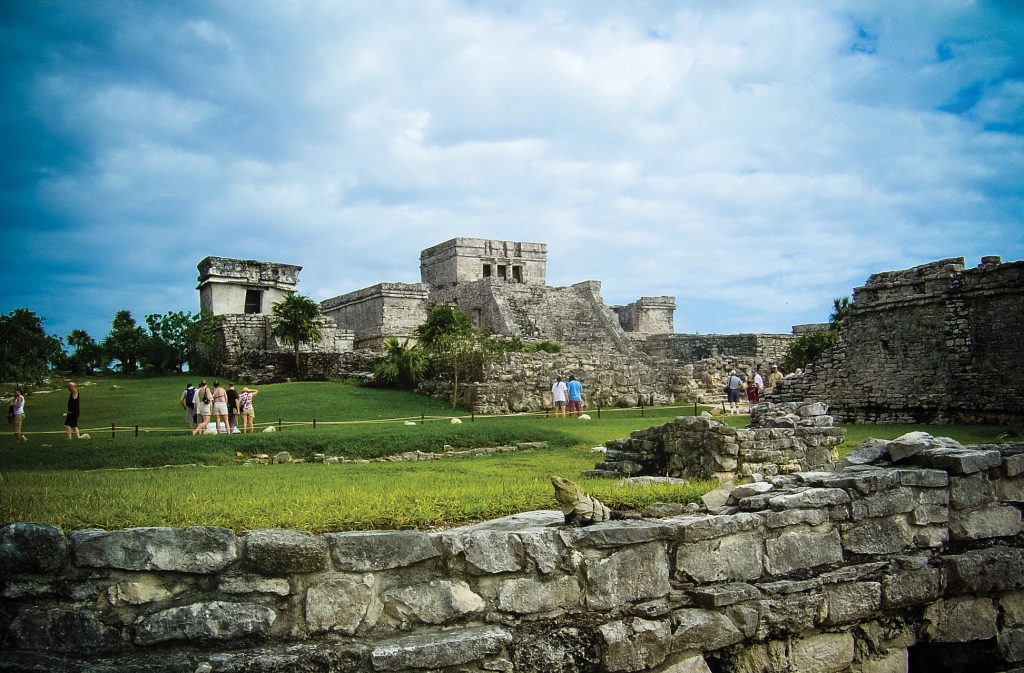 Island Playground
When you picture paradise in your mind, Cozumel is probably what you see. Easily accessible by ferry from Playa del Carmen, the island sits on the Mesoamerican Barrier Reef, the second-largest coral reef system in the world. And since the surrounding ocean waters are some of the clearest in the world, it has become the ideal place to dive under and take a look around.

Snorkelers and scuba divers will find an underwater world filled with dazzling colors. A rainbow of vibrant fish, stingrays, sea turtles and eels winds through the colorful reef system, while shipwrecks dot the soft sand floor, welcoming visitors for a closer inspection. All of this can be spied from the comfort of a submarine tour for those who wish to remain dry.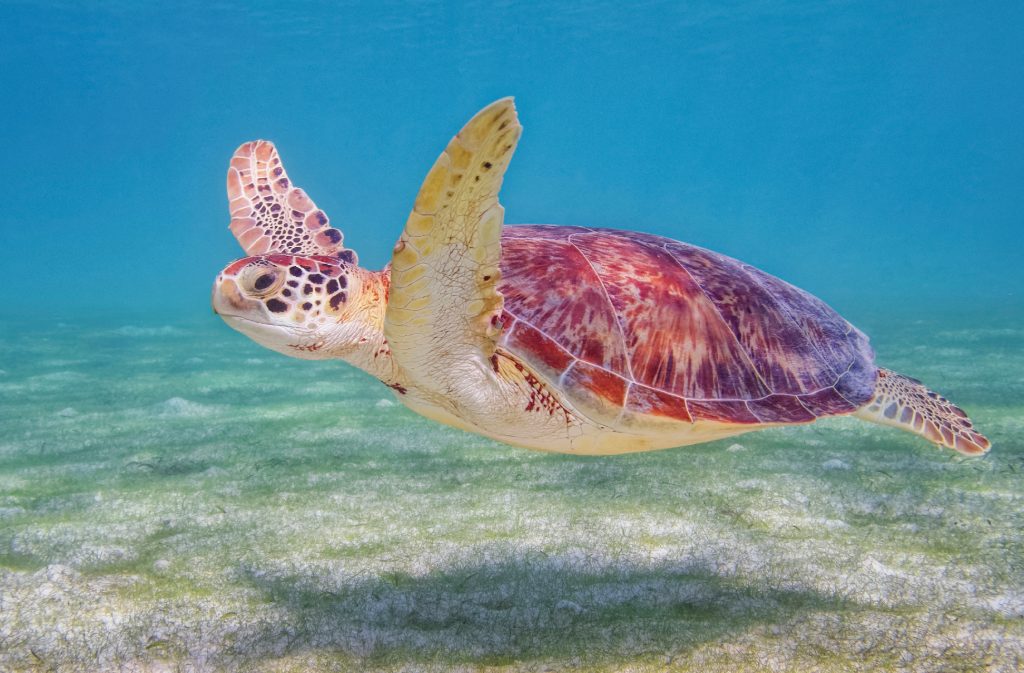 Can't Top Tulum
While the city of Tulum is a charming destination in its own right, most venture this far south in the Riviera Maya to visit the ancient walled city built atop a cliff facing the Caribbean. The Mayan ruins at Tulum appear more like a beach house for a king rather than a jungle fortress like Chichén Itzá. More than 50 structures still remain of what was once a thriving port city, the most stunning of which is hill-topped El Castillo and its commanding views in every direction.You could spend hours walking and gawking around the historic site, swimming in the warm ocean waters in the shadow of the ruins, pondering the past and wondering which building you would have claimed for your own if you lived here in its heyday—the awesomely named Temple of the God of Wind or the artistic Temple of the Frescoes, maybe? This serene scene, where the country's historic relevance blends seamlessly with jaw-dropping coastal views, stays with you long after you return home, one of many such memories you'll have from your visit to the Riviera Maya.
Cruise Corner
A Western Caribbean cruise itinerary will often include a stop at Cozumel. On such a cruise, while you will not get a deep dive into the culture and locales of the Riviera Maya, you will get a tantalizing taste of this wonderful region, as well as spend time at some of these ports of call.
Roatan, Honduras
You'll find English spoken everywhere in this laid-back beach town, once owned by the British. Enjoy the calm waters of Half Moon Bay Beach for an afternoon swim, zipline through rainforest canopies, or take a dune buggy tour to glimpse the Jesus lizards and monkeys.
George Town, Grand Cayman
Surprisingly sophisticated thanks to being an international banking haven, George Town combines 1800s-era colonial architecture and pastel-color houses with palm trees and endless blue skies. Time here is well spent on Seven Mile Beach, continuously voted one of the world's best, or making some unique aquatic friends at Stingray City.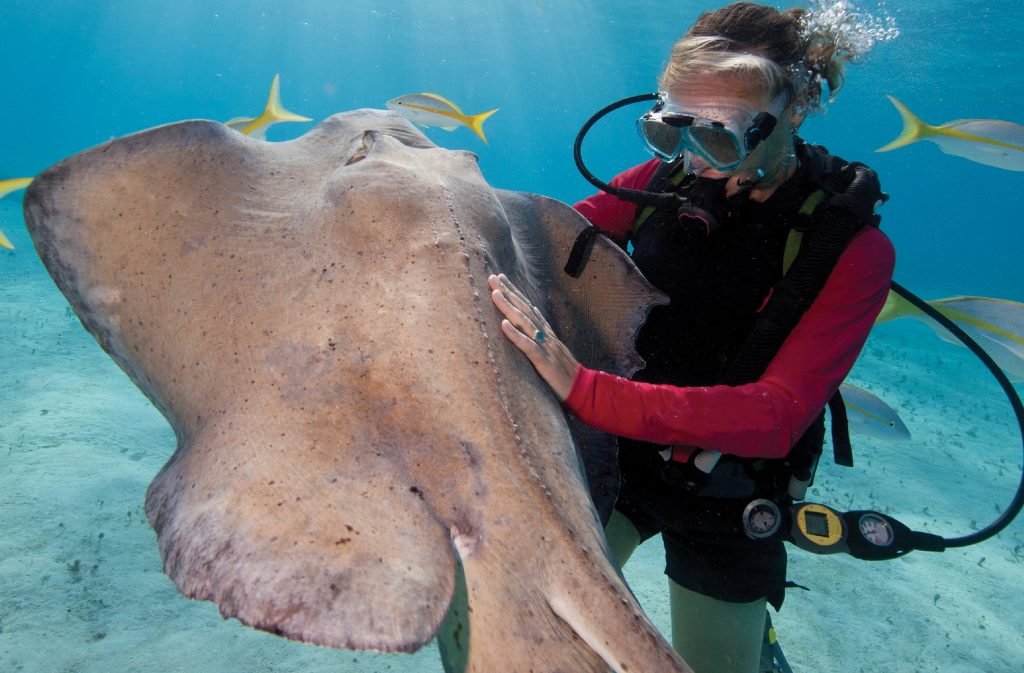 Puerto Costa Maya, Mexico
Located 30 miles south of Cancun, Puerto Costa Maya will be your best bet to explore Mayan ruins while on a West Caribbean cruise. Choose the shore excursion that takes you deep into the jungle to the Kohunlich and Chacchoben ruins—both well over 1,000 years old.
Belize City, Belize
Belize blends Central American culture with Caribbean soul, creating a special destination that is ripe for exploration. Caves, rainforests and waterfalls will pull you into the interior, but the most amazing experience will be snorkeling or diving the Great Blue Hole, a 1,000-foot wide undersea sinkhole that is visible from space.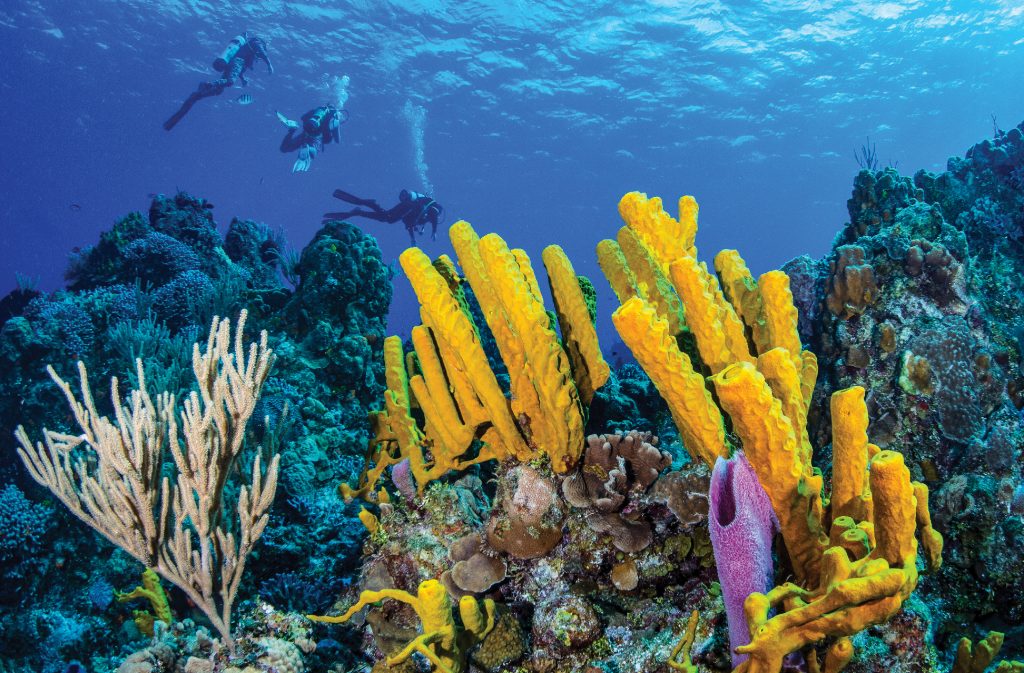 Tasty Treats
Many travelers experience the Riviera Maya from the comfort of an all-inclusive resort, where the food is plentiful to keep you plenty full. Still, you'd be missing out if you didn't escape the resort to experience the range of culinary delights you can easily find on the streets. Here are a few quintessential flavors to savor.
Tamales
Originally from Oaxaca, tamales can be found throughout Mexico. Made of a thick, steamed corn dough wrapped in either corn husks or banana leaves, tamales will surprise you with a wide range of stuffing: you can find anything from beans and cheese to chicken mole or sweet pineapple inside.
Tostadas
It may look like a taco-pizza, but tostadas hold more flavor than meets the eye. You start with a crisp, salty tortilla for your base, cover with beans and cheese, and then gratuitously top it off with anything from fried meat or ceviche to chopped octopus.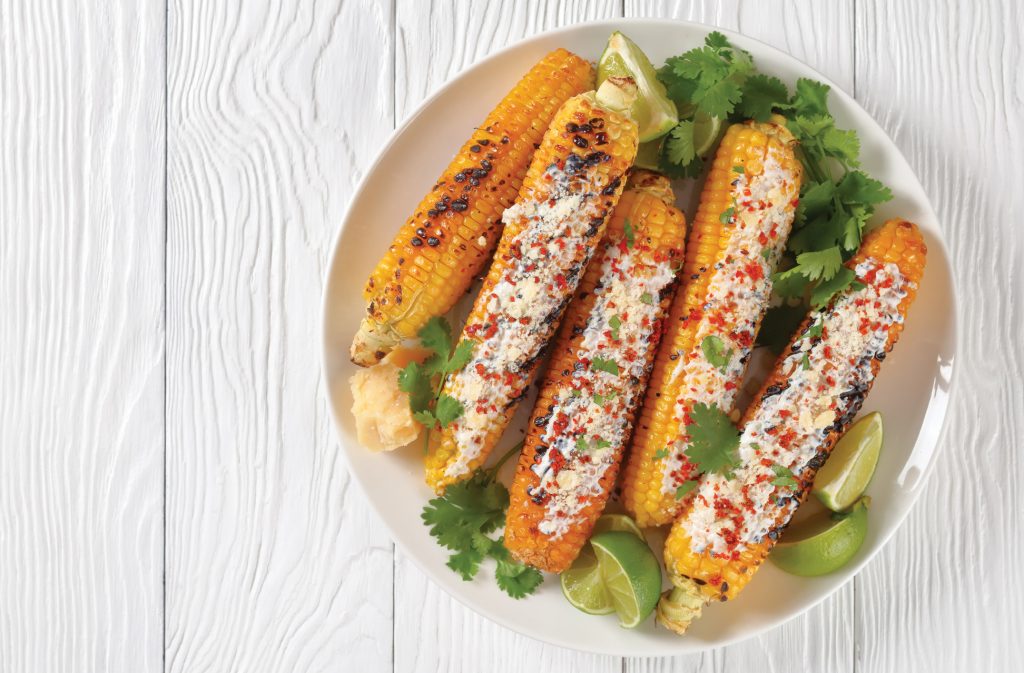 Elotes And Esquites
Elotes and esquites are basically the same, just made differently. Elotes are sweet corn served on a stick and smothered in mayonnaise, chili and cream, while esquites are sweet corn cut from the cob, mixed with lime juice, cream, mayo and chili, and served in a cup. Both versions are muy delicioso.
Camotes
If you see a crowd or people or a long line at a food stand and you can faintly hear the whistle of steam escaping a pot, jump in line. They'll be serving camotes: steamed plantains and sweet potatoes served with strawberry jam and condensed milk.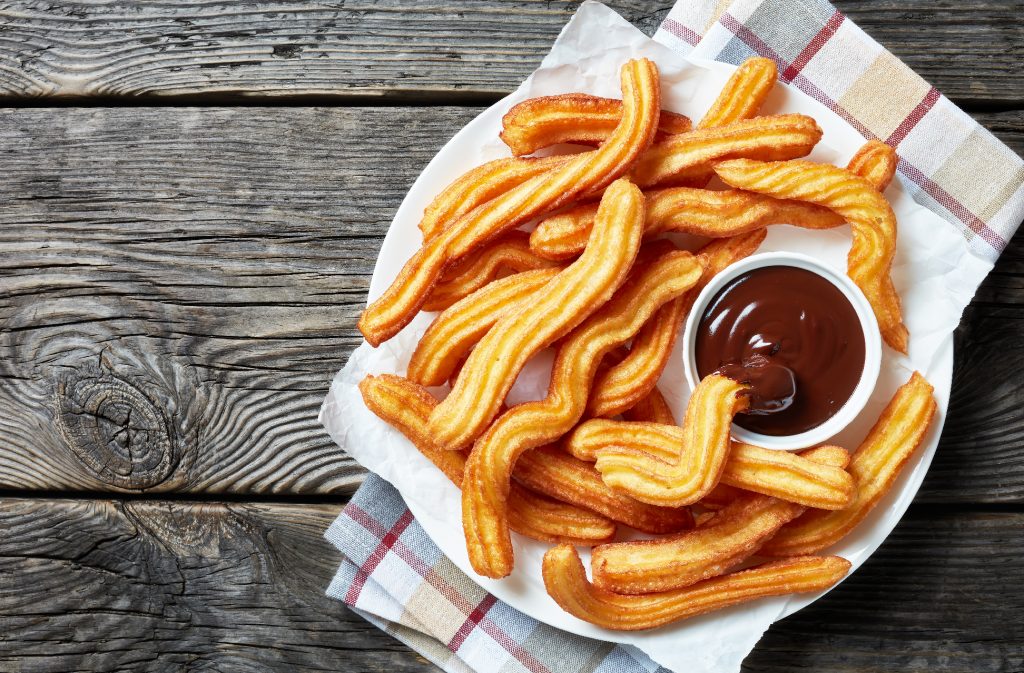 Churros
This classic Mexican street food will definitely please your sweet tooth. First, they deep fry the dough and shower it with sugar; then they dip it in chocolate, fill it with a variety of sweet sauces or, for ultimate flavor overload, both.