Wanderlust: Jamaica
Feel the rhythm of this pure delight of an island.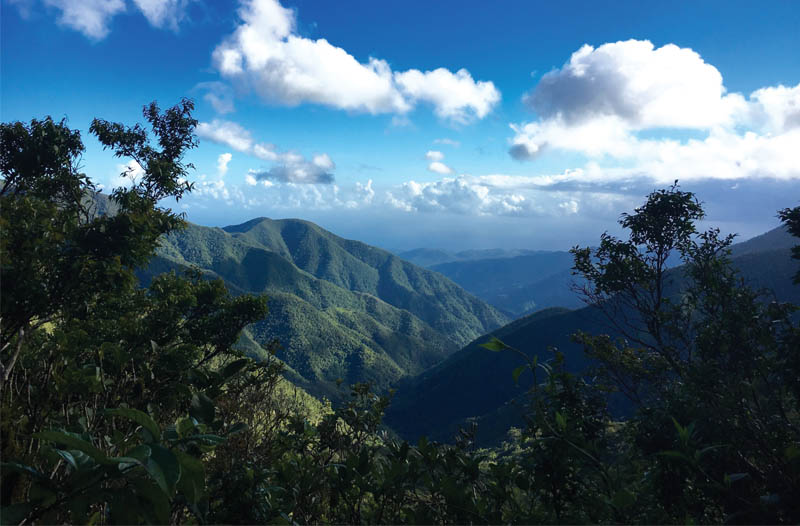 Many Caribbean islands are reduced to just their sandy borders. Travelers tend to stick around the edges, enjoying the beachside resorts, swimming in the rolling waves and strolling through the small villages on the bay. They rarely connect to the land within. This is akin to seeing the "Mona Lisa" and admiring only its frame.
It would be wise not to make this mistake in Jamaica. While the country's border is a pure delight to experience—dotted with all-inclusive resorts, captivating towns and some of the finest beaches Poseidon has ever created—the interior is where the heart is. That's where you'll find lush rainforests vibrating with avian chatter, picturesque waterfalls cascading with a hearty rush, limestone caves, massive mountains, and wide rivers snaking through it all.
When to go: Jamaica is warm year-round, with the peak season from January to March and the best shoulder season in November to mid-December before the holiday travel boom.
Currency: Jamaican dollar: $1 USD = 155 JMD
Language: English is the official language and widely spoken, but the Jamaican patois is primarily used throughout.
Companies to consider: Royal Caribbean, Norwegian Cruise Line, Celebrity Cruises, Sandals Resorts
Once inside this enchanting world, you'll feel how life here pulsates to a rhythm all its own. That rhythm is accompanied by steel drums and bass guitars, the sound of children's laughter, the hiss of beer bottles popping open, and the sizzle of savory meals cooking on open flames. Jamaica has a well-earned reputation as one of the liveliest islands in the Caribbean, and for many, the country's rich culture is as much of a draw as its sandy shores.
Getting Started
Most travelers come to Jamaica via cruise ship or for a resort stay through one of three tourist areas: Montego Bay and Ocho Rios on the northern coast and Negril on the west coast. They all provide excellent home bases from which to launch Jamaican adventures near and far.
Your time at Montego Bay—or Mo-Bay as the locals call it—can be both low-key relaxing and upscale exciting. From here, you can drift down the Martha Brae River on a bamboo raft, learning about the tropical forest surrounding you from a local guide. Numerous 18th-century plantation homes and colonial great houses are open for tours, including the spooky Rose Hall Great House, which is allegedly haunted by the white witch, Annie Palmer. And with five championship courses in the vicinity, you'll never find a lovelier place to lose a sleeve of golf balls.
Ocho Rios, aka Ochi, is a haven for resorts that take advantage of the drop-dead gorgeous waterfalls, rivers and beaches here. One waterfall in particular—Dunn's River Falls—is the main attraction, enticing many to ascend up and through the waters on a 600-foot-long path that winds around massive boulders and across shallow pools. Others flock to James Bond Beach, where several scintillating scenes from "Dr. No" were filmed, before touring GoldenEye, the 15-acre estate where Bond creator Ian Fleming lived for many years.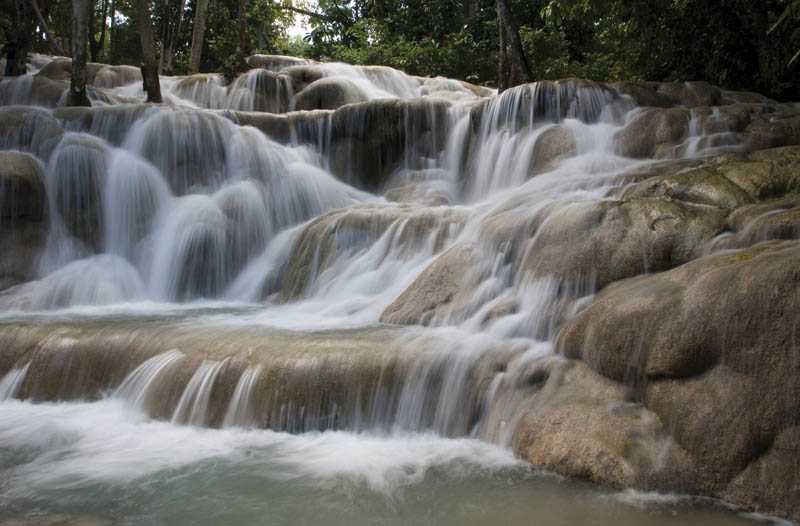 The island vibe is strong in Negril, a picturesque town that, due to clever building codes, limits structures to no taller than a palm tree, creating a tropical paradise with incredible views. Seven Mile Beach is not just the island's most idyllic stretch of sand and sea; it also often makes the "World's Best Beaches" list. Outside of town, you'll find 44 mineral pools and 21 natural jacuzzis to choose from at Mayfield Falls. Another therapeutic option is the Blue Hole Mineral Springs, where you can venture down into a karst limestone cave 25 feet below the ground to rub the clay-like mud into your skin.
From any of these coastal towns, you have easy access to the rugged and beautiful Blue Mountains. Here, at 7,402 feet in the sky, you can stand atop Blue Mountain Peak and see both the north and south coasts in one sweeping, breathtaking view. Some brave souls begin the seven-hour trek to the top at night so that they can view the sunrise from the peak. An easy, alternate way to experience the mountain is a bike tour. Don't worry—you don't have to pedal uphill; they'll drive you to the top with the bikes, and you can take your time gliding down the gentle descent through small villages and past waterfalls, listening to the songs of red-billed streamertails and warblers along the way.
Feel the Vibe
While Jamaica's numerous natural wonders are reason enough to visit, it's the island's culture that will stay with you forever. That culture starts with the local Jamaica patois, that colorful, sing-song roll of words that makes even the simplest of phrases sound energetic and animated. Luckily, no matter what they're saying, and no matter if you understand it or not, the people speaking will still have a big, friendly smile on their faces.
The vibrant sound of their words is heightened in the thumping, deep bass drums of reggae. Music is the heartbeat of the nation, making every music festival and nightclub a joyous, vibrant dance party. Live music can easily be found most nights, especially at Rick's Café in Negril, Pier 1 in Montego Bay, and Dub Club in Kingston. For those who need a little encouragement to join the dance floor, locally made rum and Red Stripe lager will get your hips swaying.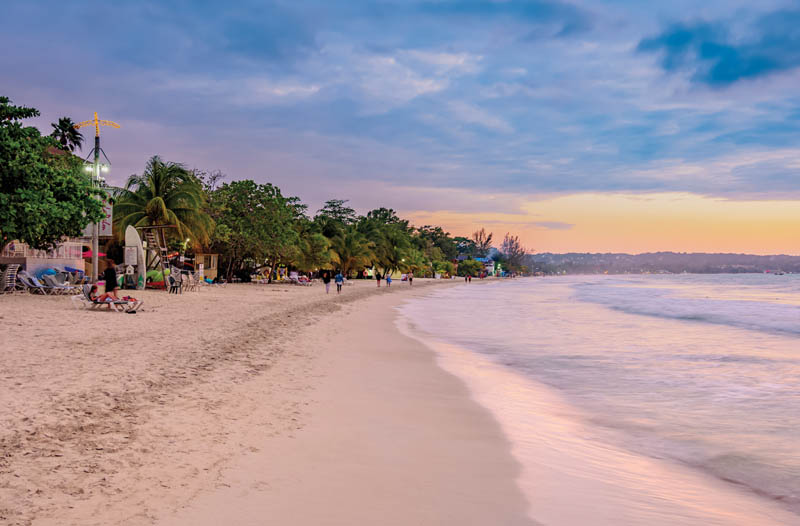 Cruise Corner
If your cruise itinerary features Jamaica, a popular stop for many cruise lines, then you will most likely also visit these destinations. The beautiful thing about the Caribbean: each island has its own unique history and flavors, making each stop on your itinerary feel like you're venturing into a whole new world.
Bahamas > The closest Caribbean destination to cruises launching from Florida, the Bahamas is easy to love. Most ships will dock in Nassau, where a perfect day could be spent taking the Queen's Staircase up to Fort Fincastle to learn about the local history, buying authentic Bahamian handicrafts at the Straw Market, feasting on conch fritters at Arawak Cay, and snorkeling over reef sharks at Stuart Cove.
Dominican Republic > While the glitzy resorts are in Punta Cana, cruises opt instead to dock at Puerto Plata, and you'll be glad they did. During your stop here, you can kayak through the Manatee Reserve, seeing the massive beasts up close; swim at 27 Waterfalls complex, which is like a geological wonder maze; hike through the lush jungle of El Choco National Park; or swim with dolphins at World Ocean, the largest man-made dolphin habitat in the world.
Grand Cayman > This upscale destination has plenty to offer travelers of all types. Some may be attracted to the world-class restaurants, designer boutiques and duty-free shopping, while others may be seeking more physical pursuits. To the latter group, adventures abound here—from swimming through the World War II naval ship USS Kittiwake, which is now a shallow artificial reef, to making some unique friends at Stingray City in the crystal-clear waters of Coral Reef Gardens.
Tasty Treats
While Jamaica is renowned for sun-blessed beaches, reggae tunes and majestic waterfalls, foodies worth their seasoning know the island's cuisine is just as alluring. Equal parts mouthwatering and soul-pleasing, Jamaican cuisine is arguably the most well-known and celebrated in the Caribbean. Here are the dishes you should try to give your taste buds a true treat.
Jerk Chicken > Surprisingly, jerk chicken is not the official national dish of Jamaica (that one comes next on our list). Its flavor comes from a magical blend of seasoning—allspice, Scotch bonnet peppers, thyme, garlic and ginger—and you'll find jerk pits all over the island.
Ackee with Salt Cod > This, the true national dish of Jamaica and a breakfast staple across the island, includes the ackee fruit boiled, diced and fried with sweet onions, peppers and various spices, all added to salted cod.
Stamp and Go > Another popular breakfast dish, Stamp and Go is typically made of flour, saltfish, onions and spices, fried to fritter perfection and best served with a cup of legendary Blue Mountain coffee.
Callaloo > A leafy green cooked with Scotch bonnet peppers (like most things in Jamaica) and other ingredients, often stuffed inside a flaky pastry dough for a tasty treat.
Dukunu > Also known as tie-a-leaf or blue draws, this tasty treat is made by boiling green bananas, sweet potatoes and coconut into a cornmeal pudding that's wrapped in a banana leaf.