Wanderlust: Alaska
The Last Frontier outdoes almost every place on earth.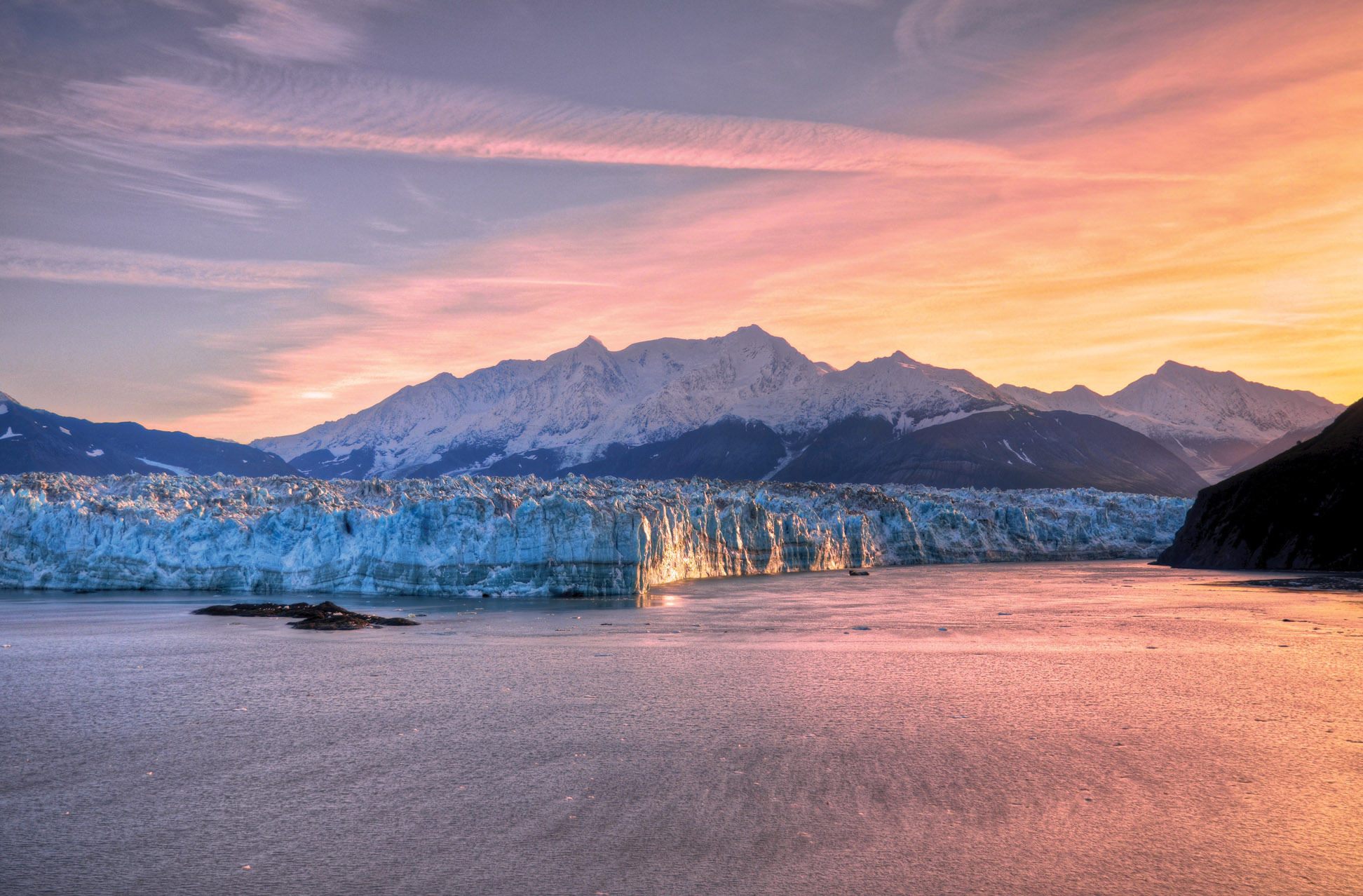 Jaw-dropping is a word that gets thrown around a lot in travel writing. As is awe-inspiring and breathtaking, eye-opening and mind-blowing. Maybe these writers need a new thesaurus, or maybe they've all just been to Alaska.
The Last Frontier deserves those superlatives and then some. It's got more coastline than the rest of the United States combined, two of the nation's largest forests, and more than half the world's glaciers. All of this sets the stage for an enthusiastic gold-rush history and fascinating indigenous cultures. Indeed, Alaska outdoes almost every place on earth.
This pristine expanse of snowcapped mountains and deep fjords, as well as a wealth of wildlife encounters, has enough to make adventurers of all ages giddy with joy. By cruise ship is the easiest way to explore, sliding up the Inside Passage to see the epic coastline up close while venturing onshore during excursions. Inland tours take you further into the wilderness up to Denali and beyond. However you can manage it, this jaw-dropping, awe-inspiring land will leave you speechless.
When to go: It's no secret that Alaska can get a bit cold, so the summer period of May to August is best to visit. This time may attract the most tourists, but it also attracts the most wildlife sightings and outdoor activities.
Currency: U.S. dollar
Language: English
Getting around: Town centers are walkable from most ports, or the cruise line will provide proper transportation to the larger, natural sites. For the best viewings of glaciers and bays, choose excursions that include Zodiacs, chartered boats or kayaks. Helicopter tours—often referred to as flight-seeing—offer an amazing experience for those who can handle the rush.
Companies to consider: Holland America Line, Princess Cruises, Celebrity Cruises, UnCruise Adventures
Ice, Ice Baby
With more than 100,000 glaciers punctuating Alaska's coastline, odds are you will encounter many during your trip. And when you do, you'll be surprised to discover that glaciers are not immobile masses of solidly packed ice. They are actually slow-flowing rivers of ice constantly carving their way toward larger bodies of water. In fact, Hubbard Glacier, one of Alaska's most active, flows for 90 miles before meeting the sea in Disenchantment Bay in the Inside Passage.
Whichever glaciers you're fortunate enough to encounter, be sure to take your earbuds out while exploring the area. That way you can hear (and hopefully see) what Native Alaskans once referred to as "white thunder"—the seismic sound of enormous chunks of ice calving into the sea. It starts with a sharp, piecing thunderclap, followed by a massive mound of ice seemingly dissolving before your eyes. With gravity's assistance, the icy chunk tumbles into the sea with a roaring splash, causing the cruise ship or the kayak you're on to rise and fall in the oncoming swell.
One of the best places to catch this unforgettable experience is at Glacier Bay National Park, home to sprawling Margerie Glacier. Here, while staring at the ever-changing hues of the ice—which shift from dark turquoise to cerulean to aquamarine as the light changes—you'll also be able to spot humpback whales and sea otters, harbor seals and the occasional black bear, all while bald eagles circle overhead. Now that's a day you'll never forget!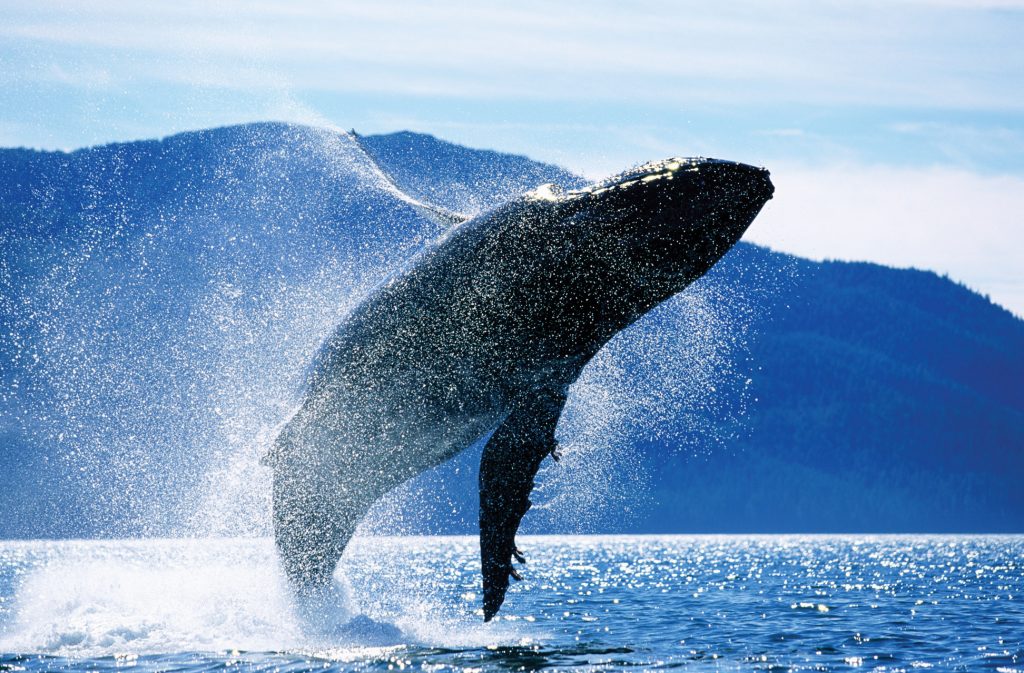 Denali Does Not Disappoint
Alaska's rich diversity of beasts and birds can be found in their natural habitats in Denali National Park. Inside this six-million-acre park, you'll spy gyrfalcons and golden eagles in the sky, while caribou, moose, wolves, Dall sheep and bears amble through the dense boreal forest and expansive tundra that surround the towering mountain at its center. And, oh, what a mountain it is.
Cloud-splitting, 20,310-foot-high Denali is a formidable centerpiece to this wildlife wonderland. North America's highest mountain is a massive mass of snow-packed granite rising from the horizon to protectively watch over the pristine wilderness. Rising 18,000 feet from base to tip, Denali is actually taller than Mount Everest—which explains why the native Koyukon Athabascan originally came up with the peak's current name, which is usually translated as "The Great One."
There are many ways to experience The Great One and its vast surrounds, from helicopter flight-seeing rides and whitewater rafting on Nenana River to mushing over the terrain on a sled pulled by a team of bushy-tailed huskies. Hiking and mountain-biking trails branch off in every direction, while the sculpin and Arctic grayling of Eldorado Creek attract fly-fishing enthusiasts from around the world. You can even tee off at the nine-hole Denali Black Diamond Course, where the snow-capped vistas will make it challenging to concentrate on your drives.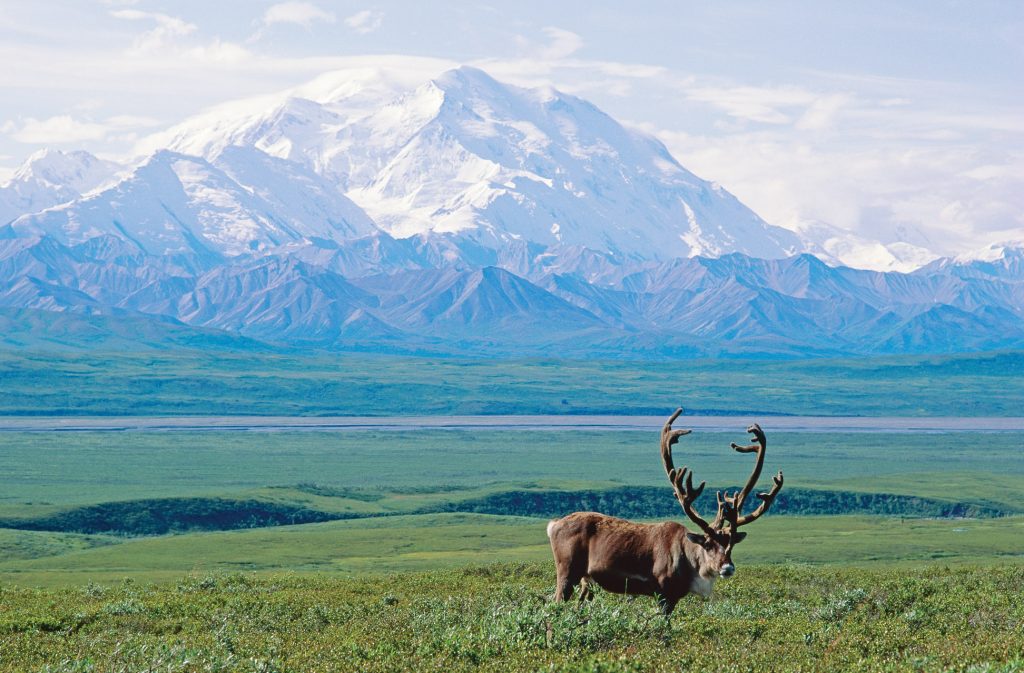 Cruise Corner
Alaska is one of the world's most exhilarating cruise destinations thanks to a mountainous coastline and deep-water ports located right in the heart of its coastal villages. At each stop on your itinerary, you can easily walk off the ship and into town to start your day or journey further afield to soak up the local culture and launch more outdoor adventures. Here are three popular ports of call that highlight many Alaskan cruise itineraries, which often begin and end in either Seattle or Vancouver.
Skagway > Gold-rush fever still feels alive in Skagway, a key part of the Klondike Gold Rush National Historic Park. In the Skagway Historic District, you can walk in the footsteps of prospectors down wood-plank sidewalks, past notable structures like the Railway Broadway Depot, Jeff Smith's Parlor and the Pantheon Saloon. Keep the historical vibe going with a ride on the White Pass & Yukon Route Railway, a vintage train built in 1898 that transports you not only into the past but also through a breathtaking parade of mountains, glaciers, trestles and tunnels.
Sitka > Settled by Russians in 1799, Sitka's origin story is still found in the gleaming copper domes of St. Michael's Cathedral, one of the few Russian Orthodox churches remaining in Alaska. And while the Russian and native heritage is strong here, nature is the showstopper. Here you can stand near orange-beaked puffins on Saint Lazaria Island, kayak next to inquisitive otters in Sitka Sound, and see golden eagles, hawks and bald eagles at the Alaska Raptor Center.
Ketchikan > Known as Alaska's First City, the small fishing town of Ketchikan is the ideal port for diving into Alaska's indigenous culture. There is an astounding number of totem poles in the area, including 80 varieties found within a three-block radius of downtown just casually standing next to streetlights and stop signs. If that doesn't fulfill your personal totem pole quota, you'll find more south of town at Saxman Village, where the 800-plus Tlingit people will gladly tell you more about each pole's history.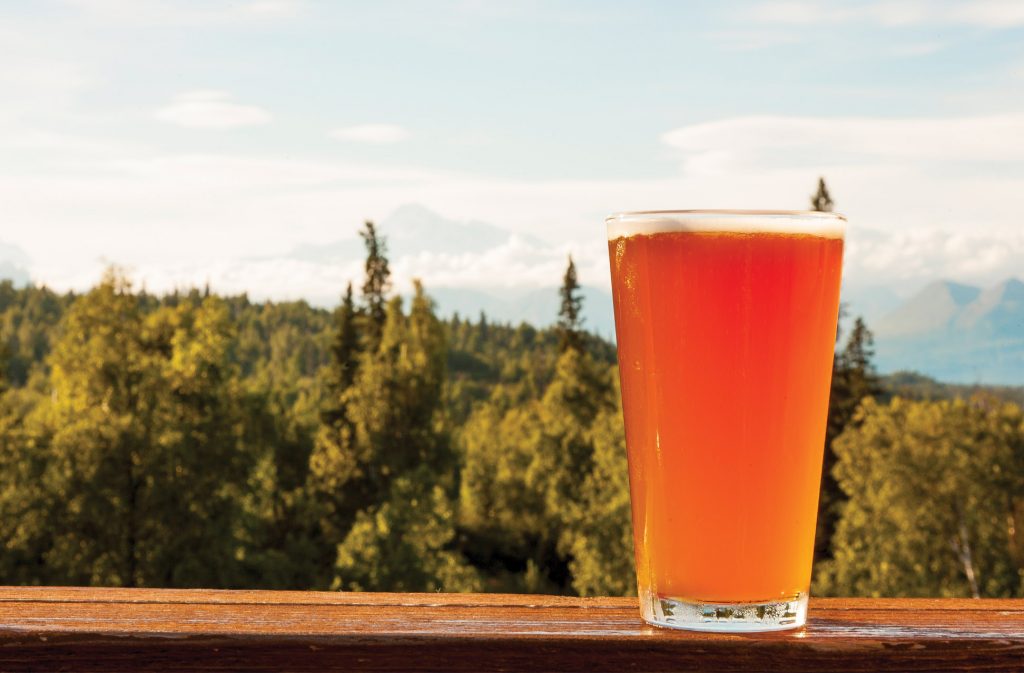 Tasty Treats
Alaska's culinary creations are just as bold and fulfilling as its natural wonders. Talented locals are proud of the food they catch and create, and each meal you receive will come with an amazing story based on local traditions. Finding the best Alaskan eats is easier than panning for gold—in fact, there's too much to print here. But it's a safe bet to try these regional favorites.
King Crab > If it weren't the best, they couldn't call it "King." Native to the Bering Sea, this crustacean is revered for its massive size and incredibly sweet meat. Consuming them takes a bit of effort—you must open the stiff shells with nutcrackers or mallets and then dig out the meat with special forks—but it's oh so worth it.
Reindeer Sausage > A beloved street food made of grilled caribou sausage, grilled onions, mustard, relish and sometimes cream cheese, this iconic delicacy is a breakfast staple often served next to eggs or pancakes.
Pacific Halibut > Ranging from 20-pound "chickens" to 100-pound "barn doors," this deep-sea fish has a white, flaky meat with a delicate flavor that is best served deep-fried in Alaska's version of fish and chips.
Berry Cobbler > Due to its long daylight hours in the summer, the state's berries grow in unfettered abundance across the landscape. This medley of wild berries can include raspberries, blackberries, blueberries, cloudberries, salmonberries, lingonberries and moss berries—all baked to delicious perfection.
Craft Beer > Alaskans are serious about their brews. They rank sixth in the United States for the most breweries per capita. From heavy stouts and rich barleywines to blondes and IPAs, each town you encounter will have a fierce rivalry aiming for the best of the region. Pro tip: try them all.