Aruba: Two Islands in One
Aruba offers surprising adventures if you look past the typical tourist spots.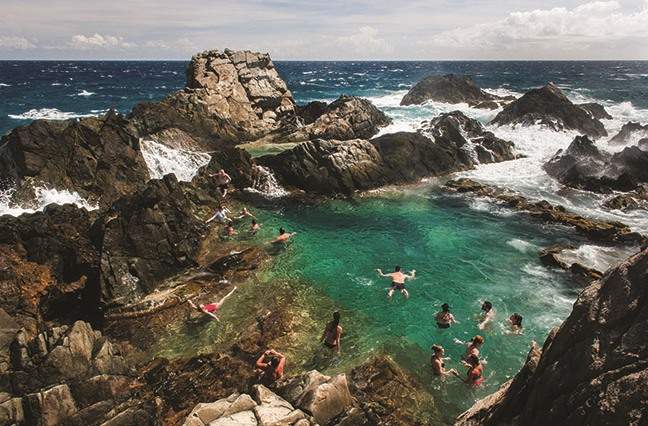 With many Caribbean islands and hotels still a work in progress after last year's devastating hurricane season, your favorite might not be ready in time for your escape from the winter blues. If you are already contemplating where to go for some fun in the sun come January, put Aruba on your radar. South of the hurricane belt, the island averages only 20 inches of rain per year, temperatures stay in the mid-80s and there is a constant breeze.
Yes, Aruba has a reputation for mass market tourism. All-inclusive resorts line Palm Beach. Cruise ships stop here. But being a port of call means the shopping is fabulous. In the colorful 18th-century Dutch-style buildings in Oranjestad, you'll find any designer brand you desire—Cartier, Gucci and Longchamps. There are also some great local stores, like the Cigar Emporium, where you can pick up some Cubans, and the Aruba Aloe Store, renowned for its Aruba Aloe Special Care lotion, one of the many pure aloe products that are made on the island.
But what you might not expect is the adventures you can have. Aruba is essentially two islands in one. Sugar-sand beaches flank the southern and western coasts. Because of the trade winds, wind and kite surfing are watersport staples. You can go diving at The Antilla, a 400-foot German freighter shipwreck, charter a sailboat or join one of the catamaran cruises to snorkel nearby reefs. The northern coast, where Arikok National Park covers almost 20% of the island, is a dramatic landscape of surf-beaten cliffs, rock formations and natural pools. Veering off into this desert, accessible only by four-wheel-drive vehicles, is such a stunning departure that you feel like you could be on an African safari minus the exotic animals, unless you count the wild goats roaming among the cacti.
Some new developments have raised Aruba's profile over the last several years. The Ritz-Carlton Aruba opened on the less crowded end of Palm Beach five years ago, providing the first real luxury option for people who would normally vacation at one of their other Caribbean resorts. More recently, Sports Illustrated photographed its 2018 swimsuit edition here, its crew staying at the Hilton Aruba Caribbean Resort & Casino, which was renovated in 2016, and shooting at locations throughout the island, including Arikok National Park. The Hilton originally opened in 1959 as the Aruba Caribbean Hotel and was designed by the famous hotel architect Morris Lapidus. Set on 15 acres of white sand and lush tropical gardens, the concept of the renovation was to blend Lapidus's mid-century style with a contemporary beachfront flair. It delivers.