Smiling Is Easy in The Bahamas
Whether you're island hopping, cruising or just meandering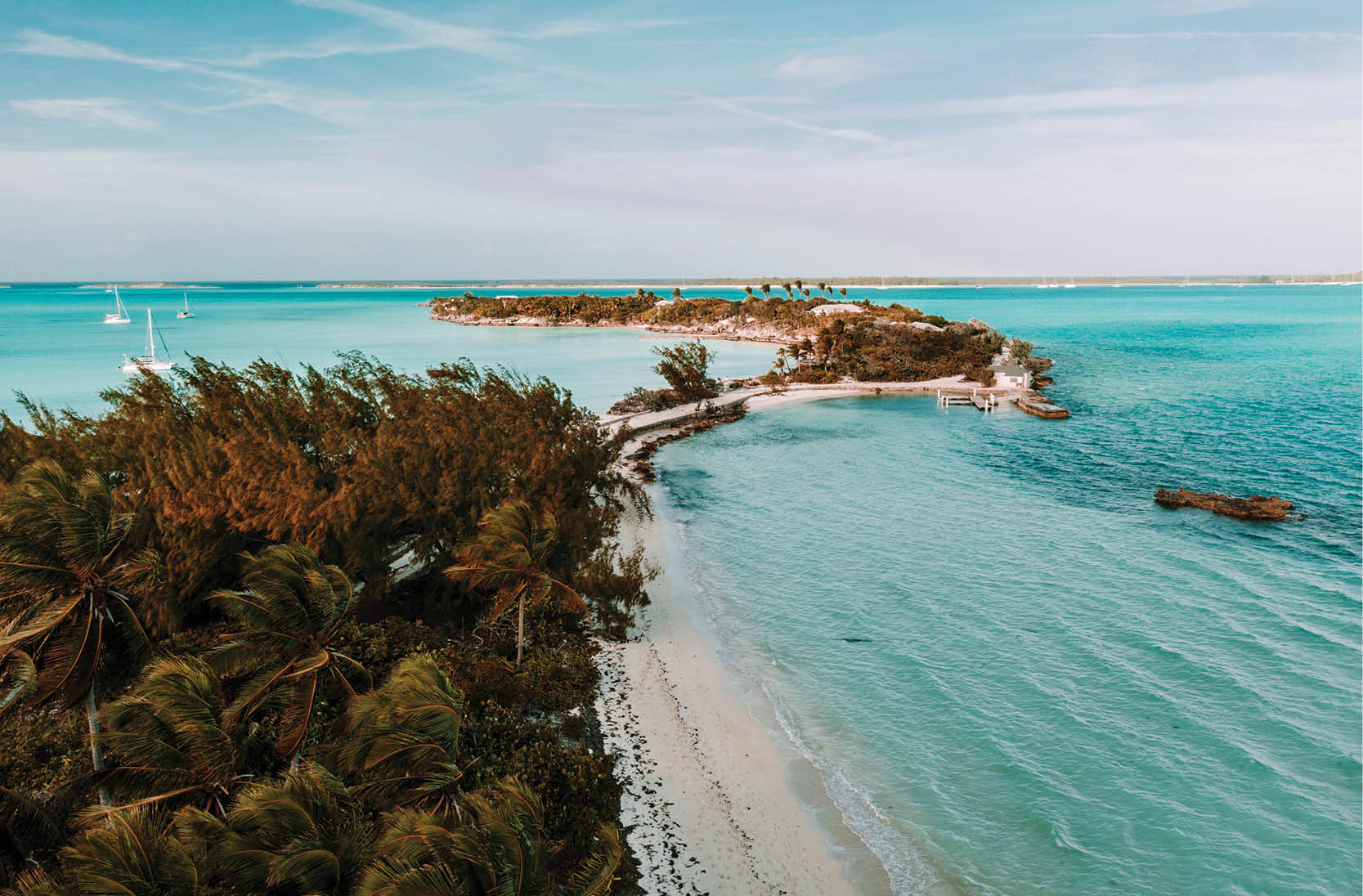 With 700 islands artistically decorating more than 100,000 square miles of the Atlantic Ocean, The Bahamas contains multitudes of micro destinations in one.
WHEN TO GO The best season to visit is from December to May when you'll avoid the rainy summer months and the possibility of hurricanes.
CURRENCY Bahamian dollar (BSD): $1 = 1 BSD
LANGUAGE English
COMPANIES TO CONSIDER Royal Caribbean, Norwegian Cruise Line, Princess Cruises, Kensington Tours
Each island includes clear, turquoise-tinged waters along with warm, salt-infused breezes that make you feel like you're being constantly fanned by palm fronds.
While island-hopping, you'll encounter a delightful medley of adventures, from relaxing on sugar-white sand beaches and swimming with inquisitive pigs to snorkeling in hidden coves where James Bond movies were filmed. The best part: these adventures are close. Just a quick flight away for many in the United States, the continuously cloudless skies of The Bahamas seem to be always on the horizon, beckoning you to visit. And visit you should.
Start Off in Nassau
Most sojourns to The Bahamas begin in the capital city of Nassau. Located on the island of New Providence, the most populous of the country's islands with roughly 250,000 people, the city is a hub for travelers who, once they arrive, are faced with a choice: stay in and around Nassau for their entire vacation or venture further afield. This is a win-win situation because both choices are filled with wondrous options.
For those who stay for any length of time in Nassau, you'll quickly notice its strong English flavoring. Though it began as a pirate stronghold, the city was a British colony from 1718 to 1973, and since its independence, it has chosen to retain much of its colonial heritage. Islanders drive on the left. Bright red British mailboxes line the streets. Police officers are dressed in spotless white uniforms and pith helmets. And there's even a Changing of the Guard ceremony every second Saturday of the month in front of the Government House on East Hill Street.
One block north of this site will put you onto Bay Street, a seaside thoroughfare for duty-free shopping that is quite popular with cruise travelers and souvenir hunters. For items of a more authentic vibe, the Nassau Straw Market is packed with locals selling handmade Bahamian crafts such as conch shell jewelry, hand-woven straw hats and wood carvings from their stalls—all of which you can acquire at quite reasonable rates if you're any good at haggling.
Spending any amount of time in this city may cause your inner pirate to come out. Luckily, to give you a break from shopping amidst all the landlubbers, you'll have several nearby attractions to get your "yo ho ho" on. The Pirates of Nassau is a swashbuckling attraction harking back to the days when notorious pirates such as Blackbeard ruled the local scene. The interactive exhibits are fun for everyone, and there are even authentic cutlasses and doubloons on display. Buccaneers of all shapes and sizes are welcomed at the nearby Pirate Republic Brewing Company, The Bahamas' first and only craft brewery, where you can score a Long John Pilsner that pairs perfectly with a plate of conch fritters.
If there are any little ones in your group, shopping for local wares and drinking craft beer—even if it's pirate themed—can go only so far. Thankfully, Atlantis Resort, a destination that fully believes in the mantra that bigger is better, is just across the bridge on Paradise Island. Here you'll find Aquaventure, a 141-acre waterpark packed with waterslides, 20 pools, 45 private cabanas and a mile-long river ride. Fourteen lagoons and more than 50,000 aquatic animals await you at the Marine Habitat, where you can also snorkel over underwater ruins and fly past hammerheads in a see-through tube while sliding down a fake Maya temple. For more underwater interaction, the Atlantis Submarine will whisk you past spectacular reefs, more sharks and the remains of airplanes used to film scenes in two James Bond movies.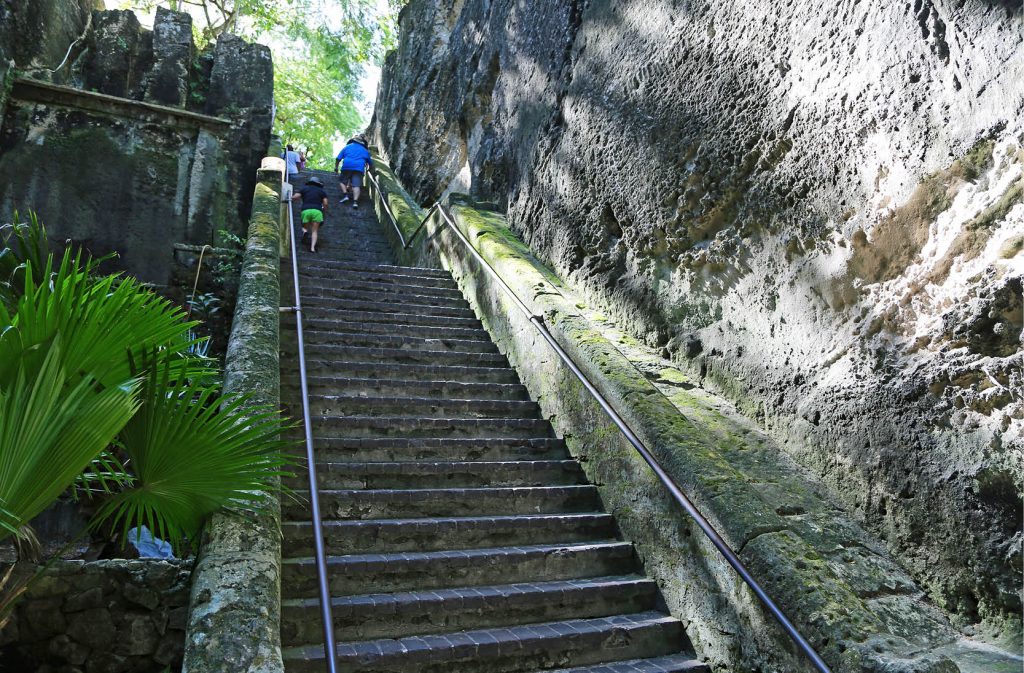 Then Go Island Hopping
No one will blame you for spending your entire time in Nassau, but visiting The Bahamas and not venturing out to some of its islands is like going to a buffet and eating only platefuls of pork loin. To drag the buffet analogy out a little longer, each island brings its own flavor to the Bahamian experience, and you should taste as many as possible to get your fill.
The Exumas are a popular choice to explore, especially if you're searching for a little peace and quiet. With 365 cays and islands—many of which are uninhabited—finding a secluded beach to call your own for the day is quite easy. That said, you will stumble upon other sun-worshippers at Tropic of Cancer beach, which many call the country's most gorgeous, and you may run into friendly pigs at Big Major's Cay, aka Pig Beach, where these celebrity swine will swim out to greet your boat in hopes of a snack.
You won't find swimming cats on Cat Island, but you will come across a pristine landscape perfect for diving, eight miles of pink sand near Port Howe, and a medieval stone monastery 206 feet up at the top of Mt. Alvernia, the country's highest point. Harbour and Eleuthera islands are quite the pair. Just five minutes apart by ferry, the former is basically a small town packed with colonial architecture, charming churches and art galleries, while the latter is a sprawling art show of nature stitched together by the 110-mile Queen's Highway, a drive that should be taken slowly to enjoy the incredible vistas from the Glass Window Bridge. On the way, explore its numerous caves and soak in natural tidal "hot tubs" called the Queen's Bath.
In fact, the entire country should be explored just as slowly. Take your time lounging on the beaches, meandering through the markets, and sipping Kalik beer in tranquil cafés. Let the country's soul seep into your skin, and soon you'll realize that your cheeks are sore due to all the smiling. The Bahamas is easy to enjoy and even easier to love.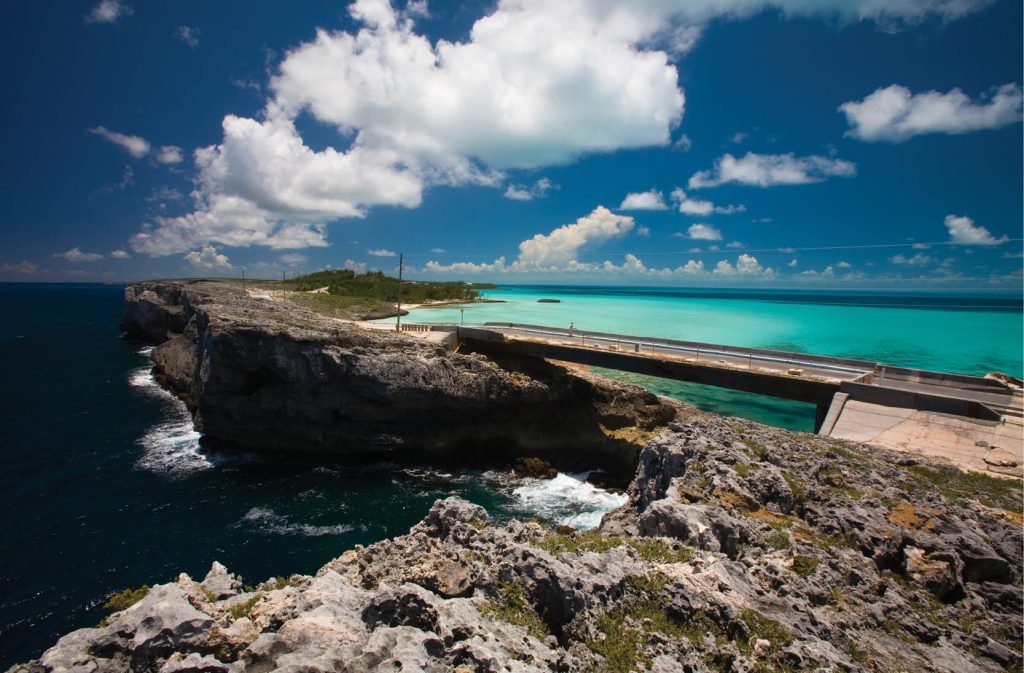 A hearty blend of Caribbean and Creole cuisine, food in The Bahamas is a source of pride for its people. You'll find local ingredients like guava, rock lobster and conch in many dishes, as well as other flavors that will pleasantly surprise you. Here are some bites you can't miss on your trip.

Conch Fritters > Golden conch nuggets made with a batter of conch meat, bell peppers, onions, celery and seasonings.
Bahamian Fish Stew > Odd to some visitors but right at home for others, this savory dish is similar to gumbo and often consumed for breakfast.
Rock Lobster > These clawless crustaceans are typically steamed or boiled and used as an ingredient in various Bahamian dishes.
Pigeon Peas and Rice > Often served as a side, this classic Caribbean dish is most commonly made from pork, pigeon peas, celery, rice, tomatoes and thyme.
Guava Duff > A popular Bahamian dessert, it's a type of sweet roulade made with diced guava fruit and topped with a rum custard sauce.
Yellow Bird > Sit back and enjoy the national beverage of The Bahamas, a refreshing cocktail made with light and dark rum, a sweet herbal liqueur and tropical fruits.
Nassau is a popular spot on many cruise itineraries. In fact, you'll often see three or four ships docked surprisingly close together. The capital city makes the ideal port stop, with most of the attractions listed above within easy walking distance from the pier. Plus, on any cruise that stops here, you'll also enjoy several of these ports along the way.

Key West, Florida > The southernmost city in the continental U.S. boasts year-round tropical weather and a laid-back vibe that is second to none. A day here could be easily and wonderfully spent strolling along the shops of Duval Steet, watching street performers in Mallory Square, tucking into a slice of key lime pie, and grabbing a pint at Sloppy Joe's, a favorite drinking haunt of Earnest Hemingway.
Puerto Plata, Dominican Republic > The Dominican Republic's oldest city has the ocean at its front door and the mountains in its backyard. Opulent Victorian homes from the 1800s and royal palms frame its famous Parque Independencia, while a cable car will whisk you up 2,600 feet to the top of Mount Isabel de Torres for breathtaking views. Don't leave without picking up some of the most translucent amber in the world.
San Juan, Puerto Rico > History buffs love San Juan for its 500 years of history, which is displayed along the cobblestone streets of Old San Juan and with military vigor at the fortified fortress of Castillo San Felipe Del Morro. Nature lovers head straight to the jungled mountains of El Yunque Forest to hike to hidden waterfalls.
Grand Turk, Turks & Caicos > At just seven square miles, Grand Turk is an easy city to explore in a day. You'll quickly fall in love with its architecture that blends Caribbean-inspired pastel hues with English characteristics, along with its soft-sand beaches where wild horses and donkeys roam. The island is surrounded by some of the clearest aquamarine water in the world, making it the ideal place to dive in and explore.