Shirley MacLaine and Jessica Lange
Feeling Their Whole Life Oats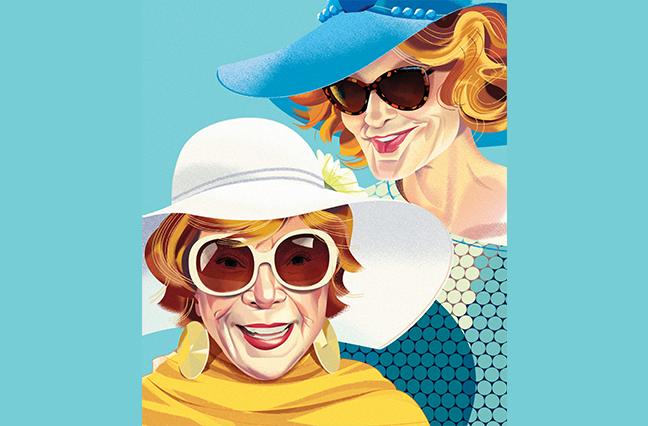 In a 2016 film frolic, two old gray mares take a comic romp through la dolce vita after an insurance error loads them with dough.
In Wild Oats, a new widow is supposed to get a $50,000 life insurance check. The company writes it for $5 million instead. Thus begins the adventure for Shirley MacLaine and Jessica Lange, who play a geriatric Thelma and Louise.
Oh, they do call the Beneficial Insurance Company to report the mistake but only to get tangled in a long and frustrating taped telephone web where no actual humans are ever available to talk. So they take the money and run to the Canary Islands, where they meet a charming elderly con man (Billy Connolly) who preys on wealthy widows.
When Beneficial discovers the error, they send their oldest, palest, weakest, most ineffective employee (Howard Hesseman) to get the money back. He lands in the Canaries, and hilarity ensues as the ladies struggle to keep the cash away from both the insurance man and the con man.
The happy ending belies the backstage struggles. The film was five years in the planning, and the production began $500,000 in debt. Gran Canaria made the lowest bid for the resort scenes. Filming would pause now and then because the production ran out of money for simple daily expenses, like taxis. The actors and crew deferred their salaries.
MacLaine called it "amateur hour" in a book she penned about the experience, titled Above the Line: My Wild Oats Adventure.
The book may have made a profit. The movie did not. First aired on Lifetime, it spent two weeks in limited theaters and then went off to DVD and streaming land. The budget was estimated at some $10 million, and the total worldwide gross came up to $242,312. But Shirley MacLaine, at least, was able to turn Oats into some bacon.