On the Waterfront, Off the Grid
Three miles off of Key West is Stock Island, an emerging luxury destination.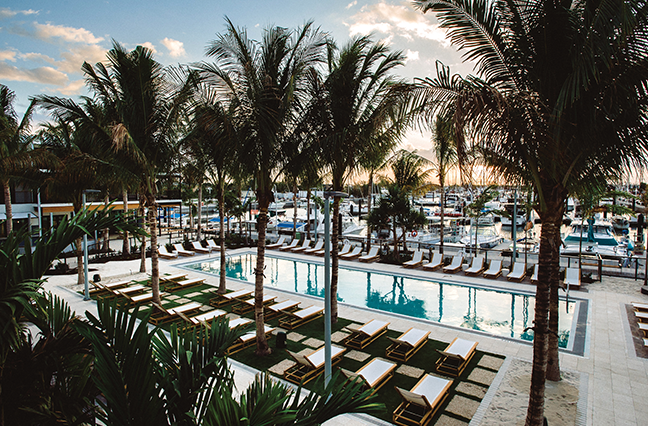 Only three miles from Key West, but far from the maddening crowd on Duval Street, Stock Island is emerging as a new destination for people who want to stay and play by the gorgeous turquoise waters.
The island of shrimpers and fishermen, where roosters roam free, is much like the sleepy town Key West was 50 years ago. But that's changing. In 2014, developer Matthew Strunk opened Stock Island Marina, the largest deepwater marina in the Florida Keys. With 220 slips and state-of-the-art floating docks, it has been a port of call for billionaire Ronald Perelman's yacht.
Like David Wolkowsky, the visionary who opened the Pier House hotel in Key West in 1968, Strunk and hotelier/developer Brad Weiser recently opened Stock Island's oasis of chicness, The Perry Hotel. The hotel is transforming the former industrial boatyard into a community of restaurants (De Luna's Cuban food truck will deliver Cubanos and café con leches to the hotel), bars, art studios and watersports, with a distillery in the works.
"From the moment we were introduced to the property and Stock Island, we asked ourselves what we could do to embrace the history of this place and its people," Weiser says. "There is so much on Stock Island, from art to industry." The use of wood and rustic metal in the construction of The Perry Hotel is a nod to the surrounding wharf buildings, giving an edgy maritime feel to the modern design. An art installation by local sculptor Daniel Siefert hangs over the expansive lobby. Fresh seafood, fished out of the sea in the hotel's backyard, is featured in its restaurants.
Days at The Perry Hotel alternate between lazing in one of the cabanas, chaises or hammocks that line the pool and on-the-sea adventures like snorkeling, diving and sailing. Sue Cooper, founder of Lazy Dog Adventures, one of the watersports companies that have relocated their operations to the dock facing the pool, has been offering kayak eco-tours through the mangroves since 1989. Unlike the cattle boat tours you find in Key West, Lazy Dog limits the number of people on its excursions, minimizing the impact on the environment and offering a more pristine experience (you spot more fish when there aren't dozens of snorkelers splashing around). Launching from the Stock Island Marina also reduces the time it takes to reach the reef and dive sites or to get under sail or start paddling.
The owners of The Perry are working with other new developments to catapult Stock Island forward, so it's only a matter of time before the island is transformed. For now, though, it is an off-the-grid escape in the Florida Keys, where you can enjoy the sea—whether you're playing in it or savoring its bounty—in style.