Max L. Holmes
Man of vision, integrity and commitment to employees and clients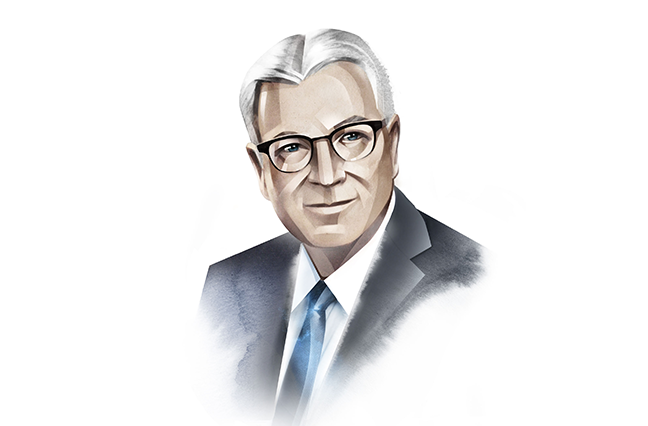 The year was 1932. The Great Depression had spread a blanket of despair across the country. Those willing to start a new business venture had to be of certain stock—determined, fearless, driven, focused. Those qualities defined Max Holmes, who opened his insurance agency 83 years ago. Tough times couldn't quash Holmes' entrepreneurial spirit. He knew if he worked hard for his clients, provided expert know-how and always operated with integrity, success would come.
At the start, Holmes sold primarily life insurance and personal effects policies. His brand of personal service was popular with customers, and he worked hard through the lean years of the 1930s to emerge as a leader in the sales of property-casualty insurance. While other agencies resisted change, Holmes had the vision to recognize the need for multiple coverage policies with a single premium, first for homeowners and then for commercial property-casualty. Holmes was recognized as a leading proponent of that sales method.
In 1948, he brought on a salesman, Raymond Murphy Jr., who would serve as an ideal teammate and catalyst for much of the agency's most productive era. The Holmes-Murphy partnership charged forward through the next several decades, becoming proficient in bonding and construction. The 1950s saw the first association group plan evolve under Holmes, a benefits program for the Iowa State Bar Association. As a result, Holmes developed the Employee Benefit Department, an integral part of the agency to this day.
Under Holmes' leadership, the agency became the first in Iowa to have salesmen regularly traveling statewide and began serving several of Des Moines' largest employers, making Holmes Murphy one of the largest insurance firms in the state. The business saw continued growth under Holmes, who was eventually elected chairman of the board in the 1970s.
Even in semi-retirement, Holmes never wavered in his commitment to his clients and staff. He was known for always being available to offer valuable advice and ideas to any team members in need. Holmes died at 78 in 1975. His values of exceptional service, expert know-how and integrity continue to drive the firm. In 2009, Holmes was posthumously inducted into the Iowa Insurance Hall of Fame.