Karen Gustin's Lincoln, Nebraska
We Lincolnites pride ourselves in having one of the friendliest cities in the United States.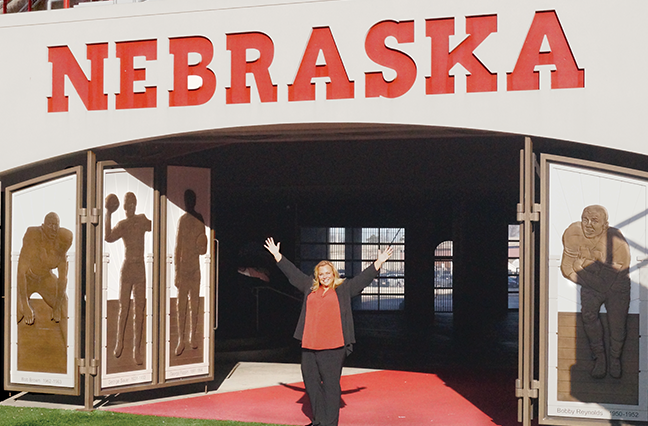 Karen Gustin of Ameritas Life Insurance Corp. shows off the happiest city in the U.S.
Vibe >> We Lincolnites pride ourselves in having one of the friendliest cities in the United States. In fact, we were recently named the happiest city in the United States by Gallup. Unsuspecting college sports rivals experience this when they come to our city for Husker games. We love people, working hard and life. That's what it's all about.
Work >> Lincoln is affordable and fun, making it an incredible place for existing and new businesses. Our incubator and accelerator environment is alive and growing. It's a great place to be!
Play >> The University of Nebraska always has something going on—sports, live concerts, food festivals, off-Broadway shows, marathons, art exhibits. We also have 131 miles of hard surface and rocked trails for biking, running and walking, so pack accordingly.
Weather >> It's not always cold here! It can be 100+ degrees in the middle of summer and I will still have someone ask me, "Is it still cold there?"
Restaurant scene >> No one believes me, but Lincoln has some of the most eclectic culinary opportunities I've seen in a city of our size. We have a large worldwide relocator population, which is reflected in our markets and restaurants. From authentic Mexican and Chinese to Persian, Thai, Indian, Japanese, African and Russian, I could go on and on.
Best new restaurant >> My favorite new restaurant, The Normandy, is straight from western France. From fancy to comfort food, everything is spectacular. The pastries are to die for, and the wine, well, that goes without saying.
Favorite restaurant >> Blue Orchid Thai Restaurant. My friends know that they must like Thai or lunching with me will be a problem. The drunken noodles spicy are the best!
Watering hole >> I've been traveling for more than 30 years, so when clients come to Lincoln, I want them to have an experience they can't get in another city. The Other Room is a mysterious speakeasy, complete with a back alley secret address. Once you find the location, you must knock, and if the light outside is green, you are let in. Only 25 people at a time get to enjoy the award-winning mixologist's creations.
Stay >> I recommend people stay at the Marriott Courtyard in downtown. It's within walking distance to the historic Haymarket district, and there's always something to do—restaurants, sporting events, bars, coffee houses, farmers markets, music, art.