Jay Ajayi
Receiving from the Bench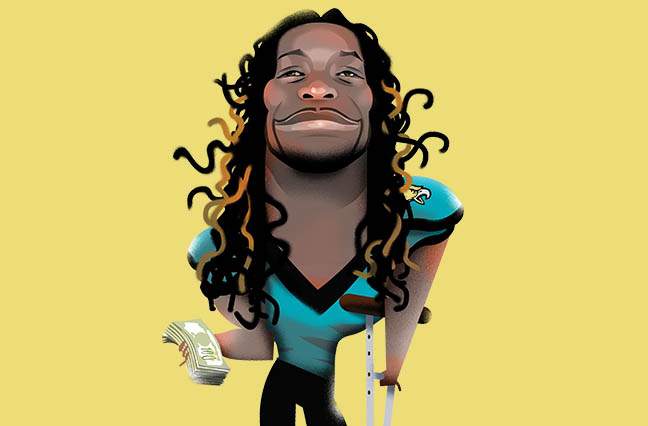 Having a back fracture and one bum knee is no fun, but when Philadelphia Eagles running back Jay Ajayi tore an ACL in the other knee in October, he was out for the season.
Fortunately, there's a little painkiller to help: he stands to claim up to $5 million after taxes because of a loss-of-value policy he wisely bought before the season.
Ajay, 25, who helped the Eagles win their first Super Bowl in 2017, was only five weeks and three touchdowns into the new season when he stumbled during pass protection during the second half of the Eagles loss to the Minnesota Vikings. With a torn ACL in his right knee, he played through the injury for the rest of the game. He had surgery several days later, but the typical recovery time from ACL surgery is nine to 12 months, which means he won't take the field again until training camp in 2019.
The well-dreadlocked London-born running back has been injury prone since his days at Boise State and was wise enough to know how to handle further hurt. Ajayi's business manager, Josh Sanchez, told NFL reporter Ian Rapoport that Ajayi was "valued as a significant free agent" and decided "to protect him against exactly what ended up happening."
Ajayi paid an estimated $80,000 to $100,000 for the policy, just a slice of his current annual $1.9 million salary. The final payout will depend on the value of his free agent contract in 2019.
Though injury policies are standard for college football players, they're relatively new for pros. Last July, Eagles offensive lineman Chance Warmack was the first NFL player to collect on a loss-of-value insurance policy.
Warmack signed a one-year, $1.5 million deal with the Eagles in 2017 and thus bought insurance that would pay out if his second NFL contract paid less than $20 million. Lloyd's of London announced it would give him $3 million. Unlike pour Ajayi, only his pride was hurt.