Great Britain: One Island, Three Countries, Limitless Wonders
The countries that make up Great Britain are packed with unexpected attractions and uniquely British experiences.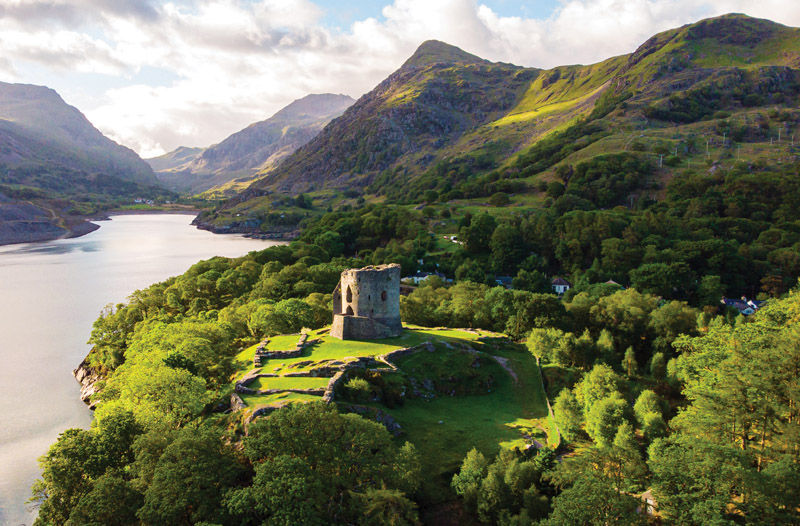 When you think "Great Britain," you mind immediately goes to England.
The royals, fish and chips, Big Ben, the Beatles, Buckingham Palace and the Tower Bridge. But there's so much more to the island. From time-forgotten villages and mountainous landscapes to cliff-backed coastlines and trendy neighborhoods, the countries that make up Great Britain—England, Scotland and Wales—are packed with unexpected attractions and uniquely British experiences.
When to go: Great Britain is a year-round destination due to the unpredictability of the weather. In winter, you may catch the British landscape at its breathtaking best, but late spring and early autumn are also great times to visit.
Currency: Pound sterling US$1 = £0.82
Language: English, though it may not be the form of English you're used to
Companies to consider: CIE Tours, Insight Vacations, Kensington Tours, Princess Cruises, Viking Cruises
The three nations each have their own distinctive character, customs, cuisine and accents. England has passionate soccer and music rivalries, rolling green hills and gorgeous lakes, and it's a haven for artists and tea addicts, country estates and festive piers stretching out into the sea. Scotland is full of lochs and islands, kilts and whiskey, bagpipes, notable golf courses and a capital city that is fiercely proud of its unique identity. As for Wales, you may not understand their brand of the English language, but you'll have no trouble comprehending the beauty of its stunning beaches and lush valleys or the prominence of its many, many castles.
As grand as these three nations are, the island they occupy is relatively small. When talking square miles, Great Britain is slightly smaller than Oregon, but with 15 times the population. Driving the island from tip to tip is like an afternoon trip from Detroit to Atlanta, which is to say, Great Britain is very manageable to explore. Thanks to a fast and efficient rail network, short flights and scenic drives, you can quickly visit all the bustling cities, memorable towns, cozy villages and epic national parks you wish. The only question now is where to start.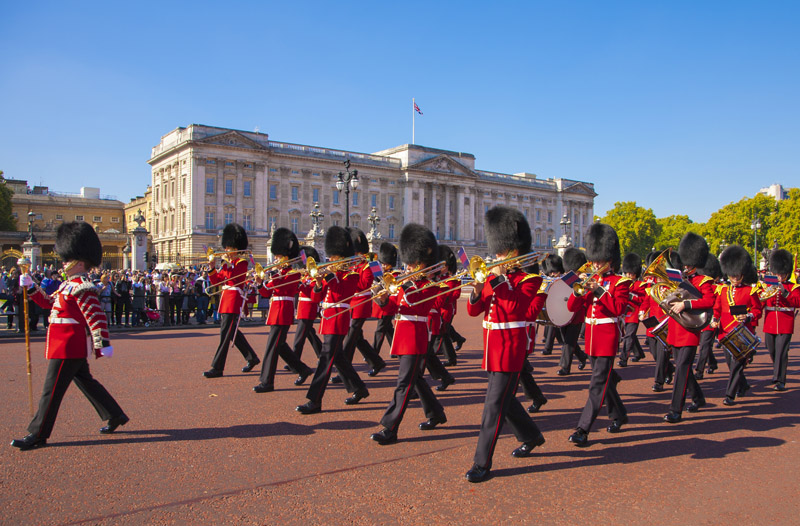 Start in London
With a somewhat common language, iconic public transportation system, and nearly 2,000 years of cultural experiences, London is one of those rare cities that makes everyone in your crew excited for a journey across the pond. It's the kind of engaging, mesmerizing place where turning every corner leads to something new, even when that something new is 900 hundred years old.
History is on full display throughout the capital city, unless you look up at modern skyscrapers like The Shard or take a twirl on the London Eye observation wheel. Every monarch since William the Conqueror has been crowned at Westminster Abbey, a historic house of the holy crafted with Gothic precision and the final resting place of such notables as Charles Darwin, Stephen Hawking, Charles Dickens, Sir Isaac Newton and even Dr. David Livingstone (I presume).
London's history tour continues over at the Tower of London. A prison for nearly a millennium, the eminent fortress on the bank of the Thames has also been a treasury, armory, menagerie of exotic animals, and must-see museum that better illustrates its illustrious place in history. Challenging the Tower in historical significance would be the Palace of Westminster, the seat of England's government and the location of both the Houses of Parliament and the Great Clock of Westminster, better known for the largest of its five bells, Big Ben.
Before heading out of the city, there are a few more boxes to check before claiming the full London visitor experience. The Changing of the Guard ceremony at Buckingham Palace is an oddly beguiling sight, one that is British to the bone. Piccadilly Circus will give you a Times Square vibe but with more pubs that all have incredible stories of when the Stones or the Beatles drank there. And you can't visit Europe without touring a cathedral, so you best head over to magnificent St. Paul's and see where Prince Charles and Princess Diana got royally hitched.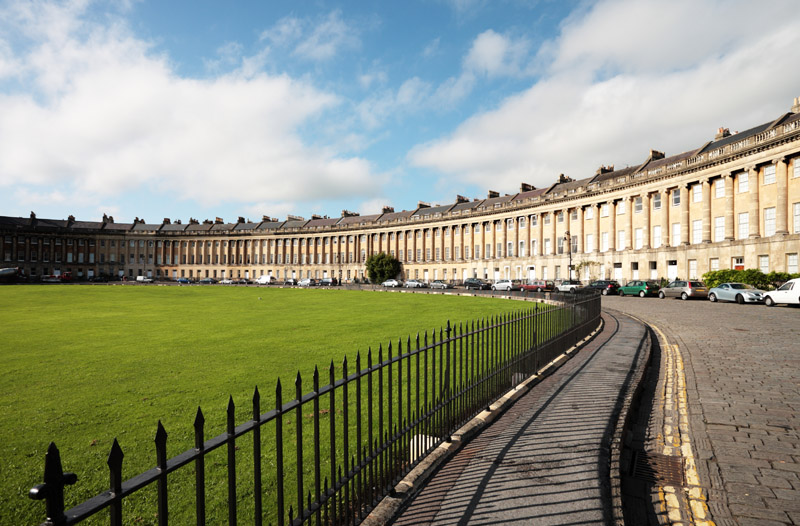 Then Leave London
You cannot claim to have explored the true spirit of America after spending just a few days in New York City. Likewise, the real English experience—and its Great Britain neighbors, too—lie beyond London. To get a taste of English city life beyond London, you should head two hours north to Manchester or two hours west to Bristol.
Manchester is a former center of industry and current haven of culture. This town lives and breathes soccer (please call it "football" when you visit), as citizens are forever caught in the gripping, good-natured war between Manchester United and Manchester City. If you're not ready to pick sides, you can still soak up the sports-mad spirit of the town at the National Football Museum—just be sure to wear sneakers for all its interactive exhibits.
Artistic endeavors take the lead in Bristol, a vibrant city perpetually buzzing with sound and color. While there are art galleries galore, many prefer to take to the streets of Bristol—often called the street art capital of Europe. You'll find impromptu art scenes down most roads and alleys, including quite a few original Banksys. While roaming the streets in search of art, be sure to stop in at the many independent shops that call Bristol home. From record stores stuffed to the brim with ancient 45s to indie cheese shops and communist bookstores, the shops here will lure you in with exotic window displays that are works of art in their own right.
Near Bristol, travelers who love British literature will be drawn to the Cotswolds. The settings of many Jane Austin novels come to life in the Cotswolds' gentle green hills dotted with farms and thatched-roof country villages. This is a dreamscape of a land made for wandering, a feat that is made quite easy to achieve thanks to the Cotswold Way, one of the country's National Trails. However, if you crave the brooding, dramatic moors and stately homes of Wuthering Heights, then Peak District National Park up near Manchester is the place to be.
Of course, no literature lover would leave England without a visit to Stratford-upon-Avon, birthplace and final resting spot of one William Shakespeare. This romantic 16th-century town in the heart of England is all about the Bard. You can tour his childhood home, view the cottage of his wife, Anne Hathaway, and catch Hamlet or another masterpiece at the Royal Shakespeare Theatre.
More masterpieces are waiting throughout the country. Cotswold Way is a work of natural art, a national park home to both England's tallest peak and its deepest lake. The Roman and Georgian architecture in Bath inspire as you soak in the mineral-rich waters of the Thermae Bath Spa's rooftop pool. And, of course, Stonehenge is a neolithic work of unusual craftsmanship that lets your curiosity travel over 5,000 years back to wonder what mysteries and secrets lie within this prehistoric site.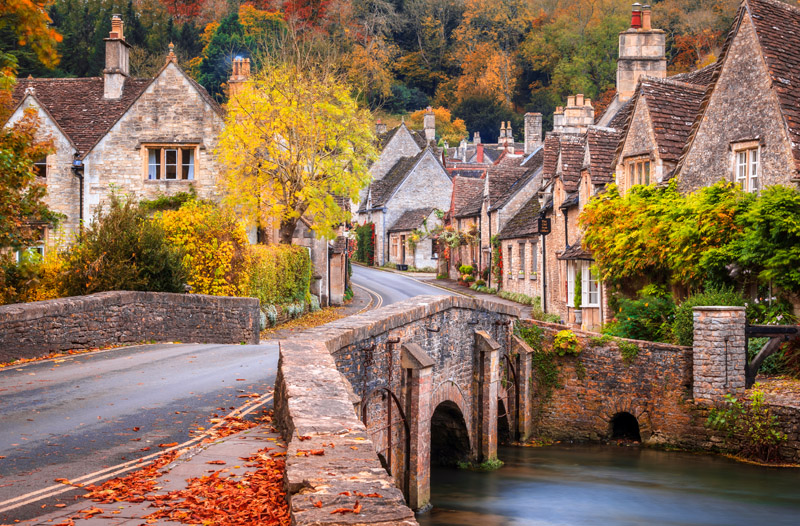 Scotland and Wales
There's so much to do and see in England, it doesn't leave a great amount of room to dive deep into Scotland and Wales, the other two vital countries of Great Britain. But make no mistake: these two destinations are just as uniquely blessed and worthy of your attention.
In Edinburgh, Scotland's small but proud capital city, you'll find an ancient castle standing guard along with more bookstores per capita than any other British city. From here you can hike up to the peak of Arthur's Seat, an extinct volcano overlooking the city, to catch the famous One o'Clock Gun fired from atop Edinburgh Castle, its time-stamped boom echoing across the moorland. For a broader view of the country, drive the North Coast 500 for an unforgettable road trip past mysterious lochs, towering mountains, secret beaches and fairytale castles.
You'll also find quite a few famous golf courses. The modern version of the game was first played at the Old Course at St. Andrews in Edinburgh, when young men were granted the "right to play golf" by the archbishop in 1552. Since then, the sport has been perfected across the nation at celebrated courses such as Royal Troon and Gleneagles.
The history and landscape of Wales are as distinctive and dramatic as anywhere across the British Isles. Welsh heritage blends harmoniously with medieval architecture at 2,000-year-old Cardiff Castle, which nowadays hosts music festivals and other big events. Rock climbing and cave exploring are popular at the granite-hemmed coastline of Pembrokeshire. And hikers can tread past woodland valleys, old villages and flowing waterfalls in Snowdonia National Park, sights non-hikers can also enjoy while riding the historic Welsh Highland Railway.
These three countries share many things—legendary castles and sweeping countrysides, coastal wonders and cultural icons, easy modes of transportation and friendly people to help you if you get lost. They also share the ability to mesmerize you, to beguile you and to cast you under a spell you will never want to have broken.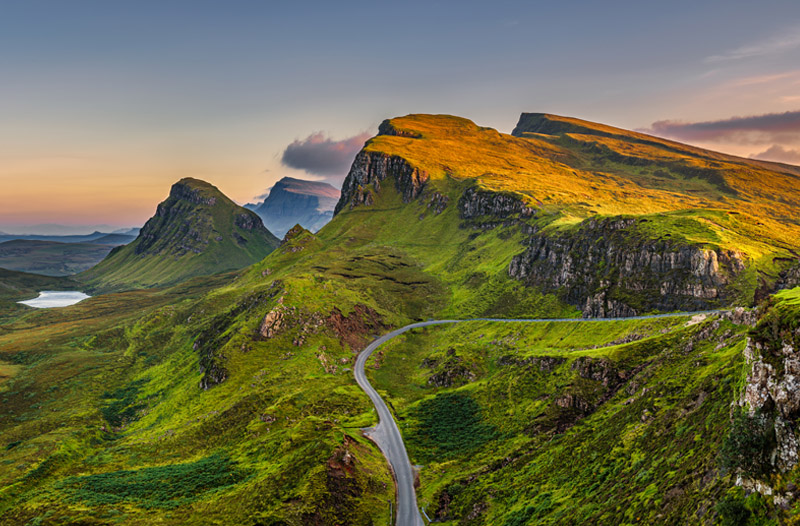 Tasty Treats
Usually not known for its cuisine, Great Britain's culinary scene is brimming with regional specialties and poorly named dishes (toad in the hole?!). But once you get past the names, you'll discover savory food that warms up the soul on cold, windy days and pints of good ale to wash it all down. Here are some traditional dishes to aim for on your next journey to Great Britain.
Full English Breakfast > The perfect start to a day of exploring, this hearty meal includes a combination of sausages, eggs, blood pudding, bacon, baked beans, potatoes, tomatoes and toast.
High Tea > England is all about tradition, and there's no tastier tradition than this mid-afternoon respite of a pot of tea along with a three-tiered tray filled with scones, sandwiches, quiche, cakes and cookies.
Welsh Rarebit > Some call this the world's finest cheese on toast—and after tasting the sauce made of butter, milk, beer, dry mustard, black pepper, flour, salt and cheese, you will agree.
Haggis > The secret to enjoying this savory pudding is to forget it's made of sheep's heart, liver and lungs (along with onions and spices) and to just enjoy its spicy, meaty texture.
Scotch Whisky > With more than 130 active whisky distilleries spread across Scotland, the best place to develop a true appreciation of this particular libation is at The Scotch Whisky Experience in Edinburgh.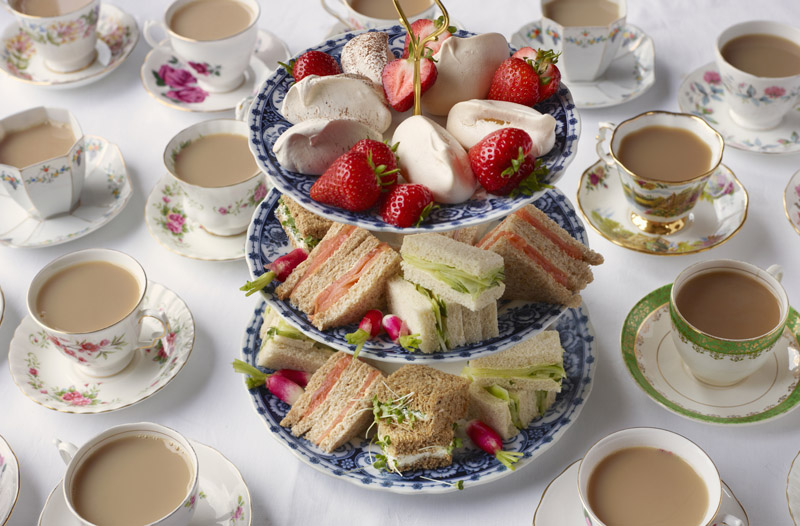 Cruise Corner
The British Isles are often called upon during many cruise itineraries. Southampton is a popular starting point for larger ships heading north to Norway, while smaller vessels can circle the islands, making numerous stops at intimate harbors. We recommend those smaller cruise lines in order to discover these particular ports of call.
Southampton (London), England > Medieval history abounds here. Bargate is a thousand-year-old gatehouse that dates to Norman times. At St. Michael's church on Castle Way—built in the 11th century—you'll find ancient Norman relics. Bonus: Stonehenge is just an hour away.
Liverpool, England > At the birthplace of the Beatles, you can go on a Beatles Magical Mystery Tour, relive the Fab Four's story in the Liverpool Beatles Museum, and dance to the Merseybeat at the famous Cavern Club.
Invergordon, Scotland > A city of colorful murals, fascinating naval history and, of course, more castles, this port is a favorite of travelers longing to search the dark waters of Loch Ness for the elusive Nessie.
Holyhead, Wales > Don't miss the fortress of Caernarfon Castle, begun by Edward I in 1283 and now one of eight great strongholds known as the Ring of Iron. Afterward, enjoy traditional Welsh tea with delicious homemade Welsh cakes hot from the griddle.