Brian Cox
Insurance violence didn't get him anywhere, but media brutality has been a win.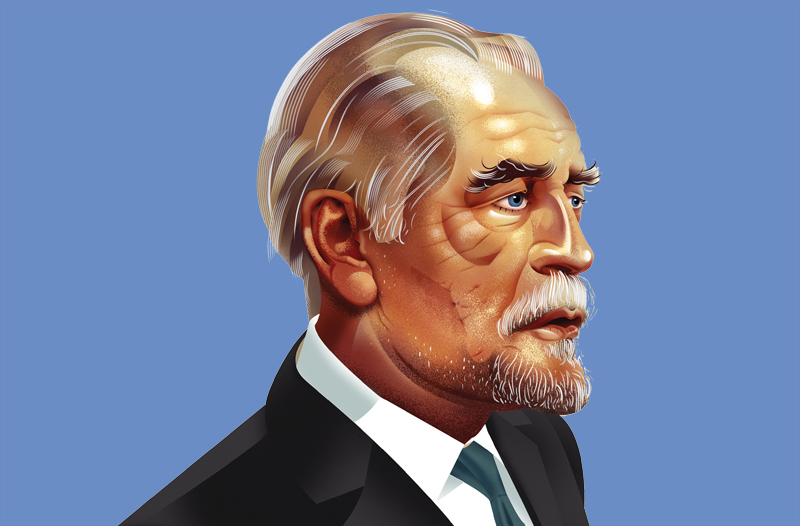 For years, Brian Cox was what's called a "that guy" actor—that guy you've seen again and again but can't quite remember his name.
Now 76, he's finally recognized on the street since attracting fans as Logan Roy, the head of a wealthy, cutthroat media family in the prize-winning HBO series "Succession." Brutal and brazen, yet capable of charm, Logan is typical of the bad-guy roles that have made Cox's career.
Among those is Irving, a golfing gangster, in the 2011 movie The Key Man, perhaps the bloodiest insurance movie ever. Irving, along with the failed Shakespearian actor Vincent, recruits Bobby, a struggling young insurance broker, to construct an illegal "key man" policy, adding a co-signer to a big loan unbeknownst to the co-signer. There ensues a lot of violent quibbling about money. It was not a hit.
Still, it was one of Brian Cox's 94-plus films in a 50-year career. Born in a blue-collar family in Dundee, Scotland, Cox dropped out of school at 15 when he won a place at the London Academy of Music and Dramatic Art. He did some time as a leading man on British stages, then went on to a variety of villain roles in all media: Hannibal Lecktor, Stalin, Trotsky, Goering, King Lear, Herod, and even Death. He has been winning acting awards for years and has done television cameos and voices in animated films, video games and ads. But it took until 2018 for him to snag the mighty role of Logan Roy and earn a best actor Emmy and Golden Globe, plus the power to get a chauffeur and a big trailer on set.
Like many an overnight sensation, he put in the work for decades. As The New York Times described him, Cox is "a seasoned workhorse finally able to enjoy a victory gallop"—not just "that guy" anymore.