Bob Hope
A life insurance policy for a gunslinger? That's the premise of Alias Jesse James.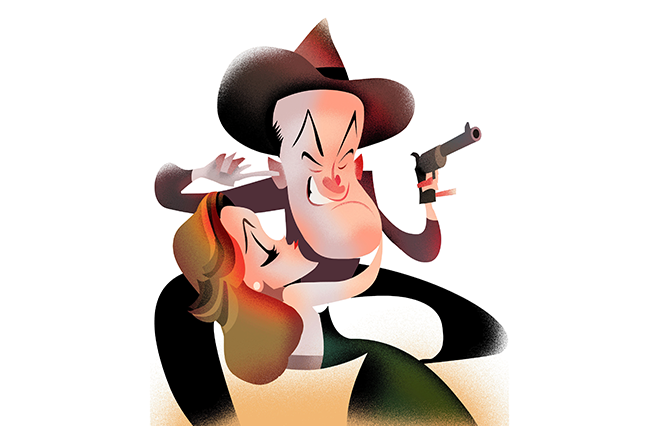 "BOB HOPE as the Most Wanted TRIGGER in the West! RHONDA FLEMING as the Most Wanted FIGGER in the West!"
Back in 1959, that was the kind of tag line that would sell a movie. Alias Jesse James looked like a western, with sagebrush, guns, a swinging saloon door and a gold-hearted buxom gal. But it was, in fact, an insurance movie.
Hope, who produced the movie, plays an underperforming life insurance salesman, Milford Farnsworth. (Why don't movie insurance salesmen have names like Biff or Spike?) Desperate, he sells a $100,000 policy to a guy in a bar. When the customer turns out to be the high-risk notorious gunslinger Jesse James, the president of Plymouth Rock Insurance sends Farnsworth west to buy back the policy or at least try to keep James from getting killed.
The plot thickens. James has been planning to fake his death so that he and the beneficiary, his girlfriend Cora Lee (Rhonda Fleming, whose real-life father sold insurance), can split the take. James makes a few attempts to kill Farnsworth while also bullying Cora Lee. Playing the bumbling hero as he so often did, Hope as Farnsworth seized his courage, a bunch of guns and some zippy one-liners and ran off with the girl. He later rose to be president of Plymouth Rock Insurance. (Not to be confused with the Massachusetts personal lines insurer.)
Already a tad complicated, the movie ends in a massive gunfight with surprise gun-slinging helpers: Roy Rogers and Trigger, Fess Parker as Davy Crockett, Jay Silverheels as Tonto, Gail Davis as Annie Oakley, Hugh O'Brian as Wyatt Earp, James Arness as Marshal Matt Dillon, Gary Cooper as Will Kane from High Noon, Ward Bond as Major Seth Adams from the "Wagon Train" television series in his last screen appearance, and finally Bing Crosby as, well, Bing Crosby playing a cowboy.
Hope had the clout to gather these stars for Alias Jesse James, but after the movie's release, myriad lawyers descended to argue about issues with the rights. Today, some prints don't include these cameos, but you can still see the star-studded climax on YouTube. And even in that little clip, Bob Hope's TRIGGER and Rhonda Fleming's FIGGER are in full form.