A True One-Stop Shop Nation-Wide
Nationwide is a true broker partner.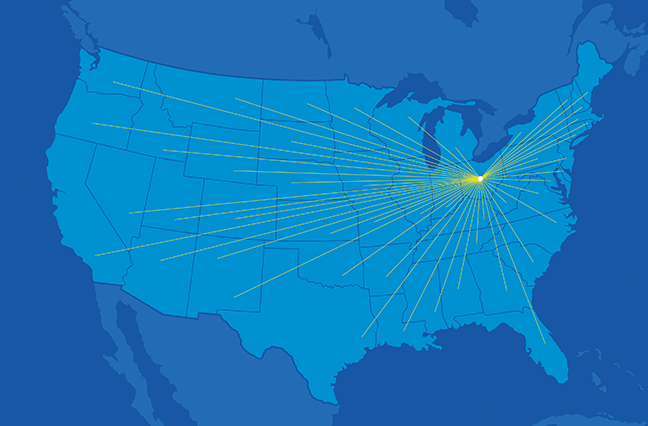 When it comes time for brokerages and independent agencies to partner with carriers to insure a client, more and more are choosing Nationwide because of its highly diversified portfolio and its expertise in helping to find the right mix of solutions to protect a client's assets.
"Across the insurance industry, brokers and agents have experienced a shift in the ways that customers are seeking out business relationships," says Mark Berven, president and COO for Nationwide Property & Casualty. "There is a demonstrated increase in demand for reliable partners that customers trust to deliver the right products and services to protect their business, which is often a customer's largest and most significant asset. Nationwide recognizes these challenges, and we have a shared mission to partner with brokers to provide consistent service and quality products that support their customers and their businesses."
Gary Douglas, president of Nationwide National Partners, says the company's other differentiators include expanding its commercial offerings and the national scope of its distribution relationships.
"I encourage all brokers to consider Nationwide because of our strength and stability as an organization," Douglas says. "In addition to our unquestioned strength in personal lines, Nationwide also is the number one writer of small commercial in the country, the number one writer of farms and consistently ranks in the top three for excess and surplus—all while growing our capability in the middle market."
Most carriers that brokers deal with typically specialize in either property and casualty or financial services. Nationwide stands out because it does both equally well, providing a true one-stop shop across a national footprint.
"Our partners value the breadth of products and solutions we can provide, and some are surprised to learn about the full range of the business we write. We encourage brokers to talk to us so we can work together to identify what opportunities there might be to solve their clients' needs."
J. Powell Brown, president and CEO of Brown & Brown, has used Nationwide for years and considers it one of his top 10 carriers.
"We do a lot of business with their wholesale arm, Nationwide Excess & Surplus, (previously Scottsdale)," Brown says. "We've developed a high degree of trust with the people we work with, and there is a compatibility there. They like middle-market business, and we write a lot of it. They are one of our top 10 partners, and we have a very good working relationship with all levels of their organization in both retail and wholesale."
Brown says he appreciates Nationwide's creativity and commitment when working on complex cases.
"I appreciate Nationwide's flexibility and timeliness," Brown says. "That doesn't mean that we expect them to say yes on every account—no one does—but even if the answer is no, it's a quick no, and that's critically important. Conversely, if they say, 'Yes, I think we can do that,' they go off and figure out a way to get it done. As a broker, we don't want somebody saying, 'Yes, let me think about that' and then hope we might get a quote back. We value clarity, and Nationwide gives it to us.
"They do an exceptional job on both wholesale binding authority and retail. When we bring them a challenge, they're able to collaborate with us and come up with a wide range of solutions. That's what we're looking for in a carrier—someone who will roll up their sleeves and focus on wins for all involved."
Douglas says those kinds of meetings are commonplace at Nationwide.
"Nationwide has long been committed to our relationships with independent agents and brokers, and we remain committed to their continued success," says Douglas. "We value the ability to work closely with those agents and brokers to find new ways to collaborate."
Nationwide's unique depth and breadth of products and services comes with deep industry knowledge and broad expertise.
"Nationwide is a recognized industry thought leader, and we're always looking for new ways to learn and grow. We intentionally seek out industry experts and invest in their continued growth and development so they stay current in a rapidly changing environment," Douglas says. "Our team has deep knowledge and experience across industries. For example, we have underwriters that grew up on farms and still hold active roles on the farm. The diverse experience across our leaders and associates allows us to better understand the diverse and complicated issues that business owners and farmers are facing and the unique protection needs that they have."
Based in Columbus, Ohio, Nationwide has $209.8 billion in total assets and ranks No. 68 on the Fortune 500. The company has nearly 34,000 employees and does business in all 50 states. Nationwide holds a number of significant rankings including:
No. 1 total small business insurer
No. 1 farm insurer, based on premiums written
No. 1 pet insurer
No. 3 excess and surplus lines insurer
No. 6 provider of variable life insurance
No. 7 homeowner insurer, based on premiums written
No. 7 commercial insurer
No. 8 auto insurer, based on premiums written
No. 8 total property and casualty insurer
No. 8 provider of defined contribution plans
8th largest life insurer, based on total premiums
9th largest writer of variable annuities.
"Across the company, we continually refine and develop our areas of expertise, which has led to tremendous success over our 90 years of doing business," Douglas says. "As a company now going to market as one brand, Nationwide, we're able to fully leverage our expertise and deep relationships to serve our brokers' diverse needs across all sectors."
So, what else are brokers looking for from Nationwide?
"Brokers expect us to be on top of market trends and to be prepared to respond accordingly," Douglas says. "Our insight and expertise can help prepare brokers as they interact with clients who are more informed than ever before."
Industry consolidation also weighs heavily on brokers, he says. "One of the big topics of conversation and concerns across the industry is the pace of consolidation that's come to the market in the last seven to 10 years." says Douglas. "Consolidation presents agents and brokers with a new challenge in determining the right carriers with which to do business. And when they ask, 'Is Nationwide one of those companies that will be here in the long term?' the answer clearly is yes."
Given Nationwide's more than 90 years in business, there is no doubt that the answer is yes.