Will You Still Need Me When I'm 64?
As the largest ever cohort of older employees, baby boomers are testing the healthcare system like never before.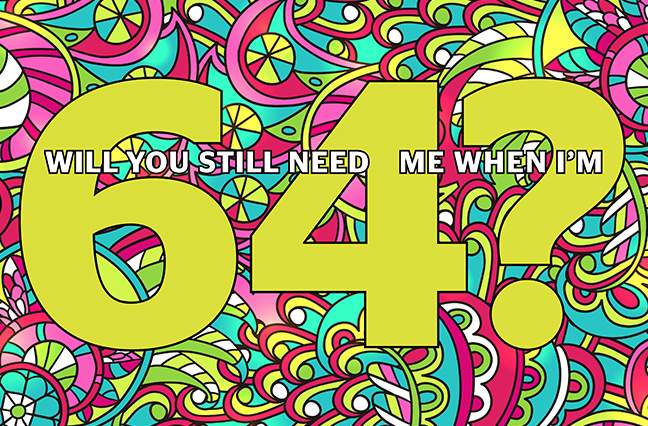 Sometimes the best ideas really do come on the links.
Health insurance veteran Jeff Smedsrud says he started noticing an interesting pattern in conversations among his golfing partners. "My golf friends are all aged 60 to 65, and the number one topic of conversation is how do I bridge my health insurance coverage to Medicare?" says Smedsrud, the 60-year-old CEO of Pivot Health, a specialty health insurance products provider based in Arizona. "There is a tremendous need for a bridge product for people in the right economic strata. If a person is eligible for a subsidy under the Affordable Care Act, they should just enroll in an ACA plan. But if you earn more than $80,000, you will be ineligible, and you could end up paying $1,500 per month for that coverage."
Enter Pivot Health's Bridge to Medicare, a new bridge insurance product underwritten by Companion Life Insurance Co. that Smedsrud launched in February. It is designed to provide up to three years of bridge health insurance, until Medicare eligibility kicks in at age 65.
Call it self-help. Smedsrud is a baby boomer, that gigantic generational cohort that is finishing its last years of employment and entering retirement at a clip of 10,000 per day, according to the Pew Research Center. Born between 1946 and 1964, the first of them turned 65 in 2011, while the last will not reach this milestone until 2029.
The aging baby boomer cohort poses enormous challenges to the healthcare system—among providers, payers and employers—a situation that could transform elements of the system dramatically.
No single solution exists to address the boomers' wide-ranging needs. But many in the system are examining those needs and, like Smedsrud, are experimenting with outside-the-box solutions to better tailor care and insurance to their needs in a more cost-effective manner.
Boomers' Role in Rising Costs
While there are dangers in reducing any population to age cohorts, the baby boomers really do stand out in terms of their size, health challenges, and expectations.
The baby boomers are the largest cohort to age into retirement in U.S. history. The over-65 population will nearly double because of the boomers, according to a 2008 landmark report by the American Hospital Association and First Consulting Group, "When I'm 64: How the Boomers Will Change Health Care."
The boomers pose inescapable expense implications as they enter the high-healthcare-cost stage of their lives, driving vast increases in payouts for Medicare and Medicaid. The Congressional Budget Office (CBO), for example, has predicted that Medicare spending will increase to 4.9% of GDP in 2038, a 63% jump from 2013. And a 2015 LIMRA Secure Retirement Institute study found that 73% of employers have planned for benefits expenses to increase as a consequence of having older workers in their companies, with half saying they will absorb the costs and 41% responding they will pass the costs on to employees.
Some of this is due to health conditions—both good and bad. Baby boomers are living longer due to lifestyle choices like smoking less and exercising more. They also have benefitted from significant medical advances in treating major conditions, like heart disease and cancer.
But living longer provides opportunities to accumulate more medical problems and will necessitate greater medical and long-term care. More than six of every 10 baby boomers will have to manage more than one chronic condition, according to the AHA/FCG study, with the number managing multiple chronic conditions expected to grow to almost 37 million in 2030.
And there are weak spots in their health profile: more than one out of every three baby boomers—more than 21 million in all—will be considered obese, according to the AHA/FCG study.
Health conditions aren't the only reason boomers are driving costs up. Another is the labor implications of their exit from the workforce. "Given the large number of boomers exiting the workforce, there is a downward trend in the proportion of the working-age population participating in the labor force," says Lisa McCracken, director of senior living research and development at Ziegler, a specialty investment banker and researcher in the senior health and living space. McCracken says such shortages are driving up the cost of caregivers at senior living providers, home health agencies, and other care providers.
Given the large number of boomers exiting the workforce, there is a downward trend in the proportion of the working-age population participating in the labor force,"
Lisa McCracken, director of senior living research and development, Ziegler
However, many baby boomers are more educated and more tech savvy than their predecessors. Almost 90% of boomers graduated from high school versus only 68% of their parents, according to the AHA/FCG study. Thus, they have high expectations for the duration and quality of their lives and are willing to research alternatives for care and identify the best, even if more expensive, option for care. So if there ever were a time to innovate, this ready and willing cohort might be the right audience for it.
Employer Adaptations
Even though baby boomers are retiring in great numbers, they are still working longer than past generations. Americans 55 and older made up about half of all employment gains in 2018, according to an analysis of Labor Department data by The Liscio Report, a research publication for investors. That reflects their desire to remain meaningful, as well as the real danger that they will outlive their savings, given that their retirement portfolios in many cases were savaged by the 2008 Great Recession. Many, particularly those with impaired health profiles, choose to stay with employers and their group plans until Medicare eligibility begins. That scenario has implications for the number of employees with serious medical issues and for the risk profiles of insurers. As with most group plans, employers and healthier, younger employees end up subsidizing the larger medical needs of older employees.
There is also a trend of employers' gaining additional plan members in the boomer category as some workers' spouses retire. For example, if an employee is enrolled in her spouse's employer-sponsored plan and the spouse retires, both individuals may jump on the active employee's plan, noted David Rook, chief marketing officer at JP Griffin Group, an employee benefits consulting firm in Arizona, in a recently published analysis.
Healthcare benefits are the most valued benefit after pay and one that becomes even more valuable to older employees to the point where some employers feel they must have an attractive health package
Steve Wojcik, VP of public policy, National Business Group on Health
Add to these trends a stroke of good fortune for boomers in that they happen to be approaching retirement in a relatively tight employment market. At least partly because of this, some employers have been reintroducing more choice in the health benefits they offer of late, says Steve Wojcik, vice president of public policy at the National Business Group on Health, a Washington, D.C.-based nonprofit that represents large employers' perspectives on national health policy issues.
For many employers, such benefits are an effective tool to persuade employees with valuable expertise from retiring. "Healthcare benefits are the most valued benefit after pay and one that becomes even more valuable to older employees to the point where some employers feel they must have an attractive health package," Wojcik says.
Focus on Cost
While employers want their benefits package to stand out from the rest, they also desperately want to control expenses—particularly the high cost of insuring boomers. Aided by consultants, employers are actively trying to influence their health cost profiles in a number of ways. "We are seeing employers adding additional advocacy and claims-management programs to help employees navigate the healthcare system specifically in the areas of cancer, diabetes and mental health," says Tricia Schmidt, a senior director at Willis Towers Watson.
Wellness programs are also a huge focus. Still, many programs are questionable in their ability to deliver results, says Wally Gomaa, CEO of ACAP Health, a wellness subsidiary of Iowa-based insurance brokerage Holmes Murphy & Associates.
Gomaa says there's a need to critically assess which wellness programs are actually delivering results. ACAP Health sells Naturally Slim, a digital program designed to help people reverse their risk for obesity-related conditions. It can back up its wellness promises with clinically studied results. In 2017, the company released a study of 2,000 people who started the Naturally Slim program between Jan. 1 and June 30, 2016. The study found more than 55% of those polled lost 10 pounds or more in the first 10 weeks of the program, reducing their overall risk for obesity-related conditions, such as high blood pressure and diabetes. Over the long term, more than 53% of surveyed participants maintained their full weight loss. This has large implications for the associated costs of related illnesses, like heart disease and diabetes, Gomaa says. "One client, Genesis Health System, publicly shared their plan's success in reversing risk and saving more than $30 million in their employee plan of 5,000 employees over a 10-year period," he says.
Brokers and agents can play a big role in helping employers determine which of these approaches is cost-effective for them, and part of that decision comes down to the sophistication of the analytics they can offer their clients, says Scott McGohan, CEO of McGohan Brabender, an insurance brokerage and advising service based in Ohio. "I think many in the health industry aim small and miss the opportunity to find the best strategy for increasing effectiveness for treating aging-individual related conditions—say, orthopedic services for hips and knees," McGohan says. "What's interesting is what our data analytics show is that the most cost-effective providers are not the cheapest ones. What happens is many brokers, employers and insurers look at what did the knee surgery cost me, when the better question is what was the long-term outcome and cost of all related care, which requires you to look at related issues like the incidence of care complications, readmissions and success rates in patient follow-up for a course of care."
Government Pushes Value
As boomers depart the workforce, they represent the shifting of a vast segment of the population from group healthcare plans subsidized by employers to the government-managed, government-sponsored Medicare program and plans that supplement and sometimes replace aspects of Medicare, notes David Smith, founder of Chicago-based Third Horizon Strategies, an organization that assists healthcare companies in their strategic planning.
As government programs see the influx of boomers, the Centers for Medicare & Medicaid Services continues to make efforts to move away from the traditional fee-for-service provider payment system and toward a value-based payment system. In April, for example, CMS and its parent agency, the U.S. Department of Health and Human Services, announced a new set of payment models aimed at transforming primary care to deliver better value for patients throughout the healthcare system. A new set of Primary Care First (PCF) payment model options, for example, will test whether financial risk and performance-based payments that reward primary care practitioners and other clinicians for easily understood, actionable outcomes will reduce total Medicare expenditures, preserve or enhance quality of care, and improve patient health outcomes.
The federal government is also helping to drive private market solutions for high healthcare costs by incentivizing the move from fee-for-service plans like Medicare to managed care alternatives like Medicare Advantage, including allowing more supplemental benefits and greater flexibility in such plans. Medicare Advantage programs replace Medicare Parts A (hospital insurance) and B (medical insurance) with Part C insurance provided by private payers. Those programs usually come with restrictions on doctors, hospitals and physicians that compete for subscribers by offering different combinations of benefits that aren't available with traditional Medicare (somewhat similar to how health maintenance organizations compete).
The government also employs a Five Star Quality Rating System that compares Medicare Advantage performance with ratings based on medical outcomes, clinical process measures, patient experience and administrative efficiency. More than one third of all Medicare beneficiaries were covered by Medicare Advantage plans in 2018, according to the Kaiser Family Foundation.
Despite the challenges of managing high healthcare costs, serving seniors has become a profitable business for many healthcare and insurance providers. In particular, some provider and payer giants are reporting positive results from their Medicare Advantage Plans.
"We experienced strong Medicare Advantage enrollment growth and solid performance across all segments in the first quarter [that raise performance expectations for the full fiscal year]," Humana CFO Brian Kane, noted in comments accompanying release of the company's first-quarter 2018 results.
Insurers offering Medicare Advantage plans are going beyond a payer role and are increasingly helping to manage and deliver care. Because these plans often are responsible for all costs of their populations, they are willing to try new care approaches to help reduce overall expenses.
Medicare Advantage providers have become adept at controlling costs, says Danielle Roberts, who founded and co-owns Boomer Benefits, a Texas-based insurance agency that specializes in Medicare-insurance related products. "They use teams of three or four medical professionals—not just the primary care physician—and technology to manage the costs of chronic condition care, including through prevention," Roberts says. "So, for example, a primary care physician and an endocrinologist may work together to monitor a pre-diabetic patient's glucose remotely."
They are driven to do so because Medicare contains cost by paying only a fixed amount for coverage each month to the company offering that plan and these companies must follow Medicare's coverage rules. Plans have a yearly limit on what participants pay out of pocket for Medicare Part A and B covered services.
Medicare Advantage plans are also getting some lift from CMS. Beginning this year, CMS expanded the definition of "primarily health-related" benefits that can be included in Medicare Advantage plans, including healthy food, transportation to doctor's appointments, home delivery of meals and air conditioners for asthmatics, and non-skilled in-home care services.
In addition to Medicare Advantage, there are 10 so-called Medigap supplemental insurance plans available to people age 65 or older in which private insurers supplement Medicare Part A and Part B offerings. While the insurers set their own premiums, every insurance company that offers a particular plan, such as Medicare Supplement Insurance Plan F, provides the same coverage, notes CMS in its 2019 Medigap policy guide. Some cater to the specialized needs of an active population. Medicare Supplement Insurance Plan F, for example, is a comprehensive option that can facilitate post-retirement travel.
The Housing Angle
How and where baby boomers live has large implications for healthcare costs. And as we know, they have high expectations for autonomy and quality of life. The continuing care retirement community (CCRC) model, which typically incorporates independent living, skilled nursing care, and assisted living services into autonomous communities, has had to adapt to the baby boomers, who increasingly prefer to age at home or in a home-like setting or want to participate in a community with more amenities than the basics that originally formed the core of many CCRCs.
"There is a growth in care being provided in non-residential settings, such as one's own home," says Ziegler's McCracken.
For example, Community Aging in Place Advancing Better Living for Elders (Capable) is a client-directed, home-based intervention to increase mobility, functionality and capacity to "age in place" for older adults. Capable consists of time-limited services from an occupational therapist, a nurse and a handyman working in tandem with the older adult, says Sarah Szanton, a Johns Hopkins University School of Nursing professor who leads the program. "The program can decrease hospitalization and nursing home stays by improving medication management, problem-solving ability, strength, balance, mobility, nutrition, and home safety, while decreasing isolation, depression and fall risk," Szanton said in a June 2018 article she wrote for The Playbook.
A three-year demonstration project of 281 enrolled adults found that a $3,000 investment in program costs yielded $22,000 in medical costs savings, according to Szanton, who notes the program is now provided at 27 sites in 12 states by a mix of payers.
Another Johns Hopkins program involves addressing the challenges of providing hospital-caliber care to seniors with limited mobility, which can reduce the cost of care by removing it from the high-cost hospital setting.
Hospital at Home is a Johns Hopkins School of Medicine healthcare model that can provide hospital-level care in a patient's home as a full substitute for acute hospital care. Patients who require hospital admission for community-acquired pneumonia, congestive heart failure, chronic obstructive pulmonary disease (emphysema), cellulitis and others can be treated in the Hospital at Home.
The model can save 19% to 30% compared to traditional inpatient care, says Bruce Leff, M.D., the Johns Hopkins geriatrician who developed the model.
Long-Term Care
Long-term care insurance has been among the insurance product lines most affected by baby boomer demographic trends. As a stand-alone product, long-term care insurance has faced severe challenges in recent years. Unexpected adverse financial drivers, such as longer-living seniors and more use of services, have led to large losses, premium increases, fewer new consumers, and carriers' withdrawing from the market.
The problem, says Jesse Slome, executive director of the American Association for Long-Term Care Insurance, is that a product sold in the past as a solution for all cannot function that way. "People mistakenly look at the market and expect that 70 million baby boomers will all buy LTCI," Slome says. "No, that is not true. Many baby boomers were not planners and savers, and a significant portion are unhealthy. By the time they began to examine long-term planning, millions were disabled and obese and not insurable. And the actual monthly costs of these individuals who can qualify average more than the $100 or so in monthly premiums that consumers find tolerable."
Increasingly, long-term care insurance has become a component of a combined product that also includes whole/universal life insurance or other investment-oriented products.
Many baby boomers were not planners and savers, and a significant portion are unhealthy. By the time they began to examine long-term planning, millions were disabled and obese and not insurable.
Jesse Slome, executive director, American Association for Long-Term Care Insurance
A total of 350,000 Americans bought long-term care insurance in 2018, roughly half the number who bought the policies in 2000, according to the American Association for Long-Term Care Insurance. Today, 16% buy traditional stand-alone products, while 84% buy the product linked to other insurance.
"As boomers enter the pre-retirement and retirement stage, we see an increased demand for the asset-based hybrid products we sell as people realize the risk of outliving their retirement funds because of care-related expenses," says Dennis Martin, president of the Individual and Life Financial Services (ILFS) division of Indianapolis-based insurer OneAmerica. "Traditionally, the products have been funded through a single-premium large investment. Now there are more ways to fund the products, such as through recurring annual premiums. Today, we're seeing people more attracted to the flexibility of our hybrid product as well as more advisors who understand how asset-based protection can fit within a client's portfolio and protect the retirement strategy they and their clients have built."
Slome says insurance agents and brokers can sometimes struggle to sell these hybrid products because they are competing with investment advisors who may have a stronger allegiance to individual consumers' trust. Elaine Tumicki, corporate vice president at insurance and financial research and education organization LIMRA, says hybrid products also face the challenge of dividing up the same pool of money over the same death and long-term care draws.
"As brokers and consultants, we need to remain mindful not just of active employees but also of individuals who are beginning to transition away from traditional group offerings," says Lydia Jilek, a senior consultant at Willis Towers Watson. "While people have historically had individual life insurance agents who would discuss other options with their clients, in today's more highly computerized and less interactive world, many of these relationships are lacking. As this significant population transitions out of the workplace—some with chronic health concerns—brokers need to think about how they can offer support in choosing appropriate coverages for the next phase."