Wake-Up Call
Schneider National turned sleep disorders on their head and uncovered stunning client healthcare savings.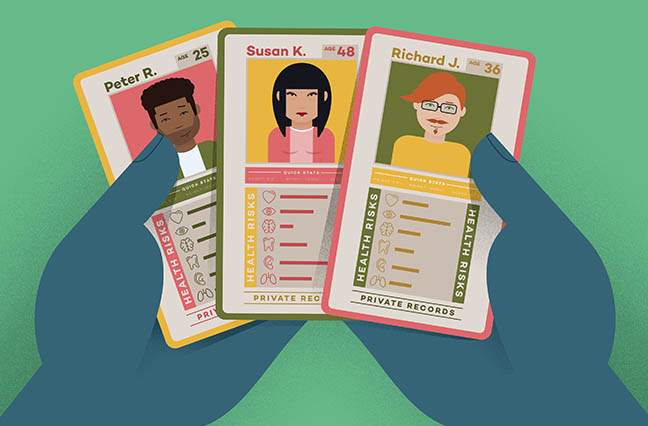 Turn sleep disorders on their head and uncover stunning client health care savings.
When Don Osterberg took over in 2003 as senior vice president for employee security and safety for Schneider National, a major interstate trucking company, he wanted to find out whether the firm could do anything to reduce the number of severe accidents involving its drivers.
Previous company safety programs had focused only on preventing the number of accidents of all types, an approach that would naturally result in fewer severe accidents. But there was no effort to zero in on those severe crashes.
"The thought process was that, because there are so many variables, managing crash severity was put in the too-hard box," Osterberg says.
That mentality didn't work for Osterberg, so he put together a team to take a look at the causes of the company's severe crashes during the previous four years to see if there were any common factors.
"What emerged was that fatigue was a significant causal factor or contributing factor to a substantial number of our high-severity crashes," Osterberg says. "So we asked, 'Why are our drivers involved in this, and why is fatigue a factor in the industry? What is contributing to fatigue, and what can we do about that?'"
One of the team members, Wendy Sullivan, a registered nurse, told Osterberg she suspected obstructive sleep apnea was at fault. "I had heard the words before, but I had no idea what obstructive sleep apnea was," Osterberg says. "She had to educate me as to why she thought we had a large number of drivers who had it and probably were not aware of it and had not been diagnosed."
'Fatigue was a significant causal factor or contributing factor to a substantial number of our high-severity crashes.'
Sleep apnea is a serious but poorly understood medical condition. People with sleep apnea actually stop and restart breathing many times during the night—as many as 100 times an hour in the most severe cases—and either wake up fully or partially so a restful night's sleep is impossible. Untreated, sleep apnea can contribute to or increase the risk of heart attacks, strokes, diabetes and many other medical conditions. But although as many as 18 million adult Americans have sleep apnea, fewer than 25% have been diagnosed and are being treated.
Once Osterberg looked into the research on sleep apnea, he found a strong correlation between age and body mass index with the sleep disorder.
"I realized we had a lot of overweight and obese drivers in our industry," he says. "All those things came together, and I said, 'We have to do something about this.'"
During the next two years, the company developed a pre-screening tool with a number of questions that identify potential risk for sleep apnea. Those drivers who showed the highest risk were scheduled for a sleep study, and those who tested positive during that study were immediately fitted with a machine called a CPAP machine. CPAP stands for continuous positive airway pressure, and the machine counteracts apnea by forcing air into the nasal passage during sleep to keep the soft tissue at the back of the throat from collapsing and causing an individual to stop breathing. The company not only provided the truck drivers with proper equipment, it monitored their use of the devices and made sure they were successfully acclimated to them.
Initially, 339 of the company's fleet of drivers tested positive for sleep apnea and were put in a treatment program. As the company continued to test more drivers, the numbers kept increasing. Osterberg estimates that, since the program's inception, more than 4,000 of the current fleet of 13,000 Schneider National drivers have taken part in sleep studies, more than 2,000 drivers are now under CPAP therapy, and more than 3,500 overall have been treated.
Unbelievable Savings
Diagnosing and treating the problem was only the first step for Osterberg and his team. They wanted to see what sort of impact the sleep apnea program had on both safety performance and healthcare costs.
"So we looked at 12 months prior to CPAP treatment and 12 months after," he says. "It was the perfect control group because it was the same people. We are self-insured for healthcare, so that is a big ticket item for us, and it soon became clear that there was tremendous benefit in providing a sleep study and treatment if appropriate in reducing healthcare costs."
Using four separate treatment groups, and relying on an independent third party to analyze the results, the program produced such large savings in healthcare costs that Osterberg could hardly believe them.
"The healthcare costs for drivers treated for sleep apnea dropped by $651 per driver per month," Osterberg says. "If you annualize that, it is a $7,812 yearly reduction in healthcare costs for every driver being treated. That was a staggering number for me."
Osterberg says the cost of testing a driver for sleep apnea and treating those who are found to suffer from the ailment runs around $3,500, but that is a small price to pay considering the savings the company is experiencing in its overall health insurance outlays. Besides, he says, the savings continue year after year.
'You will struggle to find any single program that will return the healthcare cost reductions that this one will.'
The healthcare savings, reflected in fewer doctor visits, hospitalizations and prescription drug costs, fell into four major categories. The first was cardiac issues, both heart and pulmonary. The second was respiratory problems. The third involved skin-related disorders. And the fourth was neural issues, such as restless leg syndrome.
But healthcare savings was not the only benefit of the program. Schneider National experienced a 30% reduction in preventable crashes and a roughly 48% reduction in crash severity based on the median cost of crashes involving the firm's drivers.
Lastly, in an industry known for its high turnover of drivers, the firm's retention rate increased.
"We saw that our drivers who were being treated for sleep disorders stayed with us at a much greater rate than the population at large. I think our driver associates genuinely appreciated the fact that we cared enough about them and their own safety that we would invest in having them treated and tested, and they stayed with us as a result," Osterberg says.
It would seem with statistics and benefits of the type experienced by Schneider National that companies would be beating down the doors of the American Sleep Apnea Association (ASAA) to get the materials they need to put their own diagnosis and treatment programs into effect. Hardly. The disease is barely known and is still viewed with wariness by employers and insurers alike.
Hostile Carriers
"My sense of how insurance companies are treating OSA (obstructive sleep apnea) on an individual basis is that they aren't," says Edward Grandi, executive director of the ASAA, who holds both a CPCU and ARM designation and spent 20 years as a property-casualty broker with the former Hilb, Rogal and Hobbs before entering the nonprofit sector. "I get calls from people all the time who are trying to secure individual health coverage or life insurance coverage and are denied. I have not heard that on a group basis."
Grandi says denying health or life coverage to individuals who have been tested or are being treated for sleep apnea is the result of lack of understanding of the condition.
"You would think you would be a superior risk at that point because, all of a sudden, the condition is being managed," he says. "But people don't understand it, and as a result of not understanding it, their tendency is to end up with a knee-jerk reaction to the problem as opposed to thinking about it. There are people, if they put down they have sleep apnea, it is an automatic decline. Automatic. And there are a lot of people out there with sleep apnea, and there are a lot of people who need to be treated for the condition."
But at least insurance companies usually pay for the sleep studies that diagnose sleep apnea and the CPAP or other equipment and approaches used to treat it. Employers, by and large, are not addressing the condition at all.
Schneider National, with its pro-active approach to diagnosing and treating the ailment, and a few other trucking firms that have begun or are starting sleep apnea programs, are rare. Other intermodal transportation industries, such as rail, aviation and bus, are beginning to look at sleep disorders as a possible area to address for employee safety. But corporate America in general has yet to recognize the need to educate employees about sleep disorders and sleep apnea in particular.
An exception is Pitney Bowes, the global provider of integrated mail and document management solutions, which has included a sleep program in its wellness educational initiatives for workers.
"We go through a number of things about why sleep is good and necessary and what some of the things are that may prevent you from getting a good night's sleep. Sleep apnea is one of those things," says Andrew Gold, the company's executive director for Global Benefits Planning.
My sense of how insurance companies are treating OSA on an individual basis is that they aren't.
"We look for things that tie back to the health and welfare of our employees. Sleep, we know, is a potential problem with regard to the health and the productivity of our employees. We've gotten some feedback from people who thought it was interesting and hadn't realized some of this stuff, and they were going to see their doctor."
For employees who follow up on the wellness education program and go to sleep specialists or take part in sleep studies, the company's health insurance plan covers those costs. "But for the most part, we don't track whether people change their activities based on our programs," Gold says. "Our goal is to have people have these conversations with their medical providers."
Educating Employers
Grandi and Sarah Gorman, an ASAA board member, are working with the National Business Group on Health in Washington, D.C., to develop materials on sleep apnea that can be used by companies to educate their employees. The ultimate goal, Gorman says, is to make a test for sleep apnea as routine as a check for high blood pressure, high cholesterol and heart problems.
"It is amazing to me that it has taken so long to get meaningful traction on this," Osterberg says, "because the benefits are so clear."
That is why he has given three academic institutions access to the Schneider National apnea program data so the researchers can conduct a comprehensive analysis of the costs and benefits of the program and produce a report that will meet peer review standards.
"We have got to have more organizations have something they can look at" to raise awareness and give them the incentives they need to launch sleep apnea programs, Osterberg says.
Gorman agrees that it will take a major change in corporate culture to get sleep apnea the attention it deserves—and get individuals with apnea the help they need.
"Nothing will really happen until we get a major corporation behind it and get some publicity," she says.
That could happen sooner rather than later if the word gets out about the potential healthcare cost savings for employers and the healthcare system in general if more people are diagnosed and treated for sleep apnea.
"You will struggle to find any single program that will return the healthcare cost reductions that this one will," says Osterberg. "If you were to nationalize the healthcare cost reductions we experienced with our fleet of drivers…it would come to a staggering number. We talk about the healthcare crisis. Well, in my view, we could significantly reduce the need for medical treatment and costs if we were to step up to the challenge posed by sleep disorders."
To say nothing of the improvement in the quality of life of individuals who are diagnosed and treated for the disease.
"There is evidence to support the fact that people who have successful treatment get better sleep, the quality and quantity of their lives improve, and there is some evidence they may be able to take less anti-hypertensive medication," Grandi says. "If you have severe obstructive sleep apnea, you can start and stop breathing 100 times an hour. What that means is if you keep doing that, eventually something is going to break. The fact that you are not getting oxygen to your brain, to your kidneys, to your heart, is a serious problem. Stopping and starting breathing over and over again can trigger something that you had a proclivity for. It is like somebody pushing a pillow down on your face 80 times an hour. It is a horrific deal."
American Sleep Apnea Association: For more information, including books, brochures and videos about sleep disorders, contact the American Sleep Apnea Association at www.sleepapnea.org or 202.293.3650. ASAA is headquartered at 6856 Eastern Ave., N.W., Suite 203, Washington, D.C. 20012.