Revenge Travel Prompts New Employee Benefit
Q&A with Steve Paraboschi, CEO, International Medical Group, and Prashanth Gangu, COO and President, Insurance and Services, SiriusPoint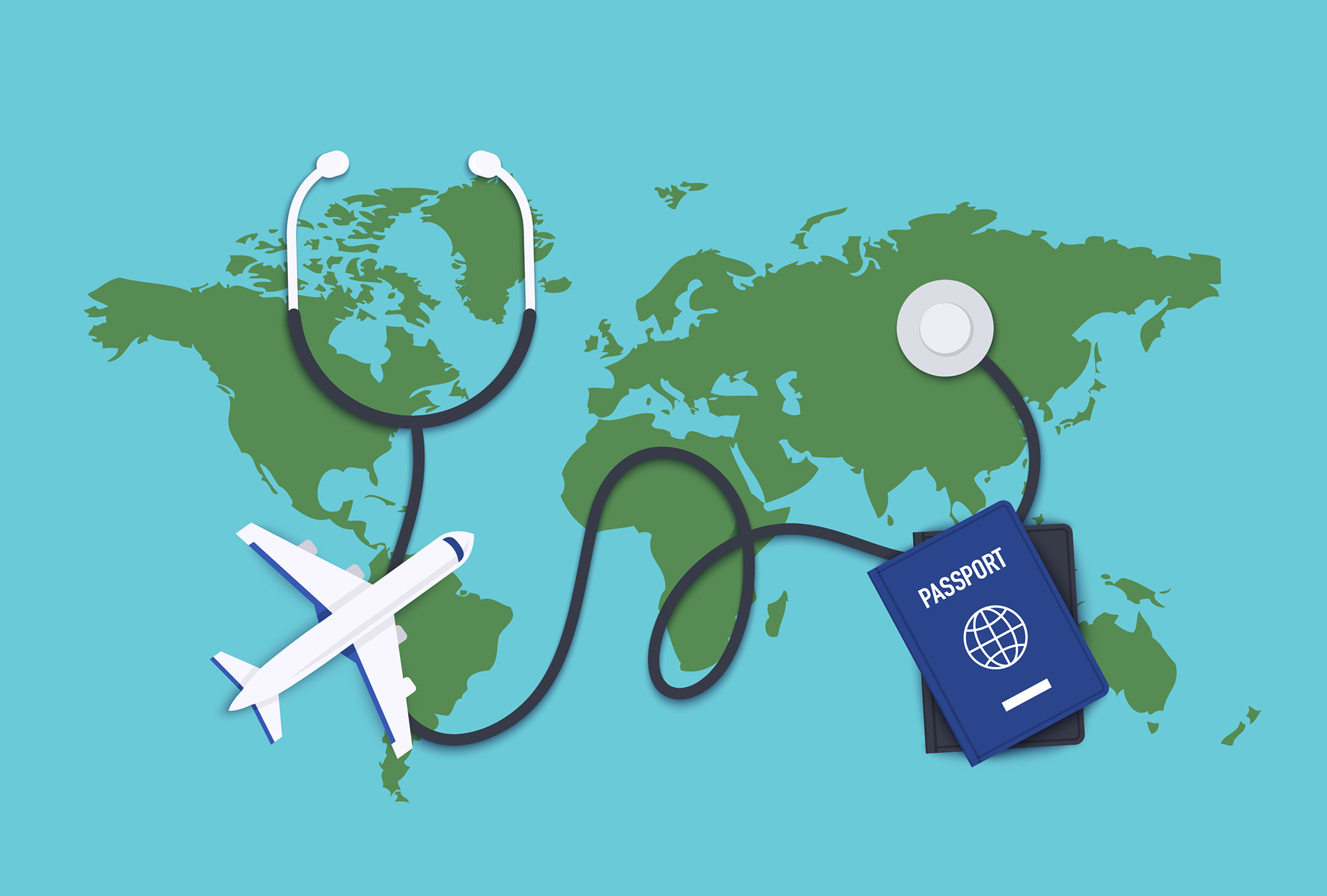 International Medical Group is a travel medical insurance company and fully owned subsidiary of SiriusPoint, a global insurance and reinsurance company. Paraboschi and Gangu discuss the current state of the travel medical insurance market, how COVID has impacted the industry, and the development of IMG's product PTOgo.
Q
What sparked the creation of PTOgo—taking a product available to consumers and offering it through an employer?
A
Paraboschi: It became clear that, when people were anticipating traveling soon, they were thinking of it in the context of COVID. They were anticipating in the next one to two years traveling internationally and were thinking about how their current employee benefits cover them when they are overseas.
Generally, people assume their medical benefits will cover them when they are in another country. Some programs have good benefits for overseas travel, but many cover that treatment as out-of-network. We anticipated there would be a need for this coverage; however, their current benefit programs aren't going to cover people.
What was available were out-of-country medical benefit programs provided on a consumer basis. PTOgo is a travel medical plan that an employer can distribute and have employees pay, or it can be sponsored by an employer. It provides $1 million coverage per member of a family per trip.
Q
SiriusPoint has rolled this out to its employees. Why did you think it was important to offer this benefit?
A
Gangu: People have been locked down for so long, they are going to want to travel. And being locked down in one's own country has made people want to go across borders more than they have done in the past. Surveys have shown that two thirds of respondents were anticipating going overseas in the next year. That is atypical for the U.S. public. And they expect their corporate health insurance to cover them at the same rate as it does in the United States.
Smaller programs either don't cover or they cover but it's out of pocket. We know that people were willing to pay extra for that benefit if their current programs didn't cover overseas treatment.
We wanted to take a product on the consumer side and put it in the employer's channel. That's one of the big trends that has come along with COVID. People are saying they are not just working for a paycheck. They want to see more value in their work beyond their pay.
That has been highlighted by the concentration around mental health and how people need to be more thoughtful about it [mental health]. A lot of the work we do at SiriusPoint around funding new products is looking at things that apply to that new world, and we can think about this as employers' encouraging their workforce to travel to recharge. Even as things open up, there is a lot more anxiety around traveling.
Paraboschi: SiriusPoint was leading here by sponsoring the program and paying for it; however, the anticipated model is it will be an employee-paid, voluntary benefit. People would look to contribute a certain amount per paycheck and get 10, 20 and 50 days of coverage. With the average family being around four people, 20 days is probably the sweet spot; you would have four people covered for five days each.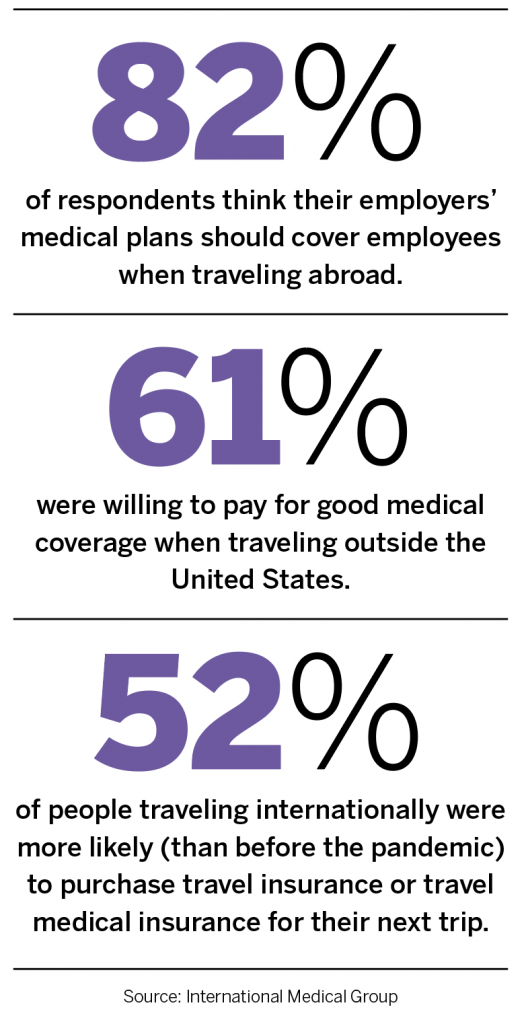 Q
You mentioned anxiety regarding traveling. Are you anticipating international travel to rebound even though there are restrictions on flights and vaccination requirements in some countries?
A
Paraboschi: Not to pre-pandemic levels in the near future. We anticipate people will be taking longer and more expensive trips with the concept of celebrating milestones that were missed during COVID. We expect it to rebound and get to something closer to normalcy in 2023. The caveat there, of course, would be there aren't any new delta-like variants that may come out.
We are seeing more expensive trips because of what some are calling 'revenge travel.' People are going on once-in-a-lifetime or greatest-of-all travel.
Steve Paraboschi, CEO, International Medical Group
Q
How is the travel insurance space changing in the United States?
A
Paraboschi: We have seen COVID have a great impact on the travel insurance marketplace. As restrictions have been lifted, people need this insurance. They need extra experts to counsel them [before] travel and coverage to handle sickness situations if they occur.
There are different travel trends that we see emerging also. We are seeing more expensive trips because of what some are calling "revenge travel." People are going on once-in-a-lifetime or greatest-of-all travel. Friends are traveling together, and we see more multigenerational travel.
IMG has created a partnership with a company named Outdoorsy. It's like an Airbnb for RVs [recreational vehicles] and other types of vehicles. There is a new sharing of these assets, and IMG is getting involved and providing best-in-class medical and travel insurance.
Gangu: The typical client for Outdoorsy may be someone in Europe who books an RV rental for a week in Arizona. They book six months in advance, so they need insurance in case they have to cancel their flights and the RV rental. They are in another country, so they will need medical insurance. People may need auto insurance for their RVs and other ancillary products that come into play, like pet insurance if they are taking a dog or cat with them. And electronic insurance for covering phones and iPads and cameras—there is a lot of device protection needed. And they may rent kayaks or other things. One of the things IMG is doing is trying to pinpoint all of someone's needs when traveling and offer holistic travel protection, depending on where they are going.
Q
Are there other ways COVID-19, specifically, has impacted the travel insurance space?
A
Paraboschi: We saw this after 9/11 as well, with an increase in the need for travel-insurance benefits. As we look at our own social media and other media consumed, there is a big focus on breaking news and the next emergency to come down the pike. They aren't necessarily buying insurance out of fear, but consumers have a lot of information on a 24/7 basis. This tends to drive them to understand the different risks they have a need to insure. After 9/11, there was a geopolitical risk that terrorism brought.
Q
How has the employee benefits space been impacted by COVID-19?
A
Paraboschi: Employee benefits is being influenced by the concept of the Great Resignation. The competition for labor is greater than it has ever been in the past. And borders have gone down, so there is no need to go to an office anymore. The need for a competitive benefits package is greater than it has ever been.
The other aspect is well-being. For an employer to attract a younger workforce, it has to think about overall well-being. Millennials want and demand this, and employers have to provide that for them.
Gangu: We used to have products on the benefits side—ones that senior executives would get, including things like health checkups and cards to pay for pharmaceutical purchases or travel. Large and small companies are using this for key talent to show what they can offer them, and healthcare is one of the key stress factors for people. We are seeing people think about these kinds of products from a different fashion, to keep key and high-performing talent instead of just executives.
One important piece of all of this from our perspective is to make sure purchasing the products is hassle free. Companies that offer these products want to put them into play. They have to think about how it's purchased and offered. They don't just want these benefits to be one more thing a company has and no one picks up.
Surveys have shown that two thirds of respondents were anticipating going overseas in the next year. That is atypical for the U.S. public. And they expect their corporate health insurance to cover them at the same rate as it does in the United States.
Prashanth Gangu, COO and President, Insurance and Services, SiriusPoint
Q
Why is something like PTOgo good for talent retention and recruitment?
A
Gangu: After the product was created, the first thing we did was say we should offer it for our employees. It gives people peace of mind and lets employers lean in to helping their workforce. It is a very good talent retention tool when people understand their employers care about them and want them to take time off. Making that travel less stressful is a simple way to lean in and show they care.
Taking time off helps employees' well-being. We just had an incredibly stressful event called COVID-19, and employees have to depend on tried-and-true benefits like paid time off. Employers need to focus on employee well-being and let them take time off so they can come back focused. Remote working has also blurred the boundaries between business and personal travel. If someone wants, they can work in Costa Rica for a month, and now employers can help the workforce do that.
Q
How does this fit into an overall wellness program?
A
Paraboschi: In the simplest way, paid time off has been a traditional benefit. If a business has appropriate paid time off—two to five weeks—we now have a situation where employees need to take that time. This allows them to travel and protects them against the exposures of the expense—and even the challenges of how to consume healthcare outside of one's country.
PTOgo allows people to talk to proven support staff while overseas and helps them get the appropriate healthcare they might need while in those markets. It reduces the stress and financial exposure if they do get sick overseas, and this product makes it easier for them to get care as well. It can also help [before] travel. Different countries are changing their entry requirements on a weekly or monthly basis because of COVID. People we are covering can call for support to see what they need to get into XYZ country. We can help them [before] travel and assist with possible crises during travel.
Gangu: People are just working all the time, and taking time off is more critical than any time before. Taking time off and sitting on the couch won't necessarily be helpful, because people need some break from their routine. [They need] to go and sit on the beach and sip margaritas. Or if they are active, hiking in Argentina. Wherever they like to go.
There is lots of stress when traveling internationally: taking a long plane ride and taking time off and ensuring they can come back. If employers are working on employee retention, they are trying to figure out ways to help employees aside from the monetary benefits they can offer. Having this is a way to say, "We do care about you, even when you are taking time off and traveling the world." Business travel and business travel medical insurance is another arrow in an employer's quiver that can help with someone's personal life.