Employees Are Not Alright
Supplemental health coverage could be the answer to evolving workforce needs.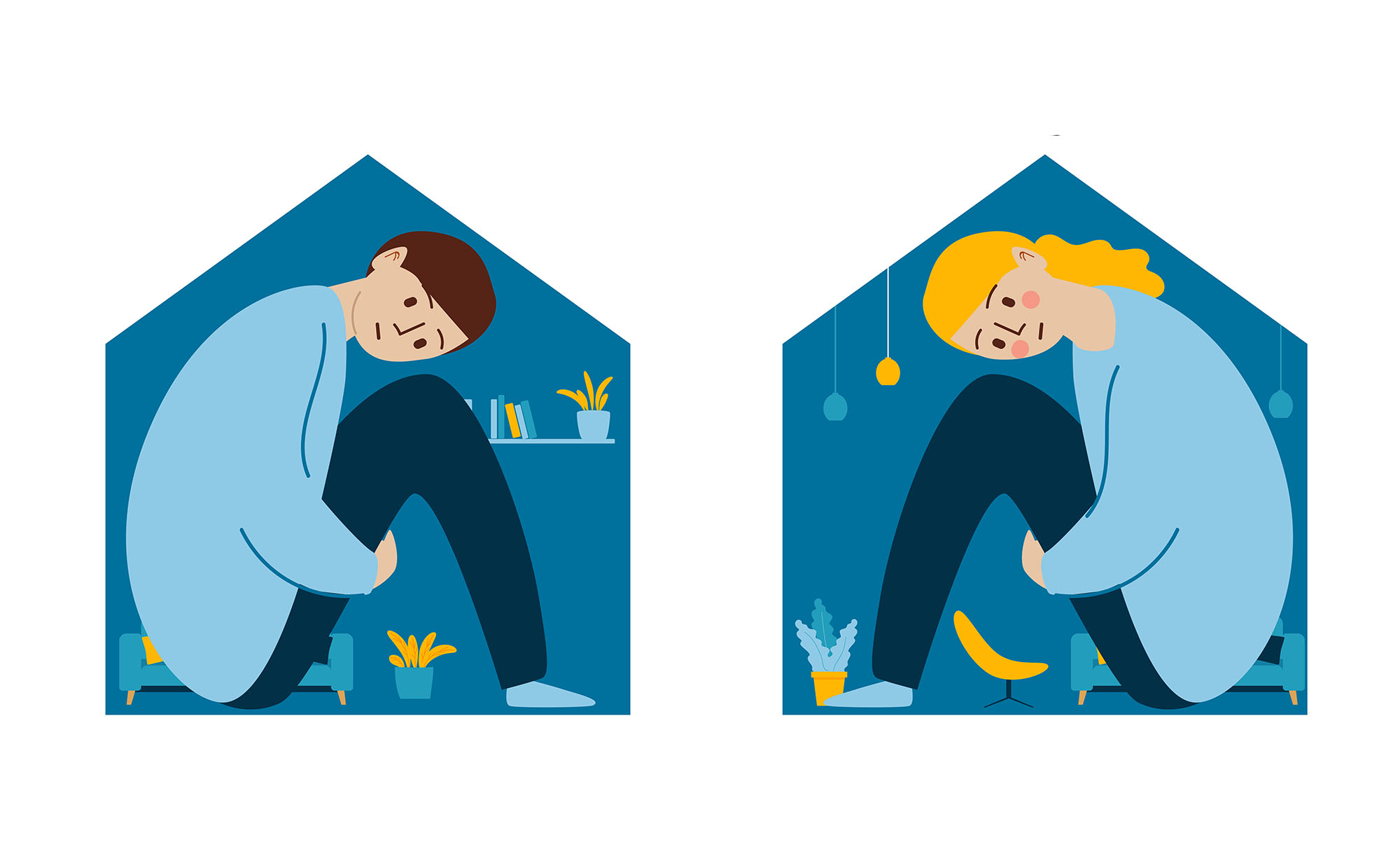 Blurred lines between work and home, financial pressures, and continued isolation, are ushering in a new kind of mental health crisis.
Physically, the impact of loneliness is comparable to smoking 15 cigarettes per day. Emotionally, over 80% of employees report that recent events have negatively impacted their mental health and 65% say it's affecting their ability to work, according to mental healthcare navigation platform, Lyra.
The workforce is grappling with unprecedented challenges, from COVID-19 anxiety and economic instability to realigning family responsibilities, and the devastating effects of racial trauma.
ArmadaCare creates and delivers a broad range of insured specialty employee benefits, including WellPak insurance solutions which are designed to provide support and coverage for employee mental health. Ed Walker, CEO, and Charlotta Winslow-Jenkins, chief marketing and product development officer, break down ArmadaCare's newest offering: a one-stop shop for mental health coverage addressing everyday stressors as well as deep-seated chronic issues with a combination of clinical and nonclinical solutions.
Q
What made you decide to bring a mental health coverage and access solution to market?
A
Walker:
The need to focus on mental health in the workplace was already emerging even before the pandemic. However, the pandemic certainly has brought this topic to the forefront, especially with stresses related to health safety, financial stability, childcare, remote work and isolation.
We know that companies want to help their employees, but they need the right solution to do so. And that solution needs to address two critical areas to truly be effective. First, it needs to help access effective care. It's extremely difficult for employees to find the right type of mental health provider. They get lost in a confusing maze and, as a result, often don't access care at all. That barrier must be eliminated. Second, employees need financial support or coverage for treatment. This is especially key because behavioral health visits are five times more likely to be out-of-network than primary care appointments.
Having a solution that directly addresses mental health treatment coverage and access is critical when you consider the various dimensions of an employee's wellbeing. We realize how important it is to take care of the whole person, including physical, social, financial and emotional health, and we wanted to make a difference in this underserved part of the market.
Q
WellPak brings together everything from a navigation service that guides behavioral healthcare access to prescription and hospitalization coverage. How does the solution approach continuous employee engagement across such a variety of benefits?
A
Winslow-Jenkins:
WellPak was designed to help employees find the right level of mental health support, whether that's coaching, navigation to a therapist or counselor, even in-patient treatment. And that support comes in the form of guidance and insurance coverage to help financially. This solution, as with all of our other solutions, offers meaningful coverage for employees, and by meaningful, I'm referring to paying for routine healthcare expenses as well as unexpected ones. For instance, the office visit benefit can apply to any doctor visit, not just mental health. And the prescription benefits can be used for any type of prescription. We understand how important it is to boost coverage where a primary plan falls short, making it easier for the employee to take care of themselves.
We've taken it even further with coverage for prescribed massage therapy, acupuncture, chiropractic treatment and other wellness treatments that can help alleviate stress. And we are committed to onboarding and engaging employees so that they understand and use their benefits from day one.
Q
While access and coverage of mental health support are critical, how does the WellPak solution reach employees who haven't necessarily requested access or raised their hands asking for help?
A
Winslow-Jenkins:
By providing WellPak, an employer can communicate to their employees that their mental health and well-being is just as important as their physical health. That support from the employer can also help reduce the stigma associated with seeking treatment when an employee is struggling with anxiety, depression, substance abuse or another mental health issue. And of course, use of all aspects of the plan is completely confidential.
That said, we designed WellPak to support various aspects of well-being, which is more than just mental health. So, while there is guidance and coverage for those serious types of behavioral health issues, WellPak can help with simple situational stress, too. Essentially, WellPak navigates employees to the right type of support using a clinically validated, evidence-based assessment to determine the most appropriate pathway, whether that's a well-being coach for nurturing, behavioral health coach for coping, or more intensive mental health counseling. Without such guidance, an employee may never raise their hand and ask for help. And on the coverage side, employees can use the plan for stress-reducing treatments, such as prescribed massage therapy or acupuncture.
Q
Do you anticipate there continuing to be a market need for holistic well-being solutions and coverage?
A
Winslow-Jenkins:
Yes. We recognized the need for WellPak before the pandemic with today's always-on culture, blurring the lines between work and home. Emotional stress, mental health issues and burnout have been—and will continue to be—serious concerns. In fact, 3 out of 4 employers identified mental health and workplace stress as a priority for 2020 before the pandemic started. Certainly, the strain of the pandemic and economic downturn has intensified the need for effective mental health support. But the need predates this period and will continue long after we have emerged from it. And let's face it, we won't just be going back to the way it was post-COVID. Many will have emotional scars or post-traumatic stress related to pandemic isolation, fear and anxiety for months, if not years.
Investing in a well-being solution isn't just the right thing for employers to do as corporate citizens, it's also in the best interest of the business. After all, employee well-being and performance are strongly interconnected. Left unchecked, heightened periods of stress and burnout can cause absenteeism and presenteeism, ultimately affecting the bottom line. Let's take employees struggling with depression as an example. Research shows that 80% can be treated effectively if treated early and with the right support. And a resounding 86% of employees report improved work performance and lower rates of absenteeism.
When support for employee well-being is made an organizational priority, companies can increase employee satisfaction, decrease absenteeism and presenteeism, and increase employee engagement and productivity. Offering mental health coverage and support services can help position companies as employers of choice during and after this turmoil.
Q
How do you measure progress and success?
A
Walker:
We measure success a few different ways. When we look specifically at our product offering, we make sure we can answer yes to these questions:
• Are we helping our clients have healthy, happy and productive employees?
• Are we helping employees reduce the stigma associated with seeking care for mental health?
• Are we helping employees gain access to support that they otherwise might not have?
• Are we doing our part as an innovator in the employee health space to address critical issues with real solutions?
• Are we helping employers take care of their employees as a whole by supporting their physical, emotional, social and financial health?
Q
What additional features would be important to include in the plan down the road?
A
Walker: When we launch any new solution, we look at whether it's meeting the market needs and will continue to improve and refine it as we learn more. With our recent policy filings, we have tremendous flexibility to toggle coverages up and down as well as add or remove types of benefits and services, which is a powerful aspect of our product refinement process. It also enables us to offer tailored solutions for applicable partners and large employers. We are also excited to be able to create another version of WellPak using our expense reimbursed policy, which will reimburse [enrolled employees for] the actual expense incurred [for a service] according to the benefit limits instead of paying on a per diem amount on a fixed basis. This will offer employers another option with more broadly defined categories of coverage.