Pivot Point
Can the insurance industry be a force for prevention in the pandemic of child sex abuse?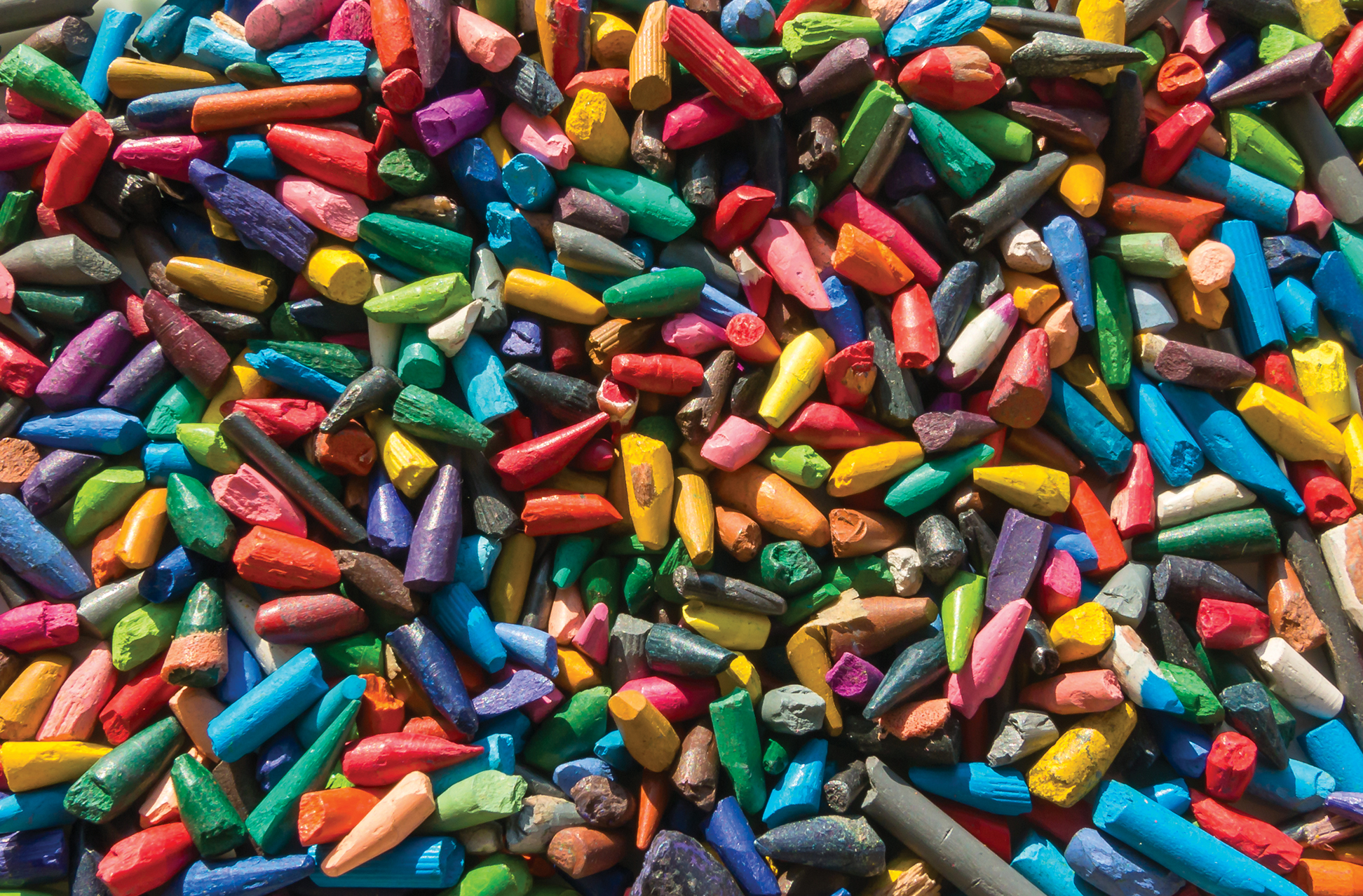 This summer's renewal rush came with an unpleasant surprise for Chris Kenyon, a partner at M3 Insurance in Madison, Wisconsin.
As the senior-living and social-services practice group leader for the brokerage, she found that rates had gone up for every organization that serves children. "Abuse and molestation can be covered under general liability. But many of our carriers offer it in a separate tower (what I'm seeing most often now), or they could exclude it altogether," she says. The charge for that separate cover was once as low as $3,000, even for an account with as many as 500 employees, according to Kenyon. Now, there is a significant increase in cost to add that coverage. "One renewal was $75,000 to $100,000 in premium," Kenyon says.
She also recently learned that many carriers are reducing their limits. "It used to be I would have all the way up to $10 million in coverage if I had an umbrella policy, but now they are sublimiting or not offering it at all," she says.
While Kenyon was able to find a solution for each of her clients, she did have to go to the excess and surplus markets, including tapping into some stand-alone carriers that, she says, "I haven't needed for over 20 years."
The trend Kenyon discovered reveals not only a business problem for her clients but also an ethical problem for society as a whole. For as governments react to the unfolding crisis of child sexual abuse with new laws—and the #MeToo movement stridently demands justice—some insurers are responding by refusing to offer coverage at all. The industry's reluctance to get involved represents a tragic lost opportunity to engage in risk prevention, not just damage control, according to some scholars.
"There is a pandemic of child sex abuse across the globe," lawyer Marci Hamilton wrote earlier this year in Verdict, an online legal magazine. "That knowledge is spurring a legal reformation for the protection of children, and insurance carriers should be a part of this noble movement."
Hamilton is founder and CEO of Child USA, a nonprofit think tank at the University of Pennsylvania focused on research to prevent child abuse. In an interview with Leader's Edge, she suggests insurers take a more proactive position regarding child sexual abuse. "Isn't the insurance industry supposed to be a partner in reducing risk?" she asks.
In her article titled "Insurance Carriers Hold a Key to Prevent Child Sex Abuse," Hamilton offered two proposals: first, states should mandate insurers provide coverage for the negligent failure to prevent child sexual abuse. No states currently mandate that insurers issue such coverage. "In the #MeToo era," she says, "even the Chamber of Commerce is running scared."
Second, Hamilton proposes that insurers conduct state-of-the-art child protection audits. If the insured party fails the audit, she says, the insurer should deny coverage. Because some organizations that serve children are required by law to carry insurance, not having it could put those companies out of business.
Not everyone agrees. "There's a concept called moral hazard in insurance," says Hersh Shefrin, a finance professor at Santa Clara University in California. "If you sell fire insurance, it makes people more willing to be careless with matches. What we're really asking of insurers is that they be monitors and enforcers. We're monitored to make sure we go to Title 9 seminars all the time, but it hasn't worked in the academic setting, and Title 9 is pretty heavy in terms of artillery. If you can trust that your organization is well staffed by people with credibility, you don't need insurance and shouldn't be required to carry it. Do I really want to subsidize somebody else's bad behavior?"
However, some are listening to Hamilton's arguments. "Several insurers are very interested," she says. "This is an enforcement mechanism in our private industry that other countries don't have. Insurers do financial audits and building inspections. We have the science and the capacity to ask the right questions."
An Ounce of Prevention
One insurer that has earned Hamilton's respect is The Redwoods Group, a Crum & Forster company based in Morrisville, North Carolina. Founded in 1997 with the mission to prevent drownings and sexual abuse at YMCAs, Jewish community centers, Boys and Girls Clubs, and other organizations serving young people, the company offers insurance with a focus on data-driven risk prevention.
"We've seen the market shift dramatically in the last decade," says John Feasel, a lawyer and advocacy coordinator at Redwoods. "The #MeToo movement has spawned this environment. Victims are no longer concerned about coming forward."
Of Hamilton's proposals, Feasel says, "She has a very novel idea and approach. We exist to keep children from being sexually abused and to keep children from drowning. We try to take proactive steps to make sure child sexual abuse is eliminated in society as a whole."
Consistent with Hamilton's proposals, Feasel says, every insured at Redwoods gets an annual audit.
"We also have access to lots of information; we know how child sexual abuse happens," Feasel explains. "Any employee who's going to have any interaction with children has to get a background check and then annually or upon any change in their status. These organizations are very attractive to pedophiles, and predators are very good at infiltrating them."
But background checks can fail, and false negatives are common, according to Hamilton. "The vast majority of cases are never prosecuted, or the database doesn't include people who were named in civil claims," she says.
Ron Troyer, a senior manager of casualty and litigation claims at Brotherhood Mutual Insurance Company in Fort Wayne, Indiana, agrees. "Not every background check is equal," Troyer says. Brotherhood Mutual provides coverage for child sexual abuse under a separate endorsement to daycare centers, small schools and camps.
"Background checks vary wildly in their cost and how they are done," he says. "If the individual moves to another state, the background check has to follow them." In addition, he says, false negatives can occur when job applicants lie about where they are from.
Guy Russ, an assistant vice president for risk control at Church Mutual in Merrill, Wisconsin, says his company recommends organizations that do background checks conduct behavioral screenings in addition to nationwide searches of all databases. "A background check can't be the only thing you do," Russ says. "You should make sure you have a monitoring component, because 90% of offenders are not in any database. Organizations should have appropriate training around grooming behaviors, which can occur even with another person around."
For example, if different people supervise a perpetrator from one occasion to another, those supervisors might fail to spot certain cues that might signal trouble. Such cues include giving a child special attention, providing them with gifts and personalized favors, and initiating physical contact such as extended hugs, pats on the knee or placing an arm on the child's shoulder.
"We like to wish someone a happy birthday or celebrate a special occasion, but if special attention is out of place or shown to one particular child, that can be a sign of grooming, rather than authentic love," Russ says.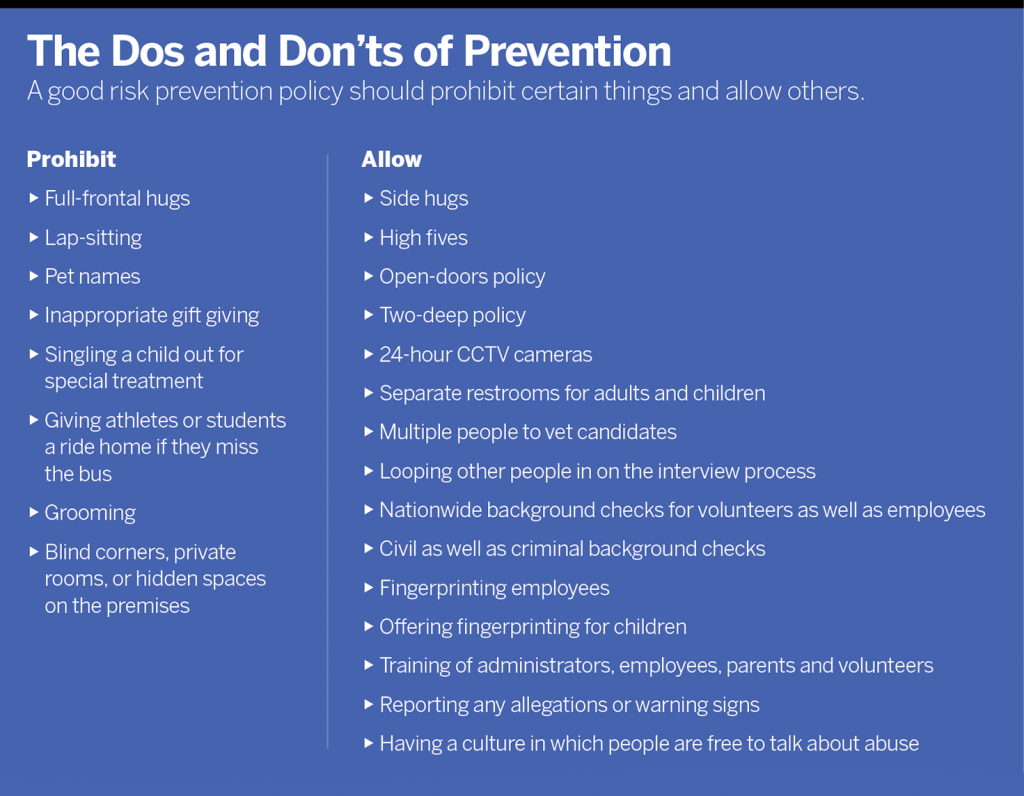 Increasingly Reluctant Market?
Whether due to the #MeToo movement, the market cycle, or new state laws, the market for coverage is hardening, according to most sources interviewed for this story. In recent years, Feasel says, insurers have lowered limits from highs of $10 million to $20 million. These days, he says, "they're bringing them down to $5 million or less. You can get more layers of coverage, of course, but your premiums get significantly more expensive. The sublimit for abuse claims used to be $5 million per policy year; it has been reduced to $1 million per claim or $2 million to $3 million in the aggregate per year."
"Over the last 20 years, this hasn't been a problem," adds Kenyon of M3. "If anything, the cost was going down for 20 years, by as much as 5% per year. But in the last three or four months, I've been getting cases that go back to the '50s and '60s, which are really expensive to defend. We can't even find the policy. And on one account, the insurer just cut my limit and doubled the price, even though the insured hadn't had a claim."
It should be noted that 38 states and the District of Columbia (75% of the country) have amended their child sex abuse statutes of limitation since January 2002, when the Boston Globe first disclosed institution-based sex abuse in the Boston Archdiocese, according to Child USA. Still, only seven states have eliminated statutes of limitations for felony sex crimes, according to Rainn (Rape, Abuse & Incest National Network), which describes itself as "the nation's largest anti-sexual violence organization."
Not everyone agrees that the market is tightening. In India, most of the legal actions come from a criminal liability standpoint, according to Tanuj Gulani, vice president at Prudent Insurance Brokers in Gurugram, India. "Although one child is sexually abused every 15 minutes in India, there's not a lot of asking for civil liability damages," Gulani says. "So compared to the U.S. market, the degree of penetration is much lower. We have a very soft market. For a single-location, large international school, a commercial general liability policy with a $10 million limit might cost between $14,000 and $15,000 per year. And we don't find cutbacks or exclusions put on the general liability policy. For an Indian company which has international interests, we will reach out to one of our partner brokers, and they provide local expert advisors on how to place the policy."
Irv Cohen, a partner at North Risk Partners in Mendota Heights, Minnesota, says his firm has several insurance companies that still very willingly write such policies. "A good rule of thumb is that $1 million in coverage will cost you between $5 and $10 per person, so if you have a school for 1,000 kids, your policy could cost you $10,000 per year," Cohen says. "Coverage is harder to get this year. But I've had clients that have had claims. So far, I've not had the situation where they were not able to buy coverage. Several clients purchased $50 million in limits, although some carriers won't allow you to buy as much as before."
Truett Booth, an account executive at the Harold Wells Agency in Wilmington, North Carolina, concentrates in helping human services organizations find insurance. "Your standard general liability policy excludes coverage for child sexual abuse," Booth says. "Back in the '90s, they started carving that out. I've written a few churches lately; they have extensive questionnaires. But for anything dealing with people, you don't need to open your doors without it."
Sex abuse coverage rates vary. For a one-location daycare center with 100 children, Booth says, a policy could cost $2,000 to $3,000 per year; for a school for 2,000 children, a policy with limits of $1 to $2 million costs $5,000 or more.
For some companies, the market has gotten so difficult that they are turning to non-admitted paper. "We're starting to see it more on Lloyd's of London-type paper under a difference-in-conditions program that puts it on locally admitted paper," says Bret Murray, a higher education practice leader at Risk Strategies Company in Boston. "You design the paper. They're willing to partner up with you. Years ago, environmental insurance was part of general liability coverage, but it eroded and over the years they created this special product. A couple of times we had to go out to market, even though the client had a good claims history."
The actual increase in an insured party's civil liability varies from state to state. Where statute of limitations reform has been passed, liability costs have the potential to go up.
"Some of this is a knee-jerk reaction," says Kenyon. "You have to look at it on a state-by-state basis. You, as the broker, can go to the carrier and talk about the states and make [the carrier] a little more comfortable with your client's risk management. One thing I would like to look at is arbitration agreements, which is one strategy that has been effective in senior living."
An arbitration agreement is a contract entered into by a business, such as an organization serving children, and the family of the child served by the business in which the family promises to submit any claims, such as claims of child sexual abuse, to arbitration rather than far more expensive court litigation.
Examining Exclusions
While prevention is the ultimate goal, brokers who want to ensure their clients are covered in the event of an emergency need to be diligent in understanding what their policy covers.
"Carriers are putting in very strict wording about reporting," says Murray of Risk Strategies. "Incorporate them into your training. If the officer doesn't report properly, you could be denied coverage. Carriers don't want this to happen, but they have to draw a line in the sand. It's up to us brokers to act as intermediaries.
"Who is considered a reporting office? When does the carrier need to be put on notice? We need to give our clients proper notice of these procedures, because some carriers change their definitions. We have to keep our eye on the policy language a little earlier."
In California, for example, 45 different categories of people are required to report, experts say, and a number of states have criminalized the failure to report.
There can be other exclusions that brokers need to warn their clients about. "If you only have mental trauma, and pardon me for using the word 'only,' many policies won't cover it at all," Gulani says. "Brokers should make sure that, even in the absence of bodily injury, mental anguish is still covered."
He's referring to the fact that some general liability policies carry an exclusion for tort claims without a bodily injury. Whether sexual assault is defined as a bodily injury may depend on court decisions in the country where the suit is brought (U.S. courts do consider sexual assault a bodily injury).
There could also be an exclusion for deliberately caused injuries. If an employee deliberately causes a bodily injury, the insurance company may claim it doesn't have to pay for damages, because the general liability contract may exclude it.
Booth says organizations need to consider several factors when buying sex abuse coverage. "One is whether they will pay for your defense costs, even against a frivolous allegation," he says. "If you have a million-dollar limit of coverage, is that defense cost inside or outside of it? You want it outside so it doesn't erode your coverage. Sometimes in settlements, I've seen hundreds of thousands of dollars in attorneys fees, even though the settlement amount wasn't that large.
"Also, many times companies have an umbrella policy. You really need to see if it will carry over to the sexual abuse policy. The broker needs to be well versed, because you're competing against other companies. Does it apply to interns or volunteers? The consumer isn't comparing apples to apples; they're just looking at the bottom line. And they'll never know the difference until it's too late."
But there are opportunities, too, for brokers to be aware of. Murray says some policies offer crisis management "to make sure you get the evidence preserved and hire the right public relations firm," he says. "The supplement could pay $50,000 toward those costs."
If the insurance broker makes a point of asking the carrier to include language about defense costs or a crisis-management supplement, the broker may find the carrier routinely includes those benefits; all you have to do is ask.

Call for Collaboration
"Insurance is a really bad remedy for an injured person," says Ed Hancock, chief underwriting officer at Church Mutual. "We cannot put their lives together because they've received an award of damages. We need to remove the predators from the workplace."
But insurance companies like Church Mutual cannot mandate that organizations employ sound risk prevention practices, Hancock says. "We're not there to supervise every day. We have 100,000 insureds. If each one has 10 employees and 100 volunteers, then that's 11 million people. We have to perform 100,000 audits every day. It would take at least eight hours to travel and write a report."
And it's true that individual companies on their own can do only so much. But collectively they have more power.
"Insurance is an industry that's rife with data," Feasel says. "Through the insuring transaction, particularly with general liability insurance, the industry knows an awful lot about how harm occurs. And, of course, this is no different when it comes to the issue of child sexual abuse."
Redwoods is in the process of crunching its data, Feasel says, but the amount of data would have to be "truly significant" to make predictive modeling work. That's why Feasel is calling for the industry to collaborate on gathering data related to child sexual abuse, to better grasp under what circumstances it occurs and how best to prevent it. Such a industrywide effort could conceivably help improve risk-management practices.
It's a cause worth considering, as the statistics continue to be chilling. One study notes the average convicted male abuser who targeted girls averaged 52 victims; those targeting boys averaged 150 victims. Feasel says his company has seen a marked increase in opportunistic child sexual abuse cases, characterized by more youthful offenders (for example, males between 18 and 30 years old, with no red-flag behavior or instances of grooming prior to the abuse).
As society continues to grapple with this crisis, leadership can emerge from an industry that holds the knowledge and experience to make society safer for children.